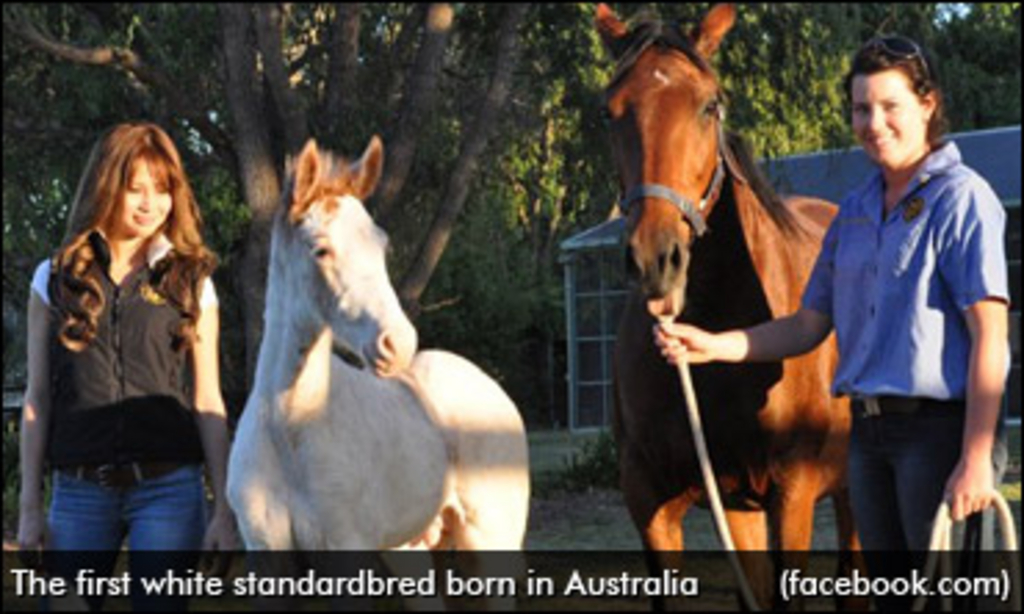 Published:
November 4, 2012 02:54 pm EST

After a white standardbred foal turned heads in New Jersey earlier this year, Australian harness racing is celebrating the birth of what pundits believe may be their first white standardbred foal.
The progeny of champion pacer and reputed sire Courage Under Fire and well bred mare Telern Hilda, the one-in-a-million colt is being treated like a Hollywood star at the Goulburn Valley farm where he was foaled.
Alabar principal Alan Galloway said the snowy standardbred, who was conceived through artificial insemination, drew gasps upon his arrival but that his ideal conformation and attitude were now as noticeable as his flawless neutral coat.
"There's nothing average about this guy, he's a magnificent type, a perfect little man and we're just so proud to have him," the studmaster said.
"He's not an albino and he's not a grey, because grey's are born black and then become grey. He just popped out white and that is extremely unusual, in fact I've never heard of it before in this country.
"To put it into perspective, Alabar Stallions served 3,240 mares last season and are on track to do the same this year, we're the biggest breeders in the world and we've never seen anything like it."
Galloway said the congenital curiosity should be celebrated for his rarity and the charisma he will bring to the racetrack when his career begins.
He also noted the role artificial insemination played in the young colt's conception, with a long-running court case over the use of AI in thoroughbred racing set to be resolved in coming days.
"It's exciting for the industry; it would be fantastic if one day he became a successful stallion. That would just change the breed," he said.
"Hopefully there will be more opportunities for another bright white galloper to emerge now as well, with AI on the agenda in Sydney this week."
(with files from HRV)