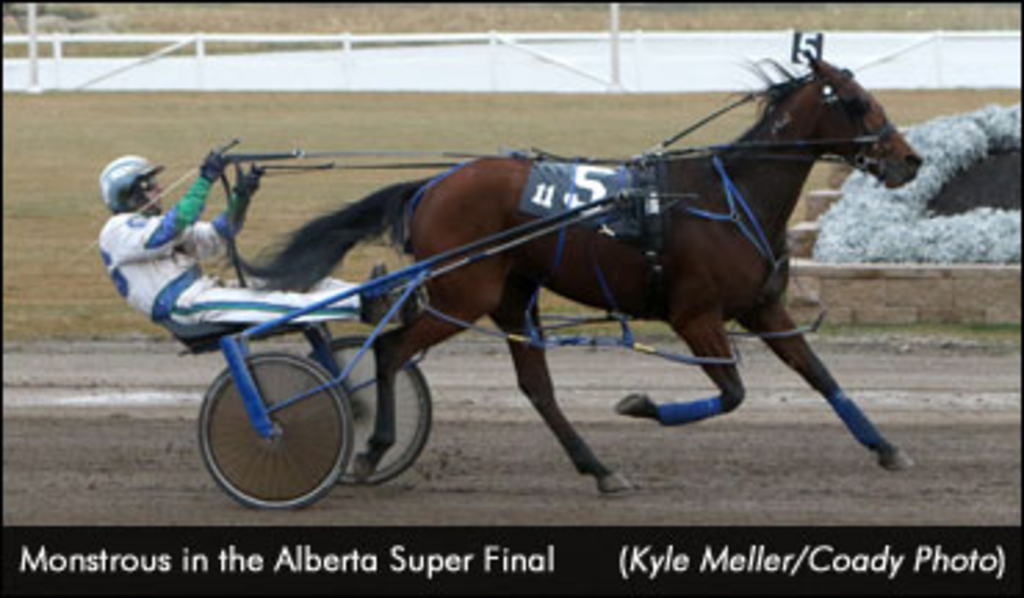 Published:
November 24, 2016 09:38 am EST

Some moments are there to be savoured. Like sap dripping from a sugar maple tree, they are meant to linger. Warren Fuller knew that one beautiful late spring afternoon in 2002 when his filly Rookies Choice captured the Northlands Filly Pace, one of the most prestigious harness races of the season.
Cheering and grinning widely and walking with his brother, Ian, and his dad, Ken, to the infield winner's circle, Fuller gently took his dad by the arm and brought him to a halt.
"Dad, you have to remember this moment because the chances of us getting back here are slim and nil."
Don't look now but Slim just barged through the front door and Nil is following close behind.
Friday evening (November 25) at Northlands Park, Fuller will be represented by Monstrous in the first of two eliminations to next weekend's $70,000 Northlands Filly Pace Final. The top four finishers in the two eliminations advance, which is also the case for Saturday's two eliminations to the Western Canada Pacing Derby.
"It would be great to be able to get into the Final again," said Fuller. "That's all we're hoping for right now." It would be a monumental upset if Monstrous doesn't qualify. After all, the three-year-old filly has finished first or second in 13 of her 14 starts this year. In her last start, the $80,000 Alberta Sires Stakes Super Final for three-year-old fillies at Balzac's Century Downs, Monstrous blew the doors off everyone rocketing away to a four and a half length victory. As usual, she came from far behind. With only one horse headed going into the backstretch, Monstrous tipped three-wide and roared past the pacesetters taking a commanding lead and never relinquishing it.
"She made a pretty good move didn't she?" understated Fuller, though also well aware that her performance was definitely aided by a heavy first quarter in :27.3 that saw a lot of early movement that would eventually take its toll -- especially on Divas Dragonfly, who got parked through that swift first quarter and then was hounded immediately after she finally made the top. "Monstrous has always liked to race from behind," said Fuller. "She's never front-ended. For whatever reason she doesn't get up on the gate really well."
But once she gets rolling, she has been very hard to hold off. As well as the Super Final, Monstrous also won the $80,000 Ralph Klein at Century Downs. In total, Monstrous has won $128,799. "Unbelievable," said Fuller, a Sherwood Park chiropractor. And to think it could have even been better.
Monstrous got sick and had to be scratched out of the $56,900 Alberta Diamond Final in September. Then, in the October 15 $56,000 Marquis Final, she wasn't 100 per cent right and turned in her lone clunker -- the only time this year she wasn't first or second. "She's smart and pretty well put together," said Fuller. "She's quite slight but she's got a big heart and likes to go."
While, as Fuller put it, Monstrous' monster year has been "unbelievable," it's equally remarkable that the filly has been as good as she has been considering that Monstrous' dam, Hoosier Pam, was only a $4,000 claimer. "I had a couple of mares that weren't going to race anymore and Hoosier Pam was one of them. It was a surprise to everyone that she threw such a good filly," said Fuller. "Then again, Hoosier Pam was well bred," he said of the mare that was sired by Hi Ho Silverheels, who earned $1.2 million in the mid-1990s and, who in 1997, was the top-ranked harness horse in all of North America.
"And, Hoosier Pam's dam was sired by Sonsam," he said referring to the two-year-old champion of the year in North America in 1978. "Still, it's been an unexpected, nice surprise."
Monstrous has drawn into the first elimination on Friday night. Once again, she will have to face Divas Dragonfly, last year's two-year-old filly champion, and the one who had such a tough trip in the Super Final. On paper, the second elimination on Friday appears more wide open with the likes of Lissoy, Outlawtriggerhappy and two B.C. invaders, Jet To The Beach and No Guarantees, all trying to nail down one of the four qualifying spots.
Lissoy has been improving rapidly. She won five in a row before having no chance in a conditioned pace when she got caught behind a very slow half-mile. Outlawtriggerhappy was boxed-in in the Super Final won by Monstrous, never got out until the top of the stretch and then closed willingly to take second. Jet To The Beach and No Guarantees have been racing very well in the Murphy Series at Fraser Downs. The two front-liking pacers also drew the advantageous inside two post positions.
As for the Western Canada Pacing Derby eliminations on Saturday night, speedy B.C. import Credit Risk, despite drawing post seven, heads a very competitive group in the first elimination. In the second Pacing Derby elimination, Outlaw Turn N Burn, who got the trailing post nine, would have to be seriously considered off his win in his last start, the Super Final for three-year-old colts and geldings at Century Downs. Despite being five-wide turning for home, Outlaw Turn N Burn still got up to win.
But if you like Outlaw Turn N Burn, you also have to like Prairie Mystic, who, at odds of 24-1, was five-wide in the same Super Final and ended up second beaten by just a neck. And then there's Wrangler Cash, who was the favourite in that Super Final but broke stride just as he was taking the lead, and One Big Cat, who was favoured in the Murphy Series Final at Fraser Downs but broke stride early and then finished with broken equipment.
(Courtesy thehorses.com/Curtis Stock)