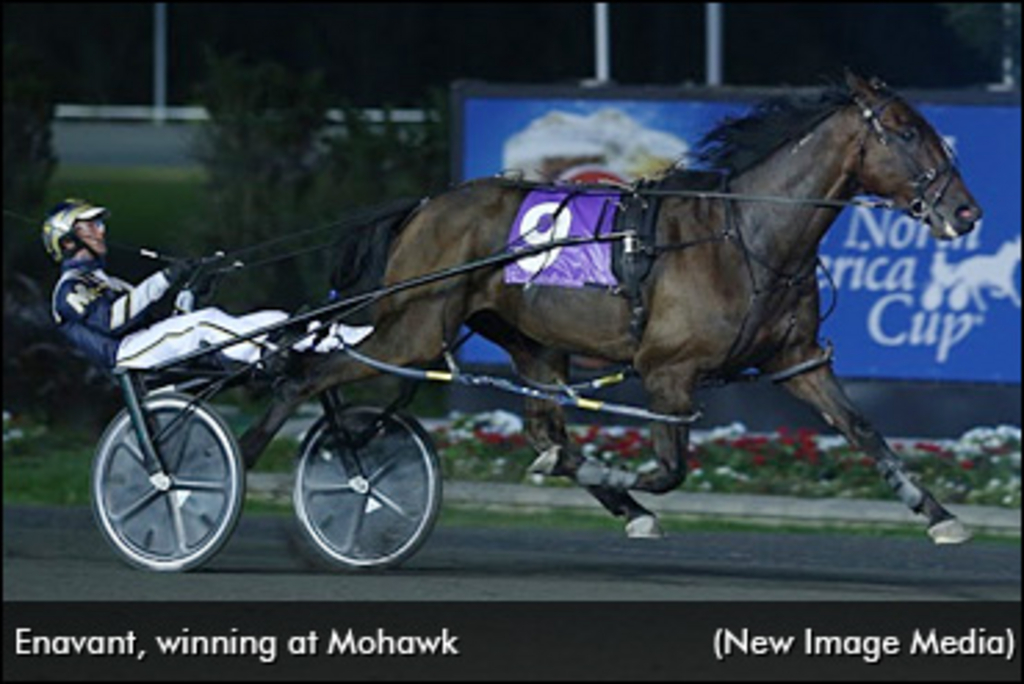 Published:
November 15, 2020 11:53 am EST

When Enavant shipped from Ontario to Guy Corbeil's farm north of Montréal last year, he had another name and another destiny.
Beset by colic repeatedly after being purchased for $260,000 at the Lexington Selected Yearling Sale in 2017, the three-year-old Somebeachsomewhere gelding then known as Money Never Rests had not yet made it to the races.
The owner, powerhouse Montréal stable Determination, planned to unload him at auction last fall. Corbeil's job was to get him qualified before that happened.
"The first time I jogged him, I knew he was special. I had never sat behind a horse like that," said Corbeil. "He reminded me of the hockey player Mario Lemieux. Everybody said he was a slow skater, but nobody could keep up with him. He only looked slow because it was so effortless."
Another bout of sickness derailed the plan to sell the horse, at which point Corbeil made his pitch to Determination owner Serge Godin to keep the horse in a partnership arrangement.
It turned out to be a win, win, win some more.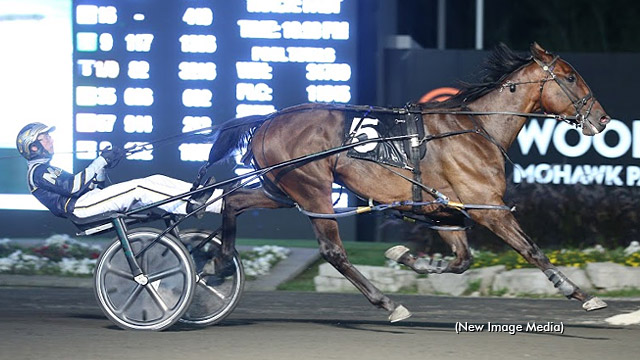 With a prophetic new French name that originated with Corbeil's daughter Elrika, Enavant began his racetrack apprenticeship last summer as a four-year-old at Hippodrome 3R in Trois-Rivieres with Corbeil himself in the sulky.
In his second qualifier in June, he paced the half-mile track in 1:58.3, with the back half in :56.
"People know I don't qualify horses fast. He just ate up the ground," said Corbeil, a hands-on owner and breeder who has had numerous Québec champions over the past 30 years.
Enavant made his first start shortly after and quickly rattled off seven consecutive victories at Hippodrome 3R.
The gelding then travelled to Ontario with stablemate Lit De Rose and extended the streak, winning four races for Corbeil's trainer Maxime Velaye at Woodbine Mohawk Park in September and taking a mark of 1:49.4. His earnings are still a modest $46,950, but Corbeil said the horse is just getting started, with his health issues now apparently resolved.
"I told Serge (Godin, owner of Determination), 'This will be your fastest pacer,' and he had Goliath Bayama. It was a hard decision to stop when he was going so well, but he'll still be eligible for non-winners of $50,000 (lifetime), and that will help him starting out next year," said Corbeil.
The plan now is to stake the unbeaten four-year-old to numerous big races next year. He'll start back training in December.
"I've never had a horse like this," said Corbeil. "He's built and bred to be a champion, and I believe he still could be."
(A Trot Insider exclusive by Paul Delean)