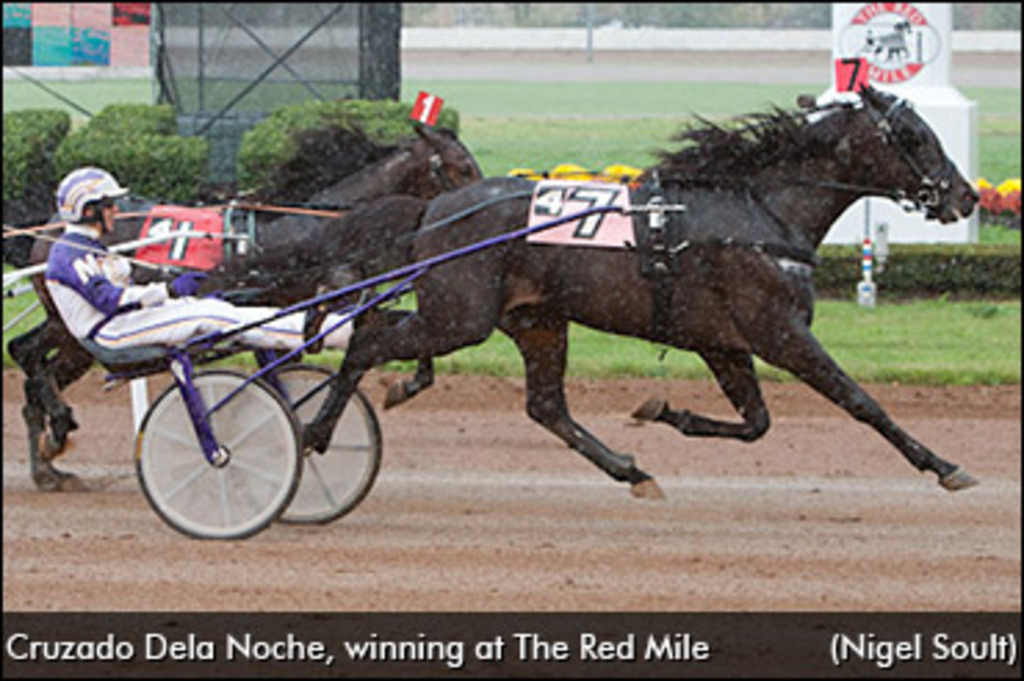 Published:
November 13, 2014 06:02 pm EST

"I think he's just as good as any of the other ones. I don't think there's anyone I'm really afraid of. I think if things work in his way he could just as well be the winner at the end as anyone else. I think he deserves a little more credit than he's gotten."
When young trotter Cruzado Dela Noche went off stride at the start of his second lifetime race, trainer Nancy Johansson might have been disappointed, but when she watched what happened next, she was impressed.
Cruzado Dela Noche regained his footing and trotted his final quarter-mile in :26.3 to cap a :54.4 second half in a division of the Pennsylvania Sire Stakes at The Meadows.
"I was like, oh wow, he can go a little," Johansson said, laughing. "He had an outside post and broke leaving the gate, which is something babies can do, but he's shown speed from the beginning."
Johansson hopes to see more of that speed Saturday when Cruzado Dela Noche competes in the second of two Breeders Crown eliminations for two-year-old male trotters. He will start from post nine, with driver David Miller, and is 6-1 on the morning line.
Kindergarten Classic Series champion French Laundry is the 5-2 favourite followed by Peter Haughton Memorial runner-up Uncle Lasse at 3-1. Both horses are trained by Johansson's father, Jimmy Takter.
Takter's Pinkman, the Valley Victory Stakes winner, is the 2-1 favourite in the first elimination, followed by Matron Stakes winner Habitat at 5-2 and Peter Haughton winner Centurion ATM at 4-1.
The top five finishers from each elimination advance to the $500,000 final on Nov. 22. Elim winners will draw for posts one through five for the final.
Known around the stable as "Nacho," Cruzado Dela Noche has won three of 10 races and earned $164,040 for owner Courant A B of Sweden. He is a son of 2010 Hambletonian winner Muscle Massive, a Takter-trained colt for which Johansson was the groom, out of the mare Alidade.
Cruzado Dela Noche beat French Laundry by three-quarters of a length in 1:53.4 in a division of the International Stallion Stakes in October. Only two two-year-old male trotters have posted a faster winning time this season, Centurion ATM and Pinkman.
"He raced enormously," Johansson said about the International Stallion, which was contested in a rainstorm at The Red Mile. "He trotted (1):53.4 in the pouring rain on the front end and did all the work himself. He's very honest."
Cruzado Dela Noche finished third in the Matron Stakes last week, beaten a half-length by Habitat, in his first start since the International Stallion.
"He was really good," said Johansson, who also trains two-year-old female pacer JK Shesalady, the No. 1-ranked horse in harness racing's weekly Top 10 poll. "He hadn't raced since Lexington so he was a little short, but I was happy with the race.
"I think he fits (in the Breeders Crown). He's living in Lady's shadow a little bit I think," said Johansson. "I like him a lot. Not only that, but he's a Muscle Massive, which is very close to my heart."
To view the entries for Saturday's Breeders Crown elimination-packed card, click the following link: Saturday Entries - Meadowlands Racetrack
---
This story courtesy of Harness Racing Communications, a division of the U.S. Trotting Association. For more information, visit www.ustrotting.com.