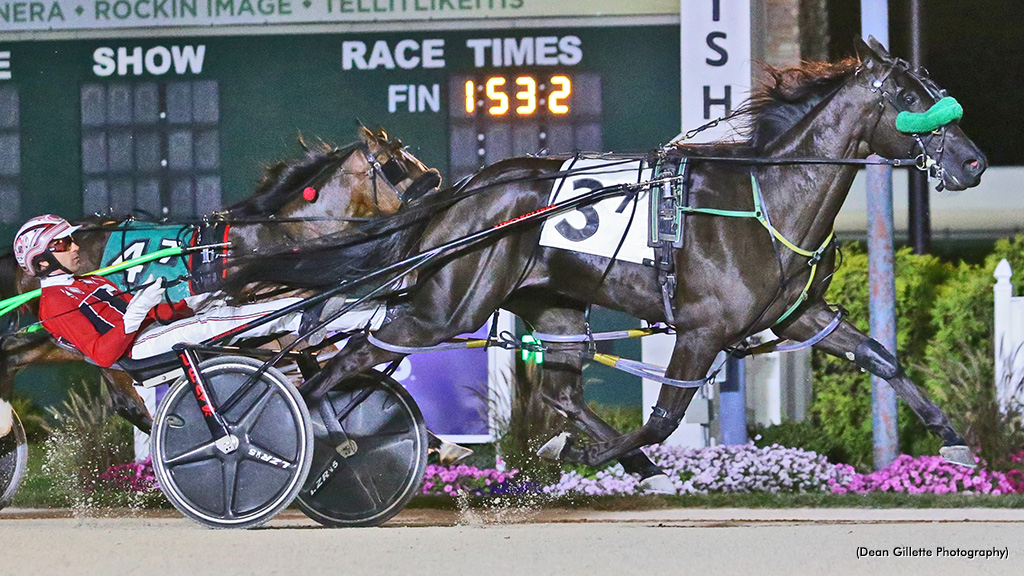 Published:
October 6, 2022 12:26 am EDT
Racing returned to Harrah's Hoosier Park on Wednesday (Oct. 5) with a 14-race card loaded with Indiana Sire Stakes action. The evening featured three divisions for two-year-old trotting colts and geldings, two divisions for freshman pacing fillies as well as a lone division for three-year-old filly trotters. With Hoosier Champions looming just over a week away on Oct. 14, it was the last chance to earn valuable points to make it into the Indiana Sire Stakes Super Finals for the Indiana standouts.  
The two-year-old trotting colts and geldings kicked off the stakes action with the $46,000 first division in the second race of the evening. The heavily favoured Jailhouse Dance and Michael Oosting waited for things to settle up front before taking command at the half and unleashing a dominant five-length score in a lifetime best 1:54.3. Every Day Dan and Robert Taylor finished second, with Brookview Darius and Atlee Bender rounding the trifecta.
Trained by Ken Rucker, who co-owns the Dover Dan gelding along with Rock & Roll Stables Inc and Michael Shan, Jailhouse Dance picked up his third win in 10 starts. Bred by Lester Beechy, Jailhouse Dance pushed his career earnings to $126,680. 
In the $46,000 second division, Talent Scout continued the trend of favourites making their way to the Harrah's Hoosier Park winner's circle. Leaving from post six with the reigning three-time U.S. Driver of the Year Dexter Dunn, Talent Scout asserted his authority over the field from the start, clearing to the lead off the gate and never looking back cruising to a 1:56.2 score by over three lengths over Ahadi As and Tony Hall.
Entering from a score in the $100,000 Madison County Stakes, Talent Scout earned his third consecutive victory on the season and seventh of 15 outings. Trained by Doug Rideout, the gelded son of Swan For All has now banked $174,708 for owners Julie Rideout, Alan White and Dave Gamble.
The third and final division for the trotting colts proved to be a nailbiter as Texsong Soprano needed every inch of the quarter-mile stretch to get up in time for the victory. With driver John De Long behind, Texsong Soprano faced a six-length deficit at the three-quarter pole as the heavily favoured Bourbon Courage appeared to be home free. However, on the strength of a :27 final quarter, Texsong Soprano rallied to score the victory by a short neck at the line over Bourbon Courage in a lifetime best 1:54.4.
Trained by Missy Essig, the gelded son of Text Me earned his  fifth win in nine starts and has yet to miss the board in his freshman campaign. Owned by Joe and Daryl Yoder, the half-brother to millionaire and O'Brien Award winner Windsong Soprano has now banked $162,222.
It was the freshman pacing fillies turn to step into the spotlight next with two $68,000 Indiana Sire Stakes divisions of their own. In the first division in the seventh race of the evening, driver Dexter Dunn was tasked with keeping Rollin Rosie's perfect record intact as the 1-9 favourite. Leaving from post three in the seven-horse field, Rollin Rosie and Dunn went immediately to the front and didn't look back, comfortably scoring the victory by just over a length in 1:53.2. JKs Lucky Lou with Trace Tetrick got up for second with Alwaysanun and Jordan Ross holding for third at 94-1.
It was the sixth victory in as many tries for Rollin Rosie, who now boasts a bankroll of $179,250. Rollin Rosie is trained by Harrah's Hoosier Park's two-time defending leading trainer Tyler George, who co-owns the JK Endofanera filly alongside of Scp Stable Inc and Gregory Samples.
Driver Michael Oosting stayed hot on the evening in the second division for two-year-old pacing fillies, this time picking up the victory with favourite Queens Reign for his fourth driving victory on the night. Queens Reign and Oosting settled in mid-pack in the field of seven in the early stages before swinging out wide in the stretch and powering to the front with a :27.3 final quarter to score by 1-1/2 lengths in a lifetime best 1:52.2.
Queens Reign gave sire JK Endofanera the sweep of the freshman pacing fillies as his daughter picked up her third victory in 11 starts. Trained by Ernie Gaskin, the homebred filly pushed her career earnings to $154,250 for owners Watermark Farm LLC.
In the Sire Stakes finale of the evening, M Ms Dream avenged her lone loss on the season in the Moni Maker last time out by completing the sweep of all eight legs for sophomore trotting fillies in the lone $92,500 split. With regular pilot Sam Widger behind, M Ms Dream was patient in the early going before taking command of the field at the half and never relinquishing the lead from there, scoring the victory by just over a length in 1:53.3 over Jusmakinyalook and world champion Bluebird Dove.
M Ms Dream has scored victories in nine of 10 starts in 2022 and in 15 of 18 starts for owners Eleven Star Stables, Frank Baldachino and Hillside Stables. Bred by Mervin Miller, the 2021 Indiana Sire Stakes Champion heads into next week's Indiana Sires Stakes Super Final with $302,550 earned in 2022 and more than $570,000 earned for her career. M Ms Dream is a daughter of Swan For All out of the Classic Photo mare, Trading Places.
Indiana Sires Stakes action continues on Thursday (Oct. 6) at Harrah's Hoosier Park with the last leg for two-year-old pacing colts, two-year-old trotting fillies and three-year-old trotting colts highlighting the 14-race card.
(Harrah's Hoosier Park)