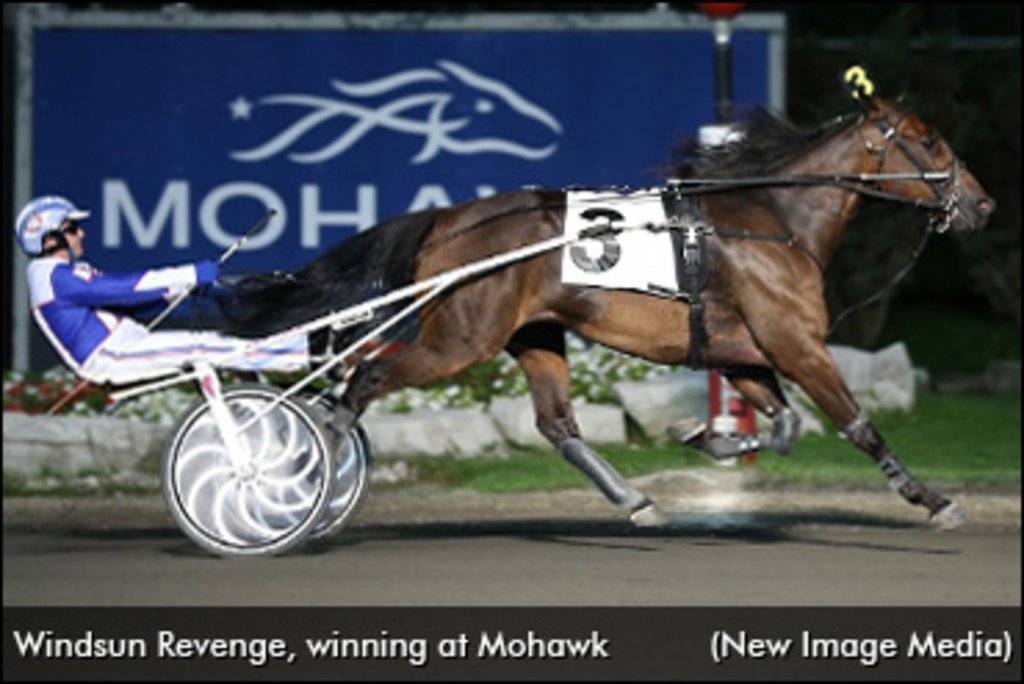 Published:
October 27, 2016 05:56 pm EDT

It is with a sense of emotion that Jeff Durham is going into the Breeders Crown for the first time following the passing of his father, who had been instrumental in his career, earlier this month.
Durham's father, Jack, had been in failing health the last 10 years and passed away at the family home in Omemee, a couple hours east of Toronto. He was 71.
"He hadn't been well, but it went a little quicker than we thought," Jeff said. "It's emotional and to talk about (going into the Breeders Crown) really gets to me. He wanted us to go. It's just one of those things where life carries on."
The night before Jack passed, Windsun Revenge --who Jeff owns with Robert Van Camp and Van Camp Trotting Corporation and will race in the $500,000 Crown Trot on Friday -- won a race at Mohawk with a career mark of 1:51.4.
"My father got up and watched the race and the next day he passed away," Jeff said. "It was kind of a bittersweet type of thing. We always thought the horse had a little bit of talent otherwise we wouldn't have kept him eligible in the spring. It cost $6,000 (Canadian) to keep him eligible. He had a few hiccups in the spring and summer and we quit with him. We took him to a few vets and one found something and he's a total different horse. He couldn't trot in 1:56 in the summer and now he's trotting in 1:51.4 He always had the ability; it's just one of those things where you hope they step up at the right time, and I think he's stepping up at the right time."
Windsun Revenge, who has won four races in 13 starts this season and earned $72,530 and has collectively banked $293,763, finished seventh in the Maple Leaf Trot by 6¼ lengths. But the gelding has won his last two races and qualified with a 22-length win.
Windsun Revenge starts from post four 4 in the $500,000 Breeders Crown Open Trot on Friday, Oct. 28 at The Meadowlands in East Rutherford, NJ, and is 12/1 on the morning line. It's race nine on the 13-race card, with a planned post time of 10:29 p.m.
"He's definitely going to be a long shot, but it's an eight-hour drive for us and we weren't coming down just for a cheque, that's for sure," Jeff said. "If we didn't think we have a shot we wouldn't be paying a $13,000 (Canadian) starting fee. We wouldn't be coming down just for something to do."
Rick Zeron had been scheduled to drive the horse, but was asked by Jeff if he would allow his son, Scott, to drive and he gladly turned over the reins. Scott, who has been one of the top drivers at the Meadowlands, had already named to drive another horse in the race.
"It's kind of exciting to be in the Breeders Crown for the first time," Jeff said. "I'm not one to get too excited about things. But not too many people get opportunities to race in the Breeders Crown, that's for sure. I think he belongs. There's a couple in there that are tough, but I don't think we're out of place in there, to be honest with you."
Van Camp owns Brooks Performance Horse Feeds, where Jeff is a wholesaler and salesman. Windsun Farm and Robert Van Camp are the breeders of the gelded son of Kadabra, sharing ownership in the Windsun Revenge's dam, Oaklea Polly. The Revenge part of his name was borrowed from a TV show of the same title starring Van Camp's daughter, Emily, who is also known for her roles in Captain America: The Winter Soldier (2014) and Captain America: Civil War (2016).
Windsun Revenge is Jeff's only racehorse in training at the moment. He has a couple of yearlings and a two-year-old, looks after the horses in the morning and spends the afternoon delivering feed for his customers.
His father, Jack, had been instrumental in Jeff's start in the horse business, buying a property 35 years ago where he built a farm and two homes.
"I never really worked other than on the farm," Jeff said. "It was my dad that got me into the horse business. My dad had horses before my brother and I were even born. He had to get out of the horse business. It was either feed the horses or feed the family. When he could afford to get back into it, he bought some land, built some barns and built some houses and the rest is history.
"He always had a few broodmares and colts, and my brother and my dad claimed a few horses. We've had some good horses, one that raced in 1:49, Durhams Cam, about 10 years ago. He was a good raceway horse. He made about $400,000. He was a good overnight racehorse at Mohawk that you could race every Saturday. My dad used to name the (family) horses with the prefix Durham. Durhams Cam was probably the last Durham horse.
"Between my brother and myself, we always had four or five horses racing," Jeff added. "Because my dad hadn't been in good health the last 10 years, I had been doing most of the training. But I always asked him for fatherly advice. Robert bought Windsun Revenge back at the yearling sale and I bought a piece of him. You never know with horses. The young ones are the ones you can hit a home run with if you get lucky."
2016 $500,000 Breeders Crown Open Trot
(Post - Horse - Driver - Trainer - Odds)
1. Il Sogno Dream - Corey Callahan - Chris Beaver - 15-1
2. Resolve - Ake Svanstedt - Ake Svanstedt - 7-5
3. JL Cruze - John Campbell - Eric Ell - 8-1
4. Windsun Revenge - Scott Zeron - Jeff Durham - 12-1
5. Crescent Fashion - David Miller - Ake Svanstedt - 20-1
6. Centurion ATM - Tim Tetrick - Ake Svanstedt8-1
7. Flanagan Memory - Brian Sears - Rene Dion - 4-1
8. Crazy Wow - Yannick Gingras - Ron Burke - 6-1
9. Lookslikeachpndale - Sylvain Filion - Luc Blais - 12-1
For the complete cards with Breeders Crown fields, click one of the following links: Friday - Meadowlands -- Saturday - Meadowlands.
(with files from Breeders Crown)