Published:
October 25, 2019 10:43 pm EDT
There were three fillies getting a lot of attention heading into the 2019 $786,000 ($600,000 USD) Breeders Crown Final for two-year-old pacing fillies, but Reflect With Me was not one of them. She has placed herself back into the conversation of the division's best with a come-from-behind Breeders Crown victory.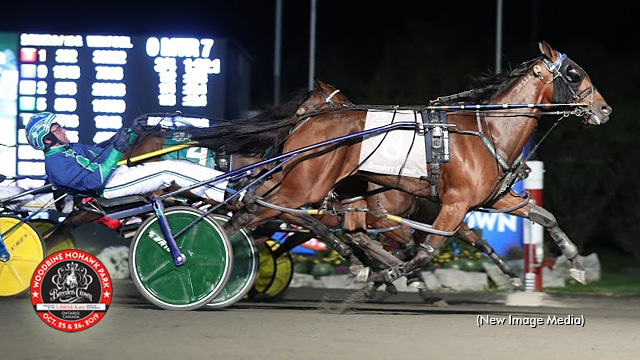 Leaving from post position eight, Andrew McCarthy settled Reflect With Me near the back of the field as elimination winner Priceless (Brandon Bates) sprinted out for command. The field settled into the first turn as Priceless hit the first quarter in :26.4.
Passing that point, Tim Tetrick angled favoured Lyons Sentinel out from third and the fellow elim winners paced as a tandem toward the half before Bates yielded and allowed Lyons Sentinel to pace through the midway mark in a sharp :53.3. The third elimination winner, New Year (Corey Callahan) made her presence felt with a first-over attack, giving cover to Ontario starlet Alicorn (Louis-Philippe Roy) as the outer flow started to develop. As the third station was reached in 1:22.1, Lyons Sentinel maintained command and fronted the field turning for home.
When the head of the lane was reached, fillies fanned out five-wide from the backfield and widest of all was Reflect With Me. McCarthy gave her the cue in the stretch and she responded with a wicked front-side brush to nail Lyons Sentinel in the final strides for the 27-1 upset. Marloe Hanover (Dexter Dunn) rallied to complete the top three, with the mile timed in a lifetime-best matching 1:50.3.
"This filly raced so good tonight," said a jubilant McCarthy after his second career Breeders Crown win. "She raced really good last week too in the elimination. I was just a little too far back off slow fractions.
"When I saw :53 pop up I was still a little worried being fourth over but I knew she'd have a good enough kick in the stretch to at least run into some money...but she dug and dug and dug. She was a little tired at the wire but she just kept on pacing."
Reflect With Me (Captaintreacherous - Remember When) nwo boasts a 5-3-2 summary and $621,641 in earnings from 11 rookie starts for trainer Tony Alagna -- winning his second Breeders Crown of the night. Brad Grant of Milton, Ont. co-owns Reflect With Me along with breeder Brittany Farms of Versailles, Ky.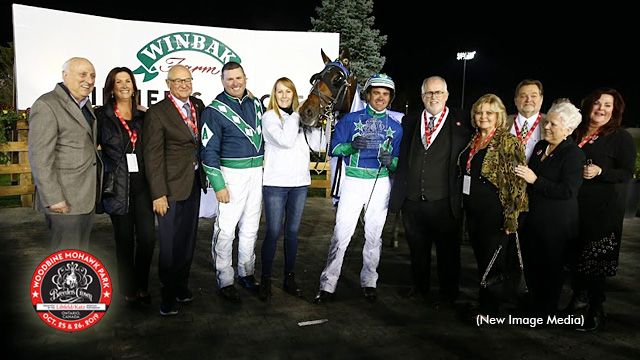 "When Ramona [Hill] won I had to warm up Capt Midnight. Andy was nice enough to win another one so I could get my picture taken," said Alagna with a smile in the winner's circle. "Andy and I talked about it beforehand, we actually talked about it when the draw came out. I said the beauty of it is there's a lot of speed inside of us...she had a pace to close into and that made the difference."
Owner Brad Grant relished the opportunity to win two such prestigious races in his backyard.
"This is great, I don't have to carry those trophies too far to get them home," said an elated Grant. "Andrew had all the faith in her and she kept coming and coming. I didn't know whether she got there but the consensus in the dining room was that she did so I listened to them."
Grant also complimented the team at Woodbine Mohawk Park for the sensational job in hosting this prestigious harness racing event.
"It shows what Woodbine Mohawk Park has done and what they're trying to do here. And I think we're showing the Standardbred world that we are a #1 facility."