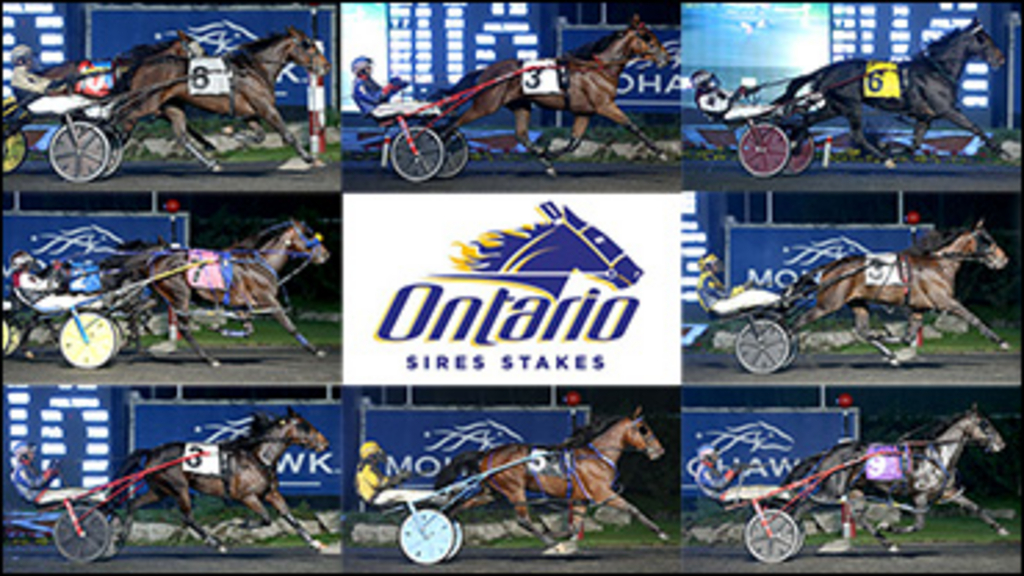 Published:
October 14, 2017 08:21 pm EDT

Mohawk Racetrack hosted 2017's Ontario Sires Stakes Super Final Night, highlighted by eight $225,000 OSS Super Finals for freshmen and sophomore pacers and trotters, on Saturday, October 14.
Kadabra Queen stormed down the center of the track and through the rains to take the Two-Year-Old Filly Trot in 1:57.3 as the 9-5 favourite.
Sorceress Seelster set a :27.4 opening quarter before forfeiting the lead to Smoke And Mirrors in the backstretch. After a :57.4 half, Kadabra Queen, trotting eighth, obtained cover from Shamrock Shaker approaching the far turn, being carried into contention coming to three-quarters, timed in 1:27.3.
After Sorceress Seelster lost stride in the pocket, Smoke And Mirrors trotted through the stretch with an open lead. Kadabra Queen, tipping off cover, charged through the lane, gaining ground on Smoke And Mirrors until she overtook the leader into the sixteenth pole to win. Illusioneesta, coming from off the pace, finished third.
By Kadabra out of the Duke Of York mare Queen Street, Kadabra Queen, racing for owner and breeder Harness Horsepower Inc. in partnership with Frank Monte, won her fifth race in 10 starts, compiling $340,880 in earnings this season. Trained by Chad Milner and driven by Scott Coulter, she paid $5.90 to win.
"When the big money's on the line, like it is tonight, there's going to be some things that happen you might not otherwise see," Scott Coulter said. "I wasn't surprised to see Trevor [Henry and Smoke And Mirrors] set that one up on her toes - it was time to put her up close and into the race. When I saw him sitting up close in third, I thought 'Uh oh, this is one I'm going to have to track down in the later half of this race.' and that's the way it played out. I'm always concerned when I'm sitting that far out of it. That's the case of a great-little race horse making up for maybe not the best positioning."
"She's a pretty strong filly; pretty professional, always has been," Chad Milner said. "[She just] had some bad luck at Flamboro and she bounced back. I was lucky the owners let me do what we thought was right for the horse; we just raced her in the OSS. She's done for the season."
Odds-on favourite R First Class made his way to the front and held control, advancing to a 1:54.4 victory in the Three-Year-Old Colt and Gelding Trot.
Sent the 1-5 favourite, R First Class sat third as On First posted a :27.4 opening quarter after sweeping to the front from post nine. Lmc Mass Gem, sitting second, popped out of the pocket and circled to the front shortly before R First Class, tracking that move, took over moving to the half, timed in :57.3.
In front at three-quarters in 1:26.4, R First Class drifted a touch as he trotted through the stretch clear of Lmc Mass Gem chasing in second. Tycon Seelster, off a rail trip, weaved by horses to take third, while On First held fourth.
Returning $2.60 to win, R First Class, a gelding by Kadabra out of the Balanced Image mare World Class Image, won his seventh race in 12 starts, earning $319,746 for owners and breeders Thomas and Elizabeth Rankin. He's trained by Benoit Baillargeon and driven by Sylvain Filion.
"He's getting better and better every start," Benoit Baillargeon said. "He's very calm right now on the track, and Sylvain was a little worried because he's too smart, but he's just learning to be a good horse. We all love our trotters to have speed, but he was born with it, and we just got it out of him that's all. I think he's going to get a little stronger and wider and go as a four-year-old, a five-year-old - he's a perfectly sound horse, so I don't see why not."
"It's a real thrill to have a homebred," co-owner Thomas Rankin said. "To think I bought the mare [at] the London Sale a few years ago - I've bred her a couple times, and she's had a few good offspring, but this guy's the best of them all, so I'm really pleased."
Commandeering the field early, The Joy Luck Club traveled unchallenged when winning the Three-Year-Old Filly Pace, going the mile in 1:51.2.
Taking control after a :26.4 opening quarter, The Joy Luck Club entered the backstretch under no pressure, as Yaris Bayama, first over from sixth, slowly progressed uncovered in search for cover. Following a :55.3 half, The Joy Luck Club expanded her lead around the final turn, kicking clear at three-quarters in 1:23.2 as Yaris Bayama took second from Blameitonthenight, riding the pocket in third. The Joy Luck Club coasted home clear of Action Majesty, catapulting from the back to take second, while Dudesalady shot up the pylons for third.
Owned by R A W Equine Inc., breeder Mark Horner, and trainer Gregg Mcnair, The Joy Luck Club, winning her 14th race in 22 starts this season following a ten-start maiden campaign as a freshmen, has earned $357,927. The filly by Camluck, from the American Ideal mare Oh The Joy, was driven by Doug Mcnair and paid $3.60 to win.
"I figured if I got a half better than :53 tonight, I'd have a good shot," Doug Mcnair said. "She's real high speed; you don't get a whole lot faster than her. If [I] can use her at the right time, that's usually the best for her. It'd be scary to see her on a nice night and get a cheap half - I think she'd break the [1]:50 barrier."
"To [have] bred him and then see what he did tonight is pretty special," Mark Horner said. "Last year, we had bad luck and bad posts, and she was a little weary of the gate - she always had high speed, we just couldn't get her in the right time or the right fit. We had a plan and, for the first time, looks like the plan worked out.
"My partners like to breed them; she'll go in the broodmare van eventually. She's going to get a rest now, then we'll bring her back at four and see how much Gregg [Mcnair] will pay me to train it."
Suctioned into contention from the contested pace, 2-1 favourite Western Passage swept to the front around the final turn to take the Two-Year-Old Colt and Gelding Pace in 1:51.3.
Hudson Phil sprinted to the front, going a :26.3 quarter as Burning Midnight advanced wide of pocket-sitter Shadow Moon into the backstretch. Taste Of History, pacing fourth, tipped off the rail to track Burning Midnight heading to the half, soon fanning three wide and rushing to the top after a :55 half.
Taste Of History held the lead moving around the final turn. Western Passage moved first over from fifth, charging towards the leader and pacing by through a 1:23.2 third-quarter as he progressed to the line in front of Jimmy Freight, chasing in second, and Sports Legend, who rallied for third.
Western Passage, a gelding by Sportswriter from the Western Hanover mare Ever Western, competes for owners West Wins Stable, John Fielding, Mckinlay Fielding, and Calhoun Racing. He won his second race in eight starts, earning $211,880 this season. Trained by Casie Coleman and driven by Doug Mcnair, he paid $6.90 to win.
"He finished second in both his first Golds and raced great - I made the bright idea that he should've won them and I decided he was being lazy and that I needed to geld him," Coleman said. "We actually almost lost the horse. He had to go in twice and get emergency surgery; he got an infection and it got pretty bad, but everything came together well and that's why he had a gap in the schedule - we were almost going to shut him down for the season, but we decided to give him a chance and now he's bouncing back.
"With everything he went through, he's still paid to the Breeders Crown, but I think I'm going to stick to our game plan - shut him down, bring him back, and have a big three-year-old season."
"I figured if I could get first or second over he'd be tough in the stretch," Mcnair said. "When he gets on his own, sometimes he hesitates for a little bit, so I really didn't want to clear too early but it worked out that way. He wasn't tired at the wire; I pulled the plugs and he just paced away. I was a little worried down the stretch, but he raced good."
Draft Year, going as the 3-5 favourite, inherited the lead at the half and maintained control to take the Two-Year-Old Colt and Gelding Trot in 1:57.1.
The first quarter going in :28, Levitation led into the backstretch, with Torches Pirate riding the pocket and Draft Year in third. Levitation began to gallop past three-eighths, with Torches Pirate soon losing stride behind him, giving the front to Draft Year heading to the half, timed in :57.4. He remained in front through three-quarters in 1:28 and through the stretch as T Barrr rallied from off cover to take second, while Perfetto closed off a rail trip for third.
Paying $3.40 to win, Draft Year, a gelding by Kadabra out of the Angus Hall mare Allmar Victory, competes for the interests of Douglas Millard, Timothy Murray, Ben Mudry, and Howard Taylor. Winning his second race in six starts, the Brad Maxwell trainee has collected $181,480 so far this season. Driven by Randall Waples, he paid $3.40 to win.
"This is my biggest win as an owner," co-owner Tim Murray said. "Very excited, love the horse, love my trainer, love my driver. Just met my co-owners today - I've had horses with them for a couple years; it was a good night."
"When it looks like you're going to get a clean trip by the way it looks on the page, it always seems that it doesn't work out that way," Waples said. "It was kind of a dicey situation again, but he's good right now. I was just glad I got him back to the front and let him do his own thing. I was pretty confident at the half that I'd be standing here talking."
On A Sunny Day took the front after the quarter and trotted home with ease to win the Three-Year-Old Filly Trot as the 2-5 favourite in 1:55.2.
With Sweet Of My Heart circling to the lead at the quarter in :27.2, Sylvain Filion promptly tipped On A Sunny Day wide to retake the lead into the backstretch. Trotting the half in :56.3, she held command under minor pressure from Winter Sweet Frost heading to three-quarters, timed in 1:25.3, before coasting home. Winter Sweet Frost took second, while Majestic Kat closed down the center of the track for third.
Paying $2.80 to win, Luc Blais-trainee On A Sunny Day, by Muscle Mass from the Promising Catch mare Dicent No, won her sixth race in 11 starts this season and her 10th in 17 starts overall, compiling $559,036 in earnings for owner Determination Inc.
"She's been good all year and she's still fresh," Filion said. "I've got to give credit to Luc and his crew - they kept her sound and fresh and she showed it tonight."
"We'll see about next year," Luc Blais said. "With four-year-olds, they race against the aged horses, so she'll have to step up, but we'll see. [For this year], we don't know; she has a few stakes at the end, but we'll see tomorrow morning with how she feels."
Percy Bluechip reclaimed control late in the lane to take the Two-Year-Old Filly Pace in 1:53.4.
Wide through a :26 quarter set by Big Thong, Percy Bluechip floated uncovered towards the leader, struggling to clear after a :54.4. Taking the lead into the turn, Percy Bluechip quickly lost the top to Kendall Seelster heading to three-quarters, timed in 1:23.4. Kendall Seelster drifted in the stretch, leaving room for Percy Bluechip to fire at the inside, while Play The Bell launched off cover towards the center of the track into second. Kendall Seelster held on for third.
By Shadow Play out of the Artsplace mare Advantest, Percy Bluechip, winning her fifth race in eight starts, has earned $453,295 for owners Shadow Two Stable and James and Wilma Mackenzie. Trained by Dr. Ian Moore and driven by Trevor Henry, she paid $6.80 to win.
"She's been a very special filly for us; it's great that she's done this," Dr. Moore said. "I was just saying today, as we were driving up to London for the sale, how fortunate I am to be able to train and race horses by a horse who was very good to me, and I'm talking about her sire, Shadow Play. It's a win-win for all of us; it's our original group, plus a couple others in on Percy.
"We're not taking anything away from the other fillies either - there're a couple of good ones, like [Kendall Seelster], and she raced tough all year as well. We're fortunate to win tonight despite what a rotten night it is."
"She raced tough, but the race didn't go the way I thought it would," Trevor Henry said. "Randy's filly got a little tired. The muddy track might've suited her - she's not very big, but I've got a big filly and she raced good."
Sweeping to the front, Tymal Peacemaker hijacked the pace and sprinted clear to a 1:51.2 upset in the Three-Year-Old Colt and Gelding Pace.
Positioned fifth through a :26.2 quarter set by Sports Column, Tymal Peacemaker rushed to take the top from Histoire Enchantee, who cleared moving into the backstretch. Through a :55.3 half, Tymal Peacemaker extended his lead on Histoire Enchantee, confronted by Sports Column first over, passing three-quarters in 1:23.3. Tymal Peacemaker strolled through the stretch in front as Red John closed for second, while Sports Column held third.
Going off at 18-1, Tymal Peacemaker, a gelding by Mach Three out of the Real Artist mare Flying Color, returned $38.10 to win. Owned by Bayama Farms Inc., trained by Stephane Larocque, and driven by Sylvain Filion, he won his seventh race in 18 starts, earning $162,390.
"I don't know if that was the trip [I was hoping for] but it worked out," Larocque said. "It's been a long year for him, and we worked hard to bring him to this point. It was a team effort to get him to this point."
"Last year he was real good, then he finished the end of the year real super," co-owner Yves Filion said. "Then, coming back early this spring, was lame and sore, so we tried to get him right for the last few races, and the result was there - Stephane worked hard on him and he looked super tonight."
"It's been a great night," Sylvain Filion said. "The weather was not so great, but we had a good outing, and hopefully the people enjoyed the show we put on tonight. I'm just happy with three super finals; it can't get much better than this."
To view Saturday's harness racing results, click on the following link: Saturday Results - Mohawk Racetrack.