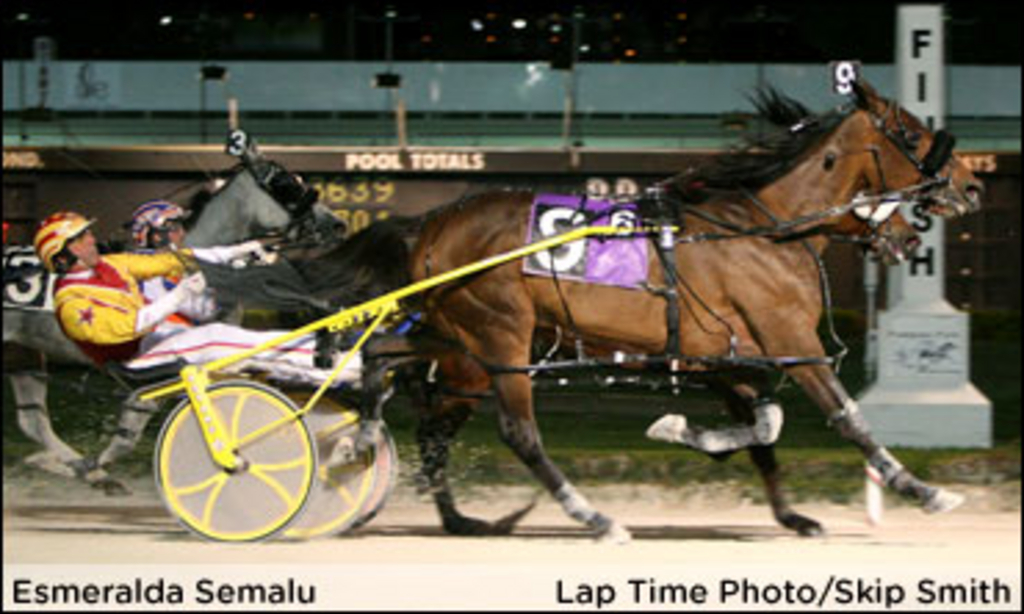 Published:
January 8, 2010 11:00 pm EST
The top distaff group in South Florida took advantage from a one day reprieve from the cold weather wave to put on a stirring show at The Isle Pompano Park on the Friday evening, January 8 program
.
In the end, the handicap event was set up exactly right by Racing Secretary Greg DeFrank. A scant nose was all that separated Esmeralda Semalu's decision over Bling in the photo after the pair had started in the far outside slots in the full field of nine.
Alice Springs, with Bruce Ranger up, fired to the early lead in :26.3 with Bling and David Ingraham setting forth to go first over well before the half time arrived in :55.2. Joe Pavia, Jr. settled 'Esmeralda' into fifth early and adeptly picked up the cover of Bling. By the third marker of 1:24 Bling won the first over battle over a tiring Alice Springs and turning into the stretch Bling was on level terms with Esmeralda Semalu. At the conclusion of a thrilling stretch long duel, 'Esmeralda' was a scant nose the best in 1:53.3 for her third straight win in Pompano's $13,000 top weekly event for pacing mares. Nillabomb, with Wally Hennessey, and Major Trap, with Dan Clements, completed the top four positions.
Ownership of Esmeralda Semalu is shared by the BJR and AGC Stables of Boca Raton and Highland Beach. The six-year-old daughter of Electric Stena-Anemone Semula is now a 25-time career winner. Her 2009 campaign was highlighted by a Pompano mares' track record performance of 1:49.4 enroute to season's earnings of over $126,000.
After several days of precedent setting chilly temperatures in South Florida, the Friday evening program was contested under a perfect setting of 68 degrees (20C.). In the coming weekend, however, all forecasts are calling for the area to again experience plunging temperatures due to the massive arctic blast blanketing much of the continent.
Fred Cohen's Big Triple
There's ample reason to think that 58-year-old Pompano based trainer Fred Cohen of Coconut Creek will follow up his career best year in 2009 with an even better showing in 2010. All three starters he sent out on the January 8 program came up winners.
The dominant night for the Cohen crew began in the first race as Wally Hennessey teamed claiming pace mare Coreys Apache to a front end win in 1:54.4. That was followed two races by another claiming pace win with nine-year-old mare Always, again teamed by Hennessey, in 1:55.4. In the card's final race, David Ingraham guided Legacy Franco N to a 1:54.4 score over her mares claiming pace rivals to complete the trainer's hat trick.
In 2009, Fred Cohen sent out 282 starters with 64 of those returning as winners. In addition to that win total his training earnings of over $265,000 was also a personal best for Cohen in 2009.
Elusive Infield Fox Snacks On Stretch Pylon
A recurring tricky problem with an elusive fox turned up again on the Friday evening program at The Isle Pompano Park. A small fox, which has apparently taken up residence at the track or it's immediate environs, was seen nibbling again on a pylon about halfway between the wire and the paddock. The fox in fact chewed the pylon in half and left just a stump remaining. The difference this time was the elusive and audacious rodent then strolled over to the infield lake to take a drink after reducing his defenceless pylon prey to half it's original height.
Track officials are continuing their attempts to catch the elusive pylon eating fox - or to at least make the stretch drive pylons less appetizing to it's taste.
(Pompano Park)