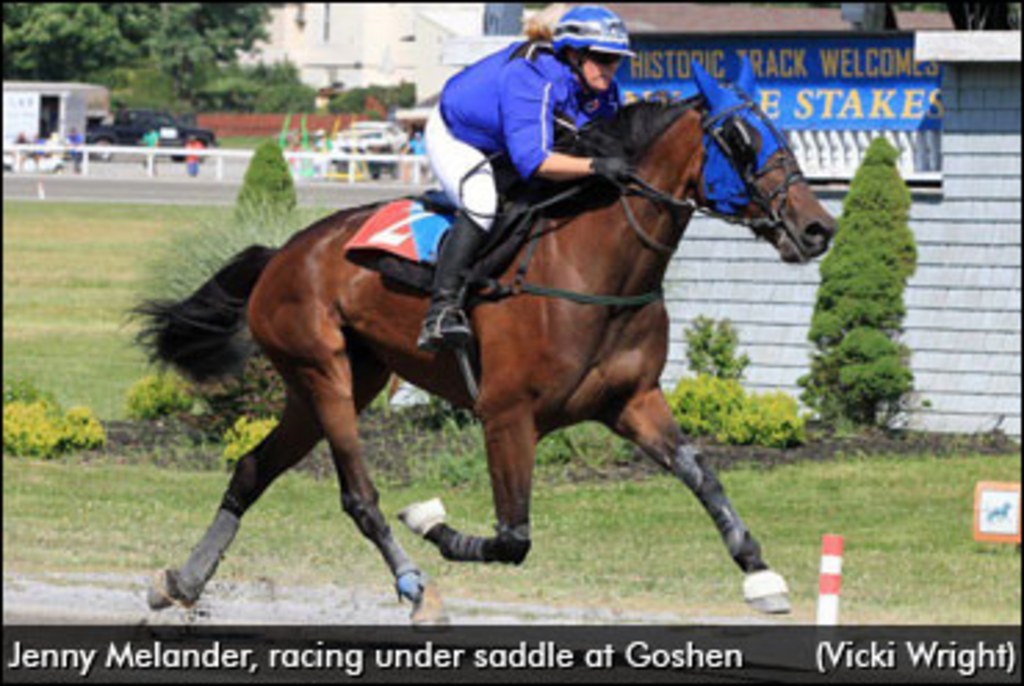 Published:
January 7, 2013 06:53 pm EST
Jenny Melander always wanted to train her own horses, but she was too busy helping other trainers with their stables. Last summer, though, Melander decided to give it a go. She bought a six-year-old trotter, Don Dinero, and became the lessee on a three-year-old trotter, Wisenheimer.
On Thursday night, the now four-year-old Wisenheimer makes his seasonal debut in the Super Bowl series for trotters at Meadowlands Racetrack. Wisenheimer is in the fourth of four $12,500 divisions in the opening round.
The 37-year-old Melander is an accomplished rider – she won two racing under saddle events last year – and has worked for trainers Erv Miller and Mark Harder. She currently works for the John Butenschoen Stable, handling a stable of seven horses in Pennsylvania in addition to training her own two.
"I've been working in this sport forever and never was really able to have my own," the Swedish-born Melander said. "So I thought I would try it a little bit and see how it goes. I really would love to have 10 of my own, or something, but it's never really been possible.
"I've had second trainer jobs for Erv and for Mark and it's just so time consuming. I left Mark's stable in June and moved to Pennsylvania and thought I'd try two and see how it goes."
Melander came to the U.S. from Sweden in 1998 and was immersed in harness racing from the beginning. Although she later got a degree in elementary education from Rider University, graduating with a 4.0, she could not resist the urge to continue teaching horses rather than people.
"I enjoy being outside," Melander said. "You can make your own decisions, for better or worse, and be your own boss and set up your day as you want to. I enjoy every aspect of it; I ride a lot and do the racing under saddle and train. They're all different in their way, but they're all the same.
"If you enjoy the horse as an animal, and it's pretty much my life, it's a good lifestyle."
Working for several large stables has been its own education, as well.
"Everybody has their own way of training and it's been a great school," Melander said. "Mainly I learned that it takes a lot of hard work and you can't give up; you've got to keep trying different methods when you run into any problems. You just have to put your head down and keep working and hopefully success will come."
She added, with a laugh, "And when you have success you better enjoy it because bad days can come quickly."
Wisenheimer has presented Melander with challenges, but the trainer hopes she has the gelding on the right track. Prior to arriving in Melander's stable, Wisenheimer went off stride in four consecutive starts. In six starts since then, he has won in 1:55.3 at Mohegan Sun at Pocono Downs and hit the board twice. He did make breaks twice, though, including in his most recent outing Dec. 19 at Harrah's Philadelphia.
For his career, Wisenheimer has won three of 21 races and earned $25,655.
"He's not an easy horse in any way, but he's very talented when he brings his game," Melander said. "I changed his shoes and I think he likes our regimen. He spends half a day in the paddock and I ride him a lot. I take him on the trails fairly often. That seems to be great for his mindset. He's a hyper-strong horse and he gets to worry sometimes. Coming on the trails, he's a different kind of horse. He gets a chance to get the work in without all the pulling."
Wisenheimer prepped for the Super Bowl with a 1:56.2 qualifier on Jan. 3 at the Meadowlands. David Miller was in the sulky and will be back for Thursday's race.
"David was pretty happy with him when he qualified," Melander said. "I did that because he couldn't get in at the Meadowlands. I wanted him to go around that mile track and try it out."
The Super Bowl series, which is open to four-year-old trotters with fewer than two pari-mutuel wins or $30,000 lifetime, attracted 35 horses. Among that group, two have won already this year: Windsun Galliano, in 1:54.4, and
Helios, in 1:56.1. Both are from the Julie Miller Stable.
"I'm hoping (Wisenheimer) fits in good," Melander said. "Julie's horses are always hard to beat and she always seems to have them ready for the Super Bowl. If my horse behaves, which is his main problem, he should have a little bit of a shot. If he behaves, I know he's a good horse."
---
This story courtesy of Harness Racing Communications, a division of the U.S. Trotting Association. For more information, visit www.ustrotting.com.