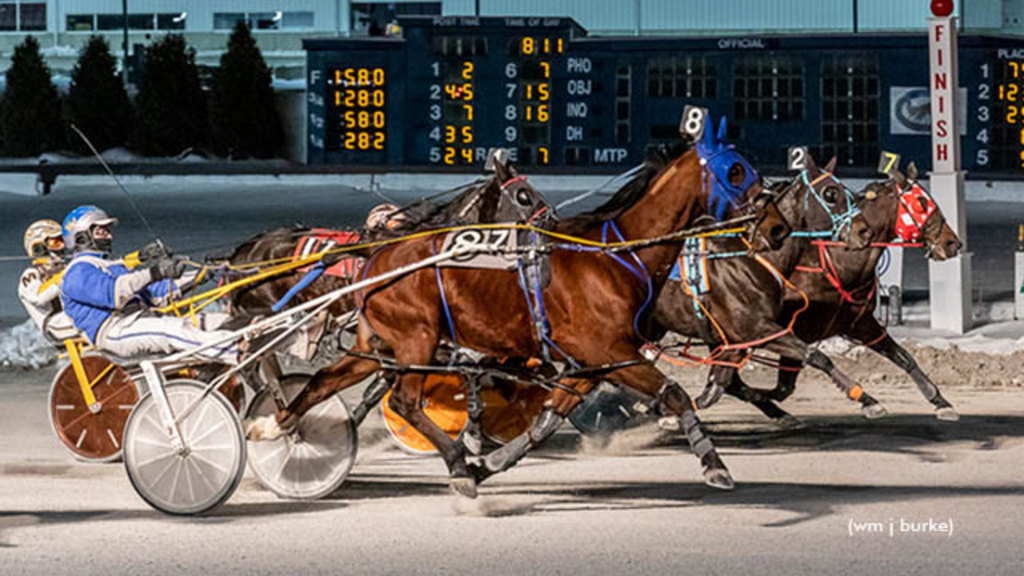 Published:
January 24, 2022 10:21 am EST
"It's great that we've been able to plan the 2022 season knowing that patrons will be coming back to the track," said Buffalo Raceway Assistant General Manager Jon Cramer as the half-mile oval located at the Erie County Fairgrounds gets set to begin its 66-day live harness racing meet on Wednesday evening (Jan. 26) at 6 p.m. with an eight-race program.
"Paige Usiak has been hired full time as our Marketing Coordinator along with being our Race Host and she has been working on some things that I think patrons are going to like throughout the season," Cramer added.
Opening night will feature a $3,000 guaranteed Pick-5 pool thanks to the United States Trotting Association Strategic Wagering Program, the Western New York Harness Horsemen's Association and Buffalo Raceway. The sequence begins in the second race.
The main event on Wednesday's opening card will have a six-horse field battling in the $12,500 Open II-III Pace for the fillies and mares. Fade To Gold is tabbed the 8-5 morning line choice with Denny Bucceri scheduled to drive.
Gerry Sarama, the leading trainer at Buffalo Raceway in 2021 with 63 wins, looks to get off to a fast start in 2022 as he will send five to the gate on the program.
Kevin Cummings, who was second in driving victories last year with 77, will see plenty of action to begin the campaign as he is slated to drive in all eight events.
The first Saturday (Jan. 29) card will see the return of the Lucky Exacta contest. All fans will receive a limited edition, etched, frosted Buffalo Raceway pint glass, which will have an exacta combination. Should that exacta come in between races three through 10, fans will be able to spin the prize wheel with a chance to win anywhere from $10 to $100 in free wagers on the last race of the evening.
The betting format will remain the same as in 2021 with win, place, show, exacta, trifecta and superfecta wagering along with three daily doubles, a Pick 3 and Pick 4 to go along with the previously mentioned Pick 5.
Patrons can now enjoy bistro style food in the clubhouse at Buffalo Raceway beginning on Saturday night. All meals will be $13.99 and choices will include such items as fried chicken, Italian sausage, pulled pork and turkey dinners. On Wednesdays, food will be served at the bar.
"Delaware North has stepped up to provide good food and has added craft beer in the bar," Cramer stated. "A lot of people have been asking for the craft beer and we are now able to provide it."
The New York Sire Stakes and Excelsior Series will also return this season with all eight divisions to be contested on Wednesday nights beginning on May 18. The three-year-old colt trotters take center stage in the first evening of NYSS competition. The two-year-old colt pacers conclude the stakes action on July 13.
Buffalo Raceway will conduct live harness racing on Wednesdays and Saturdays until April with 6 p.m. post times. The track will have Friday racing beginning on April 1 with a 6 p.m. start time.
Beginning on Wednesday, April 6, Buffalo Raceway will shift all of its starting times to 1:30 p.m. until closing day on July 16. The track will be dark on Friday, June 19 and Friday, June 24 as special Sunday matinees will be held on June 19 and 26 with a 1:30 p.m. post.
"We thought we'd try something new," Cramer said of the matinee programs beginning in April. "We've seen other tracks like The Meadows and Saratoga have success with the afternoon posts so we thought we'd give it a try. We think most people will like it."
(Buffalo Raceway)