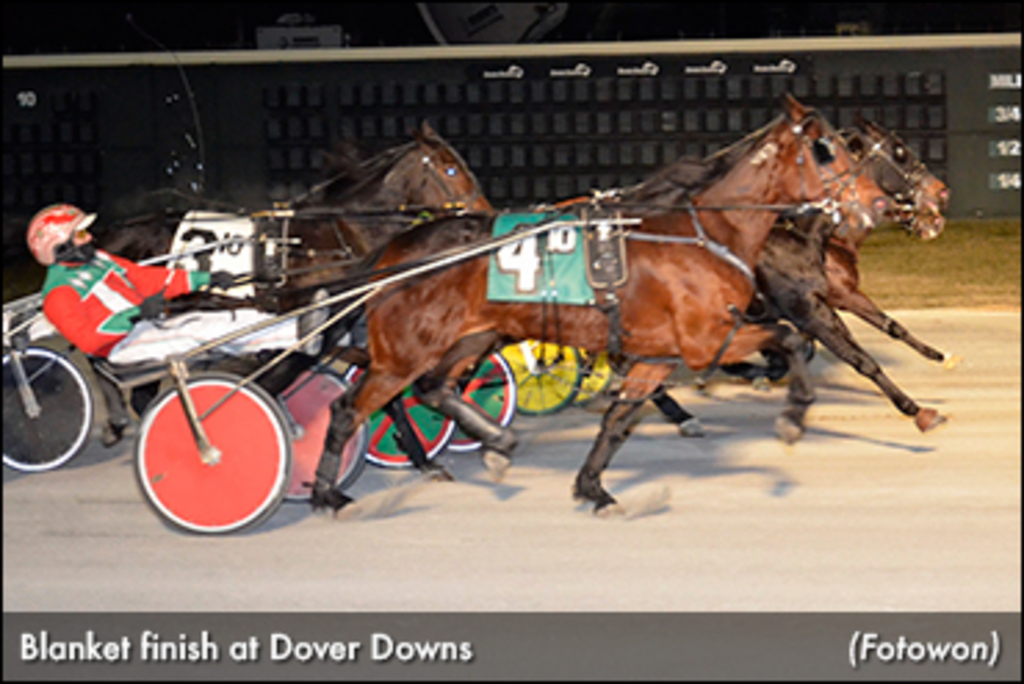 Published:
January 1, 2018 09:06 pm EST
The photo-finish camera was needed to decide a four-horse photograph, deeming race favourite Splashed and 22-1 shot Great Kate having finished in a 1:55.1 dead heat in the $12,000 feature trot on a chilly Monday (Jan. 1) with temperatures in the low teens Fahrenheit at Dover Downs.
In addition, Sheer Assault (Corey Callahan) and Pure Kemp (Art Stafford, Jr.) were noses away, finishing third and fourth respectively before the judges ruled Sheer Assault interfered with Pure Kemp in the lane and their finishes were reversed.
Splashed (Vic Kirby), a Crazed-Take The Plunge gelding, notched his fourth win along with three seconds in his last seven starts since early October for trainer Bobby Clark and owner Tina Clark. Bill Cantrell owns Great Kate (Jonathan Roberts), a four-year-old daughter of Muscle Massive-PJs Photo, now with a new record. Pure Kemp was placed third.
Tony Morgan is now only three wins away from registering 16,000 winning drives after steering Ron Davis' Mister Virgin to an impressive 1:51.3 triumph in a $17,500 claiming pace. Carracci Hanover (Eddie Davis, Jr.) was next in front of Letsmakeawish (Ross Wolfenden), who finished third.
Ross Wolfenden had a triple while drivers Jonathan Roberts and Vic Kirby, trainer Wayne Givens, and owner Legacy Racing all had doubles.
Celebrity Pegasus Leads Eight In Tuesday Trot
Celebrity Pegasus, after closing out 2017 with an impressive win, heads a strong group of eight in the $25,000 Tuesday (Jan. 3) first feature trot of 2018 at Dover Downs. Post time is 4:30 p.m.
Celebrity Pegasus, a 13-time winner last year, is owned by Ken Wood, Bill Dittmar, Steve Iaquinta, and Minisink Farms and is trained by Eric Ell races with Art Stafford, Jr. his regular driver. The second and third-place finishers last time, Kanthaka, with Tim Tetrick, racing for owners Chris Beaver and RBH Ventures, and Bamond Racing's Crazshana driven by Ross Wolfenden, start from posts 2 and 3 respectively.
Since early meet, Theresademoninme and Jonathan Roberts have compiled an impressive record for owners Mike Casalino and trainer Dylan Davis. Theresademoninme has three wins and three seconds in his last eight races. He has been fourth in his last two outings and drew the rail. Jim Moore's Royal Becca J with Jack Parker, Jr. steps up in company after losing by a nose last time but drew post 8 in this one; Bob Shahan and Jimmy and Ashley Parsons' I Like My Boss finished last month strongly with Allan Davis in the bike.
B Yoyo returns from a pair of tough out-of-town races. Tony Morgan drives for trainer Jenn Bongiorno and Bill Lambos and Dionisios Liberatos. Hollywood Highway, owned by Scott Dillon and CTC Stable, will be handled by Corey Callahan.
A wide-open $13,500 trot heads the undercard. Three starters in the nine-horse field ended 2017 with wins: John DeVito's My Cherry Pie (Roberts), Perseverance (Stafford) racing for Wood, Dittmar, Iaquinta, and Tribbett Racing, and Euro Gap (Callahan), owned by Howard and Josh Kaufman.
(Dover Downs)