Published:
October 14, 2015 01:53 pm EDT
People in this industry never cease to amaze me. I asked everyone in the drivers room if they would donate their 5 per cent on a race night to a young father and good friend who is in the midst of a run in with cancer.
Not one person hesitated.
All were resounding YES in helping someone few of them have met or know.
Most people know the horse Mopey Corey.
Few knew who he was named after.
It was almost a decade ago at Campbellville Training Centre and Corey Macpherson worked slowly putting horses away at my barn.
Just a kid, he moved from PEI like so many of us do, dreaming of a chance to make it to Mohawk/Woodbine.
I just stopped and watched him.
Gingerly sweeping, dragging his feet like Frankenstein down the shedrow, I roared to him, "hey mopey, you couldn't pick it up a little could you?" We all laughed and Corey went about his usual painfully slow routine.
He may have been slow but he rarely stopped.
He'd work all day and always have a smile on his face.
You couldn't help but like the kid.
It was tough to see him go, but heart breaking to hear that he had to have surgery and the doctors thought It was cancer.
Just a typical guy in this industry.
Works hard, has a kid and a lovely wife.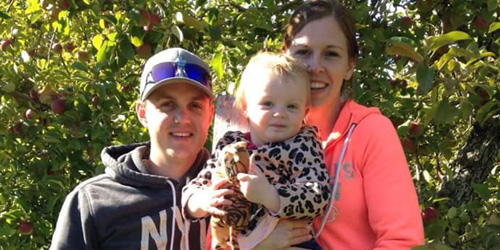 Corey would be upset if he knew we were doing this, he never asked for anything he didn't earn.
But no one wants to hear anyone has cancer, certainly not a 26-year-old father and husband.
None of us have much to give but I'm not as bashful as Corey.
To the people who have pledged an online donation, thank you very very much.
To the people who read this, if you can donate to a great cause, a great kid and a loving father, I and the rest of our industry would be grateful.
Stay strong mopey.
Your friend,
Anthony MacDonald
---
The views presented in Trot Blogs are those of the author and do not necessarily represent those of Standardbred Canada.