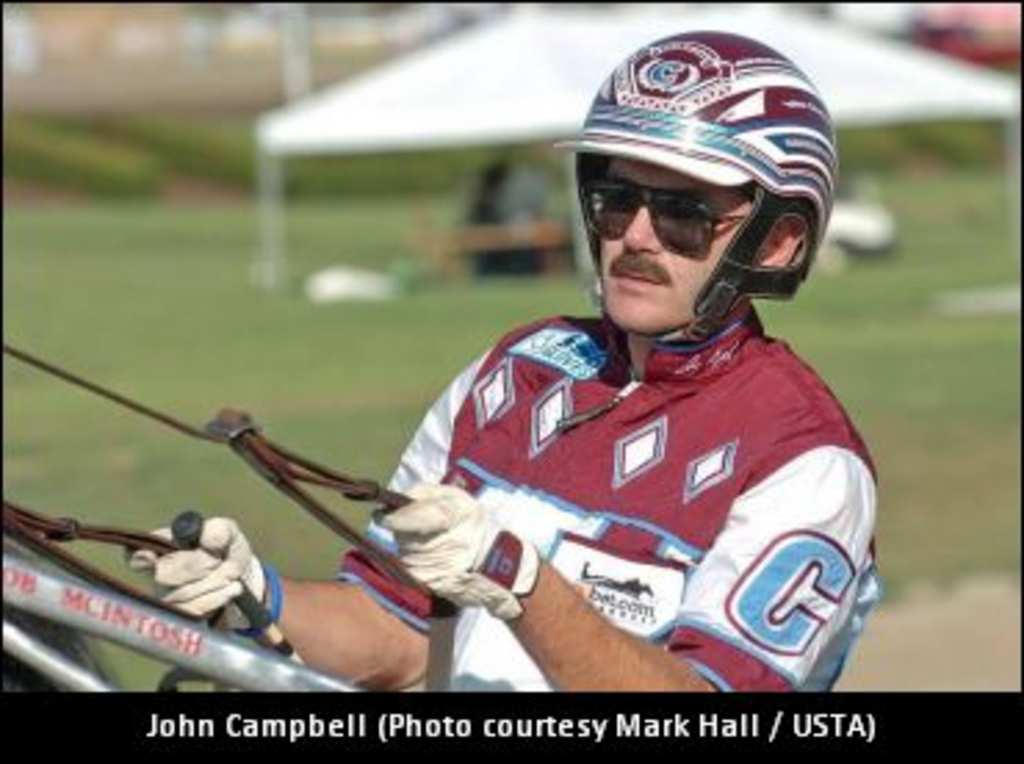 The card for Legends Day 2017, which will take place this Sunday (July 30) at Ontario's Clinton Raceway, has been drawn. John Campbell, the most decorated driver in the history of Standardbred racing, will officially retire at the end of the program, which will culminate with the $15,000 Legends Day Trot.
The ten-dash card will kick off with a first-race post time of 1:30 p.m. The eight-horse Legends Day Trot – which, along with Campbell, will also serve as the final career drive of the great Bill O'Donnell – has been carded as Race 10. The Legends Day Trot, which will also feature driving icons Mike Lachance, Dave Wall, Steve Condren, Ron Waples, David Miller and Doug Brown, has an approximate post time of 4:45 p.m. (Eastern).
To view the entries for Clinton's Legends Day card, click here.
Campbell has drawn both Post 5 and the Amy MacDonald-trained Happy Holidays for the eight-horse Legends Day Trot. The five-year-old Holiday Road mare has recently been racing in the Preferred ranks over Grand River Raceway and Georgian Downs for The Stable, of Guelph, Ont.
O'Donnell drew both Post 8 and the Susie Kerwood-trained Guscrest. The roan son of Angus Hall competed over the Clinton oval this past weekend in the Vic Hayter Memorial Trot and just missed the board.
Campbell was named the new CEO of the Hambletonian Society in mid-March and confirmed his driving retirement with Trot Insider shortly thereafter.
"Going forward, I will be reaching out to all facets of our industry, encouraging them to make decisions that are in the best interest of our sport," Campbell said at the time. "We have our issues and problems, no question, but I believe very strongly that from a betting and entertainment point of view our sport can be relevant and attractive."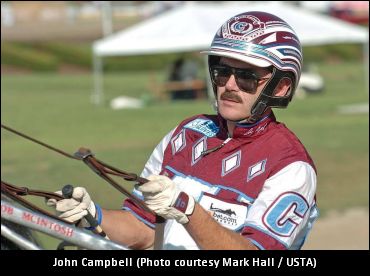 Campbell later told Trot Insider that his new role will not be a desk job."I'm going to be out and around," he said. "I think I'll be actually more visible to you and a lot of the fans because I'm going to be on the front side instead of in the paddock where you wouldn't see me."
In mid-April, Campbell confirmed that his last-ever career drive would come at Clinton Raceway during Legends Day 2017. The native of Ailsa Craig, Ont. said this week that, "It just feels good to me to end up in Ontario, not far from where I started and in front of a number of people who were there when I started driving back in the spring of 1972. It feels like full circle for me and kind of apropos."
Campbell's final drives at the Meadowlands Racetrack took place on June 30 over the East Rutherford, NJ oval, the raceway in which he ascended from being a top catch-driver to a legendary reinsman, arguably the best to ever slip himself onto a race bike. His long list of accolades, which is too long to dissect here, back up much of the discussion. Over the course of his career, the multiple Hall of Famer steered his mounts to over 11,000 victories and $300 million in purses, much of which was earned prior to the introduction of slots-infused purses. Campbell's final career drive on U.S. soil took place on July 2 at the Goshen Historic Track in New York.
The Legends Day Trot will be complemented by some Ontario Sires Stakes action on Sunday, as a trio of $18,450 OSS Grassroots divisions for two-year-old trotting fillies are also set to thrill the surely big crowd that will be in attendance. The Grassroots dashes have been carded as Races 1, 2 and 3 on the program
In advance of this Sunday's biennial event, Clinton Raceway would like to inform race fans of the following details.
Gates for the event will open at 11:30 a.m. and there will be a limited number of accessible parking spaces available within the grandstand area at that time. Acres of parking are available at the Central Huron Community Complex and the REACH centre. Transportation via a people mover will allow for easy access to and from the grandstand area. The road (Mill St.) leading to the grandstand will be closed from Maple (Beer Store corner) around on to Beech. Access to the slot facility will be from North Beech St. only.
With the purchase of a race program, race fans will receive a free commemorative booklet on John Campbell's illustrious racing career. Additional copies can be purchased for $5 each at the program outlets (front gate, and inside grandstand).
Legends Day merchandise will be available for purchase, including a $5 John Campbell T-Shirt that is encouraged to be put on, and worn in the grandstand, to make for a great photo opportunity in the Legends Day Trot. There will be a five shirt/person maximum purchase.
Many additional options for food and drink will be within the grandstand area, as well as inflatables, face painting, pool and splash pad in the Clinton Community Park, located behind the grandstand.
Race fans are encouraged to bring homemade signs to hold at the rail and in the grandstands to cheer on the driver's in the Legends Trot, signs can be registered under the grandstand, with the winner taking home a $100 prize, including Legends Day merchandise, and autographed John Campbell bobblehead.
Following the live race card, a chicken BBQ will take place in the trackside tent. Tickets are encouraged to be reserved in advance and can be done so by contacting Jessica Carnochan at 519-955-6820 or [email protected] . Tickets are $20 and 100 per cent of the sales will be donated to the Clinton Public Hospital Foundation.
For a map of the area, directions and more information please visit clintonraceway.com.
Gates will open at 11:30 a.m. and live-race post time is scheduled to kick off the day at 1:30 p.m.
To view the harness racing entries for Sunday at Clinton, click the following link: Sunday Entries – Clinton Raceway.
The online auction in support of the Clinton Public Hospital Foundation, in conjunction with Legends Day at Clinton Raceway, is open for bidding, with items to begin closing on Friday.
Interested parties can visit legendsdayauction.com to bid on some spectacular items, ranging from racing memorabilia and industry experiences, to sporting events and vacation spots.
The auction, first incorporated into the event in 2015 helped to raise an additional $10,000 for the CPHF, the recipient of the days efforts.
It's easy to get started (all you need is an email address). Register on the legendsdayauction.com site and start bidding. Items will begin closing Friday, July 28 at 5:00 p.m. and can be arranged for pick up at the event on Sunday, July 30 when gates open at 11:30 a.m.
(With files from Clinton Raceway)