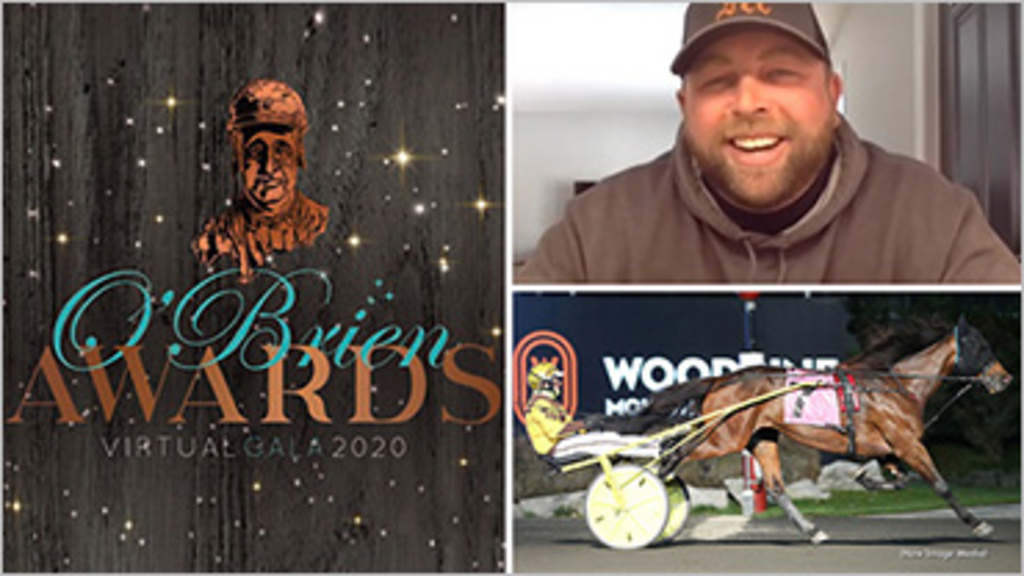 Trainer Jeff Gillis has earned the nation's highest honour with his training pupils on several occasions, and in 2020 found himself taking home a trophy again.
"It's a big thrill any time you're recognized across the country for winning an award," Gillis said of his O'Brien Award. "It's an honour, for sure."
In 2020, his now six-year-old Donato Hanover mare Hey Livvy came up large on the Ontario racing circuit. From 23 starts, she won nine times while also rising to the top of the condition sheet at Woodbine Mohawk Park, winning six times at the Preferred level with her biggest victory coming in the $220,000 Armbro Flight.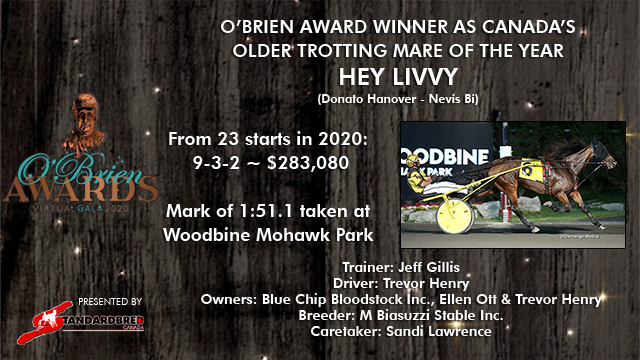 "Every day is a whirlwind with Livvy," Gillis said. "She's a handful on a good day. But the Armbro Flight was a race we targeted, and it became even more of a target once travel became, well, out of the question with COVID for us. Under normal circumstances, I have my concerns about travelling with her. She's not a great shipper; she's very routine oriented. She has her challenges, but with COVID it was out of the question and that became the one big dance on her card.
"The talent you can spot from an airplane," Gillis also said. "Besides that, she has a very pure gait -- I say as pure as the driven snow. You could put four different shoes on her on sideways and she'll trot. That's a big part of it. With her, it's all about her mind. It's all go all the time, there's no middle ground with her."
Through her 2020 season, where she accrued nearly $300,000 in earnings, Trevor Henry had her reins in every start. Gillis credits Henry with helping to bring out the mare's ability along with others.
"I think Trevor as a personality suits her," Gillis said. "He's not the type of person to get too worked up, I'm sure you know, about anything. He's driven lots of difficult trotters over his career, so I think he suits her, and he deserves a lot of credit for the way she's developed. As well as two other people—I'd be remissed not to mention Sandy Lawrence and Ron Waples Jr. [They] have both had great influences on her career and have devoted a lot of hours towards her being what she is."
Gillis has found recognition with numerous horses in the O'Brien Awards over the last few years, having trained winners including Federal Flex (2008 Two-Year-Old Trotting Colt/Gelding), Frenchfrysnvinegar (2011, 2012 Aged Trotting Mare) and Mister Herbie (2012, 2013 Aged Trotting Male). With over 1,200 victories on his resume, he has banked $27 million with his trainees through his career.
"Mister Herbie will always be my favourite horse," Gillis said, "and his talent is difficult to—well, [Hey Livvy's] the only one on the same category as him as far as I'm concerned for overall ability.
"I've been fortunate to be in the right place in the right time," Gillis also said of his success. "Some of those horses came to us looking to break out, so to speak. A lot of times there's just a missing key here and there, sometimes behavioral. We aren't as big an operation as we used to be and it allows us to be very specific to one's needs, I guess, that's more difficult in a larger outfit."
With the success Hey Livvy showed in 2020, Gillis will point his mare in 2021 again to the Armbro Flight, but also will take her into the Maple Leaf Trot and potentially ship her south to the Meadowlands for the Breeders Crown.
This is the sixth in a series of post-event video interviews with O'Brien Award winners, sponsored by Horse Racing Alberta. The 2020 O'Brien Awards gala was covered live on the SC website, with a photo gallery of winners and a virtual photo album as part of the coverage. The official list of winners is available here, with official vote totals posted here.