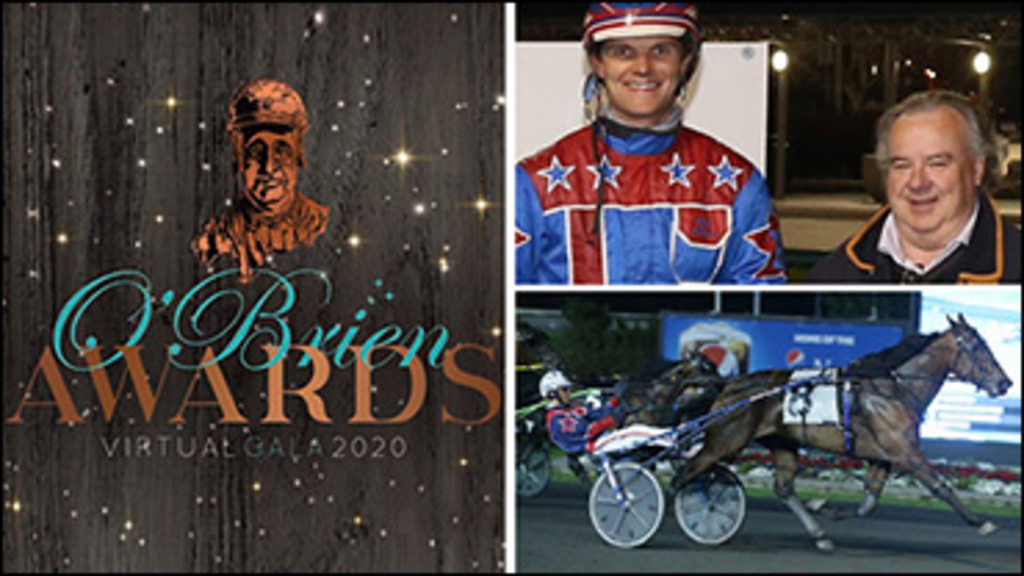 Ask anyone involved in harness racing, and they will all agree that there's nothing like the feeling of winning. Owner Gerry Haggerty experienced his fair share of thrills over 2020 courtesy trotter Perfetto, but those victories didn't prepare him for what it would feel like to win an O'Brien Award.
"It's an honour to win the award," an emotional Haggerty told SC's Rachel Oenema. "It's something I didn't realize was that valuable, but it really belongs to Dagfin [Henriksen] and Perfetto. I only wrote a cheque for him."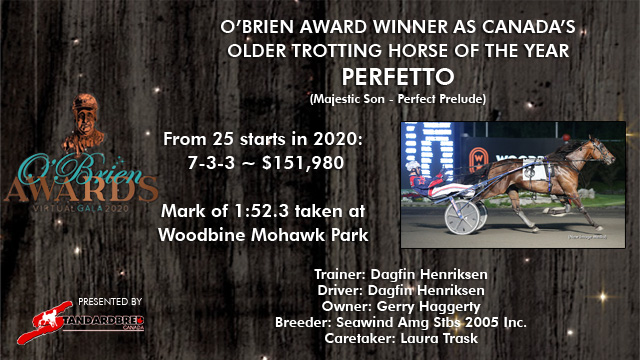 Perfetto was voted Older Trotting Horse of the Year after winning seven of 25 races and more than $151,000 while making all but one start at Woodbine Mohawk Park for trainer-driver Henriksen and owner Haggerty. The son of Majestic Son posted a career best effort of 1:52.3 on December 14 at Mohawk, but it was that start away from Mohawk that truly resonates with Haggerty to this day.
"The Earl Rowe [Memorial at Georgian Downs] was really exciting," confessed Haggerty. "We got away second, and we finished third but out of the eight hole on the five-eighths [mile track], we'd never raced there before. I thought we really didn't have a shot. That was pretty exciting stretch drive, even to finish third with him."
Haggerty heaped praise upon Henriksen and caretaker Laura Trask for their doting care of Perfetto while admiring the horse's will to win and compete race in and race out.
"He wants to race, he'll tell you."
Those appearances for Perfetto might come with a different schedule in 2021 as Haggerty noted that he'll stake his stable star more aggressively than he's done in the past while hoping to tailor his schedule to some of those major events.
"We're going to put him in one or two big stakes races, I've just got to make my mind up in the next few days," Gerry said. "We'll just manage him a little different this year so for those big races in September, October we're ready to go and keep him pretty fresh.
"He might have a lot of the summer off, just lightly raced. Even he needs a little bit of a holiday."
To view the full interview with Haggerty and Oenema, click the play button below.
This is the fifth in a series of post-event video interviews with O'Brien Award winners, sponsored by Horse Racing Alberta. The 2020 O'Brien Awards gala was covered live on the SC website, with a photo gallery of winners and a virtual photo album as part of the coverage. The official list of winners is available here, with official vote totals posted here.