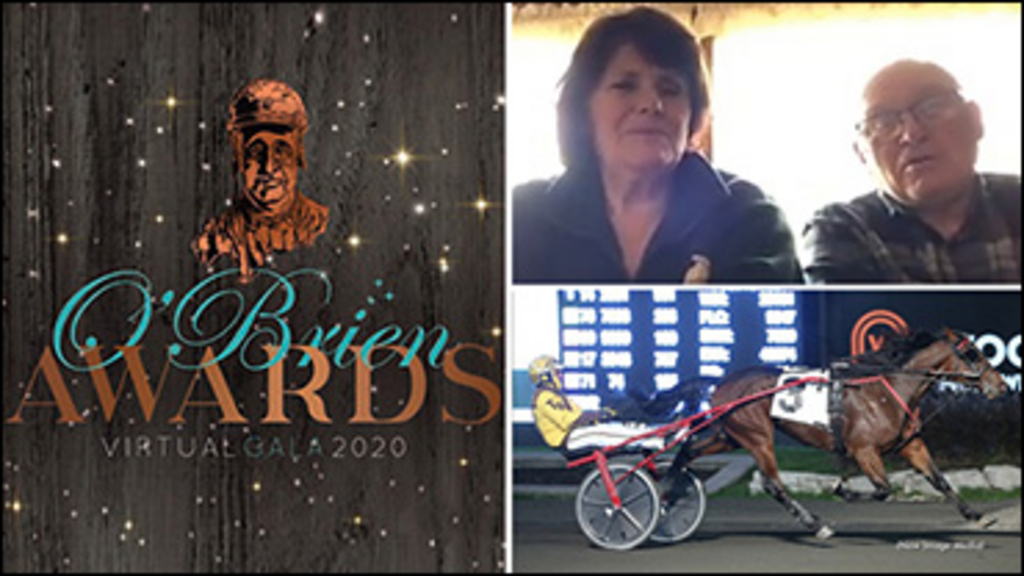 Brenda and Paul Walker had landed themselves in consideration for an O'Brien Award a homebred before, but to be in the position to receive a nomination again -- let alone win -- was an absolute shock.
"In the horse business, sometimes at the time when you think you're making a mistake it works out to be the right thing to do. It started that way with his mother. Right down the line, it's been a big surprise," said trainer Paul Walker. "Years ago, we got a couple nominations with our one homebred trotter, but we never could win it. It's nice to finally get around. I didn't even think we'd get another trotter that would even be in that category. So yeah, it's pretty shocking actually."
"I mean it feels pretty amazing," confessed co-owned Brenda Walker. "It's a great honour to be nominated, but it's better to win."
Pemberton, a son of Wheeling N Dealin, was voted Canada's Three-Year-Old Trotting Colt of the Year. A winner of eight of 10 races, he earned more than $363,000 during his sophomore season. Four of his victories came in Ontario Sires Stakes events including the season-ending Super Final. He was named for Brenda's late grandfather Albert Pemberton.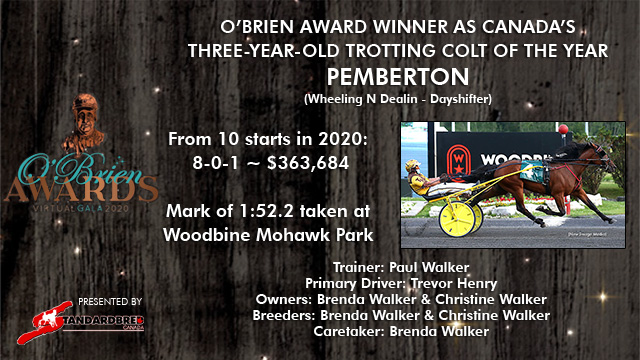 "He lived with us our whole life because he was a widow, so I had always said I'd like to name a horse after my grandfather," said Brenda. "When I was about four or five years old, my grandfather actually bought me a large rocking horse, and I still have it to this day. He always knew I liked horses and that, so when I had the opportunity to name a horse I said 'Well I'm going to name him after my grandpa.'"
From the Walkers' unraced Muscle Mass mare Dayshifter, Pemberton did not hit the track as a two-year-old. But the gelding quickly demonstrated ability with a powerful rally to win at Woodbine Mohawk Park in just his second start, doing so while trotting a final quarter in :25.4.
"He was pretty ordinary as a two-year-old, mind you he had a few soreness issues so we never got to really push him as a two-year-old," recalled Paul. "We just thought he was another face in the barn until he trained in the winter time as a three-year-old. But it's one thing to do that when you're training with one other horse and when you get them into the race, you never know. I think I was surprised to see him do what he did in such short order for a horse that didn't race as a two-year-old.
"I think even the next time he raced after the maiden-breaking race, you're starting to think maybe [that] he's better than a Grassroots horse," admitted Paul. "We said to Trevor [Henry] when we finally raced him in a Gold there 'I guess we'll know now what we got when we're done tonight.' He had come home with flying colours that night, so then we knew we had a pretty quality horse."
With just one third-place finish in a Gold preliminary at Grand River, Pemberton completed a near-sweep of the Ontario Sires Stakeswith a 1:52.4 victory in the $250,000 Super Final by three-and-three-quarter lengths under wraps.
"Of course the Super Final is a big race because he won it very convincingly," noted Brenda. "A lot of our family was able to join us, like Christine and the kids; a couple of kids were there, and Julie was with us in the winner's circle. That was a big race for us."
From 10 starts, Pemberton stayed consistent through the year, winning in eight starts and missing the board in only one—his debut on June 6 at Georgian Downs, where he finished fourth. The gelding, racing for owners Brenda and Christine Walker, now readies for a four-year-old season, which has the Walkers hopeful but uncertain.
"He was just always a very smart horse," noted Paul. "Very good mannered on the track. We seldom ever made an equipment change on him. Same with shoes; he was wearing the same shoes all summer. There was nothing about him, he was just kind of a natural when it comes to getting the going at him. He just improved on his own and had a remarkable gait on him. Luckily he didn't have many soundness issues—very minor. Even Trevor will tell you—the way he handled himself in the race, he never wasted any energy. He seemed to know what you wanted when you wanted it.
"He hasn't grown much; he's not a very big horse," Paul also said. "He's filled out a bit. We don't know what to expect from him this year. Hopefully he'll come back as good or better, but you just never know."
This is the fourth in a series of post-event video interviews with O'Brien Award winners, sponsored by Horse Racing Alberta. The 2020 O'Brien Awards gala was covered live on the SC website, with a photo gallery of winners and a virtual photo album as part of the coverage. The official list of winners is available here, with official vote totals posted here.