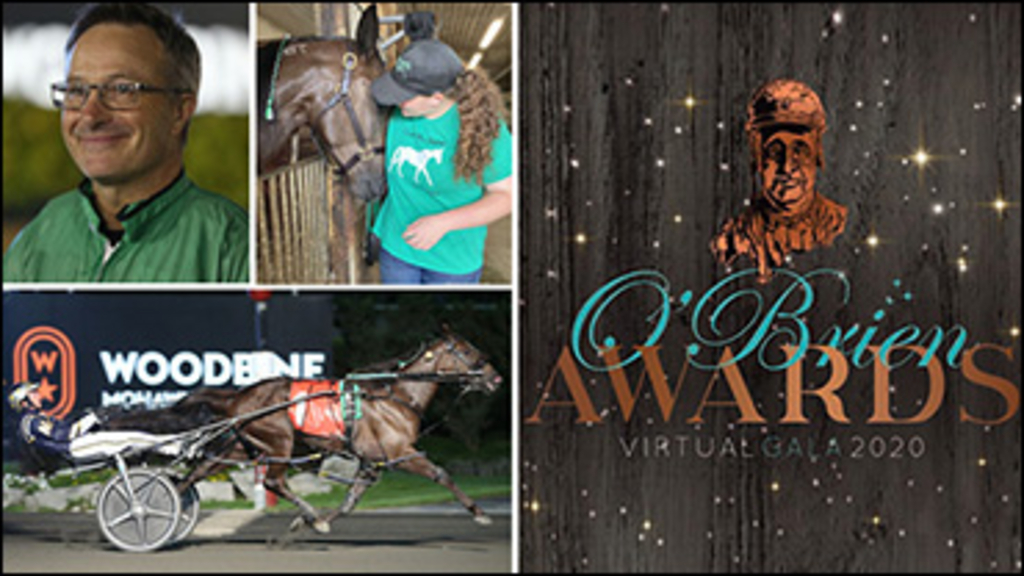 "She's really gutsy, she just lays it on the line every start and she's so determined to get to the wire."
After managing the likes of Chancey Lady, Luck Of Michelle and Powerful Chris, the success of John Pentland in developing and campaigning pacing filly Lauras Love should come as no surprise. But all of those talented individuals made their marks as two-year-olds. Lauras Love may have got there a little later, but she certainly made up for lost time.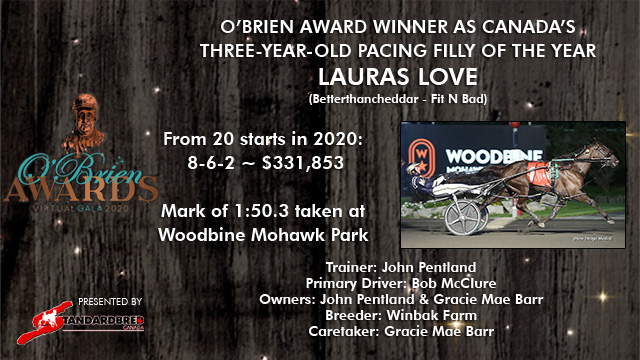 Lauras Love (Betterthancheddar - Fit N Bad) was a model of consistency in 2020, scoring 16 top-three finishes -- including eight victories from 20 races -- and earning $331,000 for Pentland and co-owner Gracie Mae Barr. In addition to a victory in an Ontario Sires Stakes event, she scored multiple victories in overnight competition and also won a division of the Simcoe Stakes against Grand Circuit company. That rise through the ranks was never guaranteed, as Pentland noted she showed potential but wasn't a push-button pacer by any means.
"She showed a lot as a two-year-old but I just quit early with her," Pentland told SC's Rachel Oenema, noting the filly showed signs of inflammation in her ankles. "I kind of thought she was a nice filly but nobody ever knows how much they'll progress.
"She kind of did everything right, and Bob [McClure] got to where he could work with her because she wasn't the easiest horse to drive, and COVID came and she got a break -- but she was going to get one regardless. When she started in the Sires Stakes she had already sort of made her mark that she was one of the better fillies and she just seemed to be able to progress well and ended up being a nice horse."
That progression requires smart management and training. When Pentland was asked about how he was able to maintain the mare's form over her lengthy season, he recalled a conversation with a Hall of Fame trainer who campaigned a sophomore on a similar schedule not too long ago.
"Blair Burgess said it to me one time, him and I were talking about [2007 Horse of the Year] Tell All and he said 'what are you training them to do?' She already was fast and she was in good shape, so modest training and trying to keep her happy and sound."
Pentland wryly quipped that he might also touch base with another local trainer when asked how he thinks Lauras Love will make the jump from the sophomore ranks into open competition.
"I hope she handles it like So Much More did," said Pentland with a laugh. "I'm going to call Don Beatson and ask him for some tips.
"She was put away sound and she's grown a little bit so hopefully she makes the transition."
To watch the full interview, including what Netflix shows Pentland is most looking forward to watching when it returns and the three things he'd take to a deserted island, click the play button below.
This is the second in a series of post-event video interviews with O'Brien Award winners, sponsored by Horse Racing Alberta. The 2020 O'Brien Awards gala was covered live on the SC website, with a photo gallery of winners and a virtual photo album as part of the coverage. The official list of winners is available here, with official vote totals posted here.