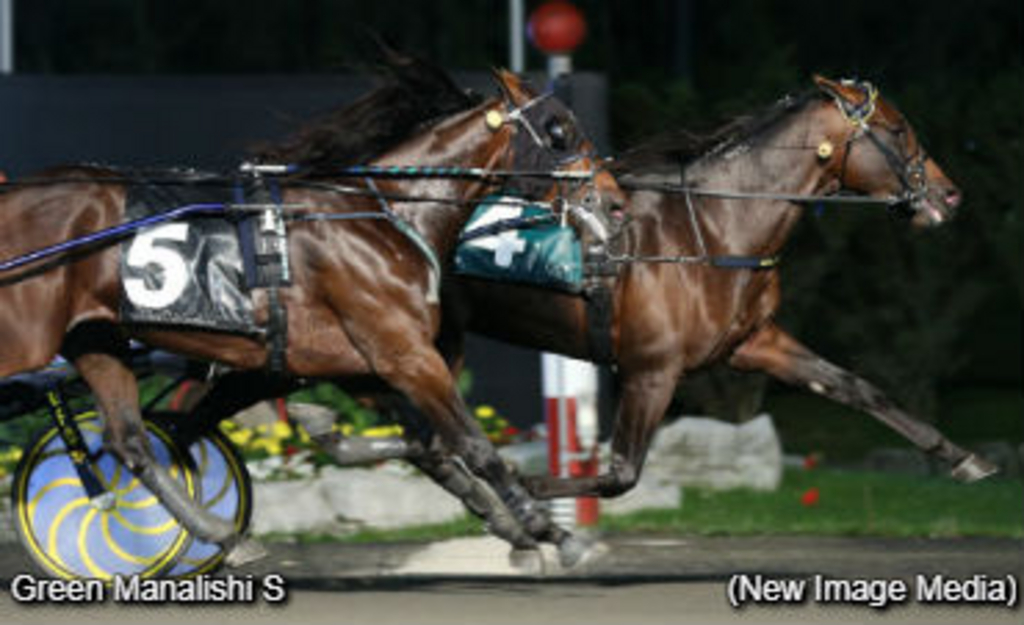 Ten of the sport's top three-year-old trotting colts and geldings went postward Saturday evening at Woodbine Mohawk Park in the $605,000 Canadian Trotting Classic final, and race favourite Green Manalishi S continued his dominance on Canadian soil.
The Marcus Melander trainee dug in late to triumph in his rich assignment while a host of other major events went postward on the stakes-filled card.
The $376,000 Elegantimage, the $405,000 Peaceful Way, the $370,000 William Wellwood Memorial will also go postward on the stakes-filled card in addition to eliminations for this year's Metro Pace and the Shes A Great Lady.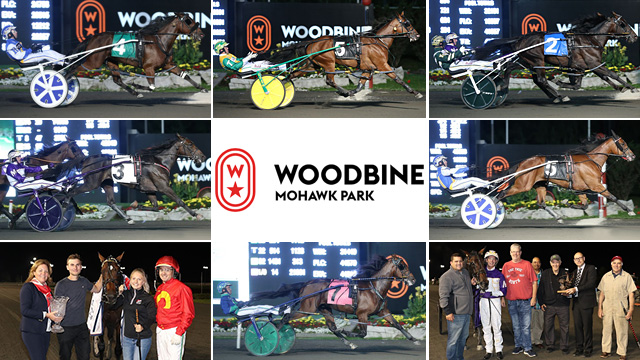 Below are the recaps for the Saturday Mohawk Park stakes:
Millionaire Status For Green Manalishi S

Canada has proved to be very kind to Green Manalishi S, and the Marcus Melander trainee took advantage once again on Saturday evening when he front-stepped to a rich score in the $605,000 final of the Canadian Trotting Classic....read on
Evident Beauty Upsets In Elegantimage

After making a costly break in the lane in last week's elimination round, Evident Beauty was forced to settle for a small share and deal with the outside post going into Saturday's $376,000 final of the Elegantimage....read on
Monster Colts Set For Metro Pace Showdown

The talent pool in this year's two-year-old pacing colt and gelding division is incredibly deep, and as a result fans will be in for quite a treat when next week's final of the Metro Pace rolls around....read on
Baillargeon-Trained Homebred Wins Wellwood Memorial

After a near miss in last week's elimination, HP Royal Theo parlayed a perfect trip from second over en route to capturing Saturday's $370,000 final of the William Wellwood Memorial for two-year-old trotting colts....read on
Dip Me Hanover Delivers In Peaceful Way

When Dip Me Hanover first stepped onto Canadian soil last week she was winless in six attempts, but she's clearly taken her game to a whole new level since shifting to the Great White North for trainer Linda Toscano....read on
Record-Equalling Score For Lyons Sentinel

Ten of the sport's most talented two-year-old pacing fillies sparred in a set of Shes A Great Lady eliminations Saturday at Woodbine Mohawk Park, with Alicorn and Lyons Sentinel winning their $35,000 assignments....read on
Easy Lover Hanover Mows Them Down

After four straight starts of settling for smaller shares, Easy Lover Hanover uncorked a big, late rally to take home all the marbles in Saturday's $34,000 Preferred for pacers at Woodbine Mohawk Park....read on