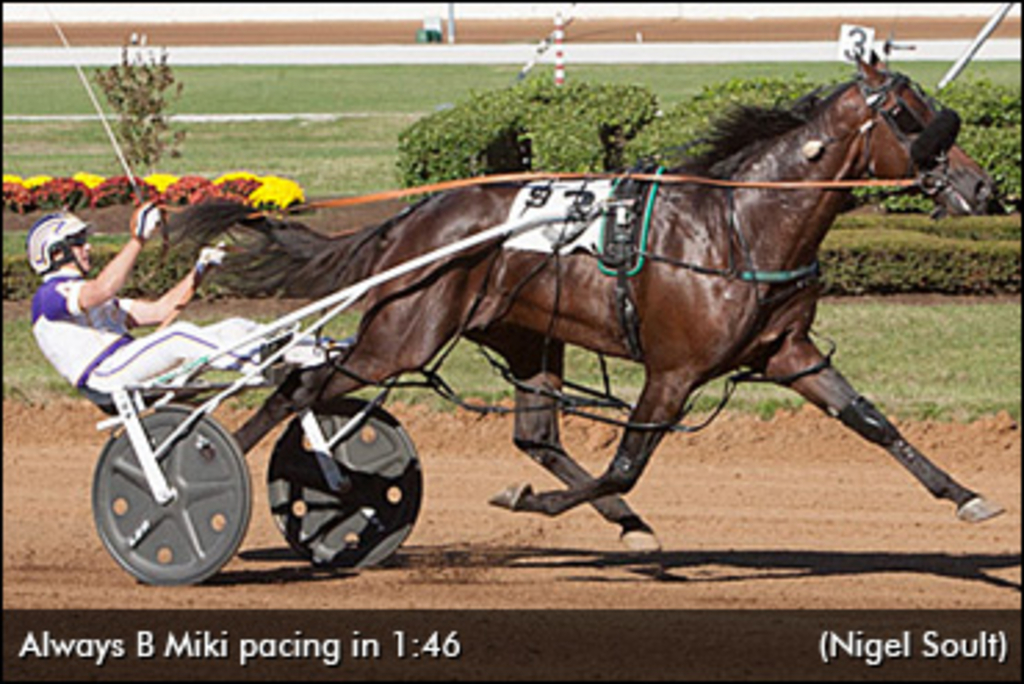 The ownership group for world champion Always B Miki continues to grow, as several major breeders have joined the stallion's ownership group. Also, Always B Miki will be officially retired from racing in trackside ceremonies at the Meadowlands Racetrack this Friday night (November 18).
Always B Miki's breeding career will begin next year at Diamond Creek Farm in Pennsylvania.
Always B Miki is the sport's fastest Standardbred ever, pacing to a world record 1:46 victory in the Allerage at the Red Mile this fall. He is also the only horse to ever pace four miles in 1:47 or faster, and he recently defeated Wiggle It Jiggleit in the Breeders Crown, giving him a 4-3 edge over his rival in eight match-ups this season. He made his final career start last Saturday night at the Meadowlands Racetrack, winning the $400,000 TVG Free-For-All Open Pace by a powerful four and a quarter lengths. The victory brought his career earnings to $2,715,368.
The latest breeders to buy an ownership interest in Always B Miki are Steve Jones of Cameo Hills Farm, Lindy Farms, Hunterton Farm, Fair Winds Farm, Dr. Steve Dey and Anthony Perretti. All American Harnessbreds jumped into the ownership group prior to the Breeders Crown.
"The plan was to bring in the sport's breeders and that has come to fruition," said Diamond Creek's Adam Bowden.
"These are very active breeders so we're thrilled to have them aboard," added Bob Boni, a partner in Always B Miki through Bluewood Stable.
"I own a few nice mares and I plan to support him with my better ones and I wanted to be part of the ownership group. In my mind, he's one of the most exciting stallion prospects to come along, and I wanted to be part of the syndicate," said Jones.
Lindy Farms has 12-13 pacing broodmares and will be retiring several fillies and mares, among them Imagine Dragon p,4, 1:49.3, who hails from the same maternal family as this year's sensational filly Darlinonthebeach.
"We've got young mares with fast records and great pedigrees and we're going to support him big league," said Frank M. Antonacci, who has trained the Lindy fillies/mares who will be heading to the breeding shed.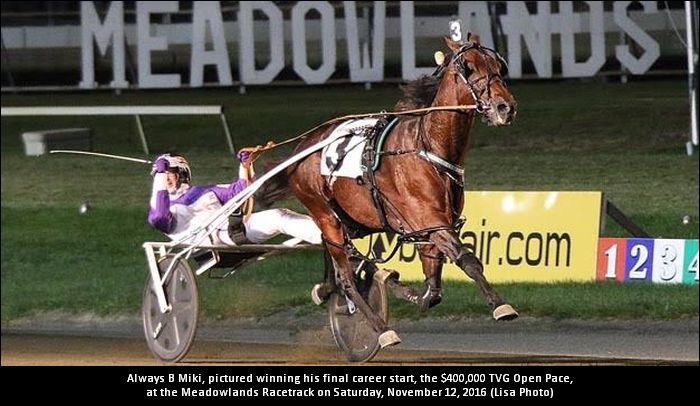 Hunterton Farm's Steve Stewart said he saw buying an ownership interest in Always B Miki as a "logical" business decision.
"The horse has a really good group of breeders behind him and that's key for stallions," noted Stewart. "With our partners, we've bought a lot of pacing mares the last few years and we've been breeding them to Captaintreacherous, Somebeachsomewhere and Sweet Lou and it's time to move some of them around."
Fair Winds Farm has 25 top producing pacing broodmares. "I haven't made my mating selections just yet, but I'm excited to join the Always B Miki team," said Fair Winds' Mark Mullen.
Always B Miki will be officially retired from racing in trackside ceremonies at the Meadowlands Friday night, Nov. 18.
(Always B Miki ownership group)