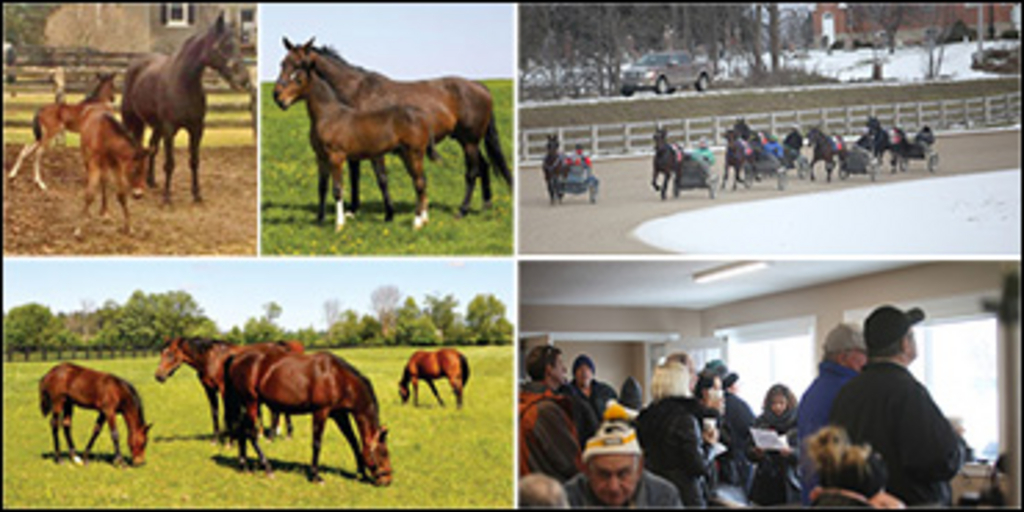 If you haven't made plans for your Mom or that special lady in your life for this Sunday (May 14) don't worry, there's still time -- and we've got a great idea for you that the whole family will enjoy!
Imagine taking your Mom (and your family) out for a scrumptious brunch or delicious lunch, and then for a leisurely drive through the countryside with a stop at a Standardbred Horse farm to see mares and foals frolicking in the fields, or watch some two-year-olds in training at a training centre? Wouldn't that be a great way to spend Mother's Day? High Stakes Farm in Moffat, Mac Lilley Farms in Dutton, and Seelster Farms in Lucan will be opening their farms to the general public for a special Mother's Day Open House while thestable.ca will be hosting their Spring Showcase event at Tomiko Training Centre in Campbellville on Sunday as well.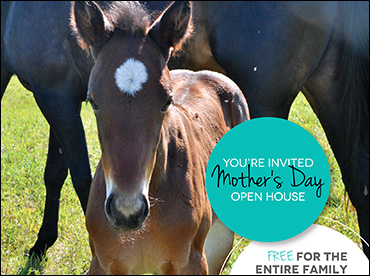 Seelster Farms will be opening their farm from 10:00 a.m. until 4:00 p.m. The Open House at Seelster Farms is an officially recognized fundraiser for the Canadian Cancer Society, with voluntary donations being graciously accepted on their behalf.
High Stakes Farm will be opening their gates from 1:00 p.m. until 4:00 p.m. The Open House at High Stakes is an officially recognized fundraiser for the Ontario Standardbred Adoption Society (OSAS).
Mac Lilley Farms will host their event from 1:00 p.m. to 4:00 p.m. In addition to showcasing their mares and foals, the Hands On Horses Team from the Ontario Harness Horse Assocation (OHHA) will be providing rides in jog carts around the racetrack. The Glencoe 4-H horse club members will be passing out cupcakes and drinks to the guests.
Mac Lilley Farms will also promote the 250th anniversary of horse racing in Canada with a 'commemorative mile' and information display.
The farms will showcase their mares, foals, stallions and facilities and educate visitors about Standardbred breeding and racing. The Open House provides a great opportunity for people who would not normally have a chance to visit a horse farm to connect with the horses and the people in the Standardbred industry. This event is free to the general public.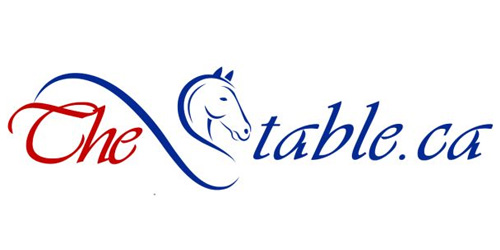 Thestable.ca's Spring Showcase will feature their two-year-olds in training. The event will kick off at 10:30 a.m. and you can watch as 50 youngsters of thestable.ca and other trainers, show what they've got as potential racehorses.
Thestable.ca will have pony rides for the kids, rides on a jog cart with actual horses for the aspiring drivers in the crowd, and a BBQ for everyone. The first 30 moms will get a special gift and there will be plenty of door prizes. You can RSVP here.
And if you're interested in a trip to the races on Mother's Day, click here to locate the racetrack nearest you that is hosting a Mother's Day card.
May Zoom Contest
If you're a member of the I Love Canadian Harness Racing Fan Club, here's your chance to take some photos for May's Zoom Photo contest. The theme is Mares and foals! We're looking for photos of foals and the frisky things they have been getting up to this spring! Foals taking their first steps, frolicking in the pasture, enjoying the sunshine or just getting up to no good!
Get out there and get snappin' for your chance to win some great prizes! Please send your photo submissions to [email protected]. The deadline to enter is Thursday, May 25 at 5:00 p.m. (EST)
The addresses for each of the participating farms are as follows:
High Stakes Farm
9685 First Line Nassagaweya
Moffat, Ont. L0P 1J0
(5 minutes from Mohawk Racetrack & 15 minutes from downtown Milton)
Mac Lilley Farms
28322 Chalmers Line
Dutton, Ont. NOL IJO
Phone # 519-762-3423
Seelster Farms
33618 Roman Line, R.R. # 3
Lucan, Ont. N0M 2J0
(15 minutes from London)
Thestable.ca
Tomiko Training Centre
210 Campbellville Rd.
Campbellville, ON L0P 1B0 (10 minutes from Mohawk)