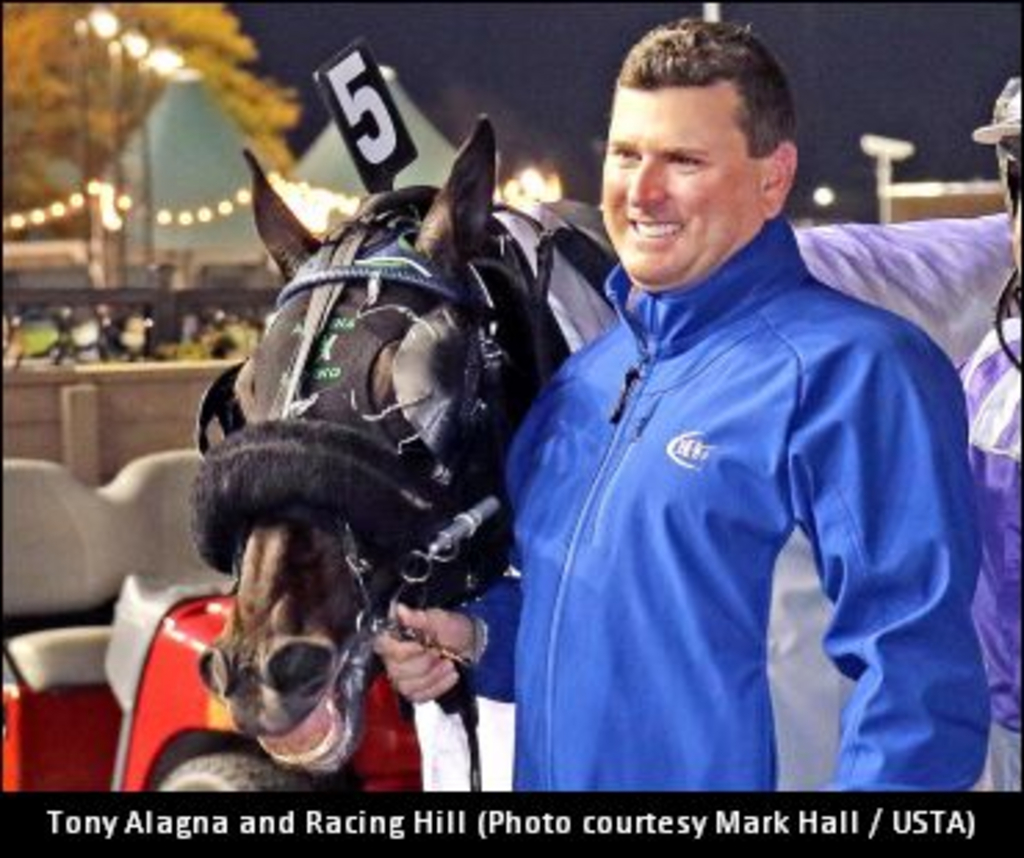 To win a Breeders Crown is a great accomplishment. To reach 1,000 wins is a great accomplishment. Both together? Well, that's a combination not even Reese's can top.
On Saturday, Tony Alagna on Saturday got his 1,000th victory as a trainer when Racing Hill won the $500,000 Breeders Crown for three-year-old male pacers in a stakes-record 1:48 at the Meadowlands Racetrack (to read the full Breeders Crown recap from Saturday night, click here). As he looks forward to starting on his next 1,000, one of the horses he will be watching is Western Hill in Thursday's (Nov. 3) Matron Stakes at Dover Downs.
Western Hill is 5-1 on the morning line in the Matron for two-year-old male pacers. He will start from Post 4 in a field of eight, with Brett Miller driving. Mark Harder's Boogie Shuffle is the 5-2 early favourite from Post 5.
In other Matron events Thursday for two-year-olds, Sortie, who won a Breeders Crown elimination and finished third in the final, is the 2-1 morning line favourite among male trotters; multiple-stakes-winner Fine Tuned Lady is the 9-5 early choice among female trotters; and New York circuit standout Planet Rock is the 5-2 early favourite among female pacers.
Western Hill, bred and owned by Tom Hill, has won four of eight races this year and earned $62,910. He won Pennsylvania's Stallion Series championship and finished fourth, beaten three lengths, in Downbytheseaside's world-record-equalling 1:49 mile in a division of the International Stallion Stakes at Lexington's Red Mile. He was sixth in his elimination for the Breeders Crown, missing a spot in the final by a half-length.
"He was too far back in his Crown elimination," Alagna said. "They charted his last three-quarters in 1:22.3 but he was just too far back. He raced great and came out of it great. He trained back very well. It's a tough bunch (in the Matron) but I think he fits.
"The horse showed ability, he just didn't act like he was ready to go with the top colts right off the bat," continued the trainer, referring to the decision to compete in the Stallion Series rather than the Pennsylvania Sire Stakes. "He was a little slower getting started, but he's always shown a quick turn of speed. I wanted to race him where he would feel good about himself. It's made him a horse. It's taught him how to race and gave him confidence.
"I truly believe the horse can go with the better colts."
Alagna's stable has earned $4.63 million this year, good for fourth among all trainers in North America, and won 125 races. His trainer rating is .341, a career high, as is his nearly $8,000-per-start average. In addition to the exploits of millionaire Racing Hill, he has enjoyed success with horses including Caprice Hill, Dr J Hanover, Signal Hill, Blameitonthenight, Everyones Watching, and Awash.
He picked up his second Breeders Crown trophy with Racing Hill, to go with the one he garnered in 2013 with three-year-old male pacer Captaintreacherous. That Racing Hill's triumph also gave him career win No. 1,000 was, as Alagna noted, "perfect timing."
"It was great," said Alagna, who started his own stable in 2009. "I looked about a month ago and knew we were getting close, but I hadn't paid much attention to it lately. I didn't even realize that night until it was up on Twitter. It was very, very good to see that."
Racing Hill finished fourth in his Crown elimination, which Alagna attributed to not shipping well to the Meadowlands for overnight detention, but rebounded to take the final by three-quarters of a length over Manhattan Beach.
"I was tickled to death," Alagna said. "The trip worked out great. He still had to respond and get the job done and he was terrific. To not only win it, but to be the fastest Breeders Crown three-year-old race ever says a lot to the track that night and to the horse and everything involved leading up to that race.
"I truly believe that in his elimination he would have been equally as good. I thought we were really ready to go. I felt better about him than I'd felt in a long time, until he got off the truck. I was really concerned. And I was right, he wasn't himself. It just feels good to know that all the things we did to change the way he travelled and everything going into the final worked out and we were right on the money. It was a great feeling."
---
This story courtesy of Harness Racing Communications, a division of the U.S. Trotting Association. For more information, visit www.ustrotting.com.