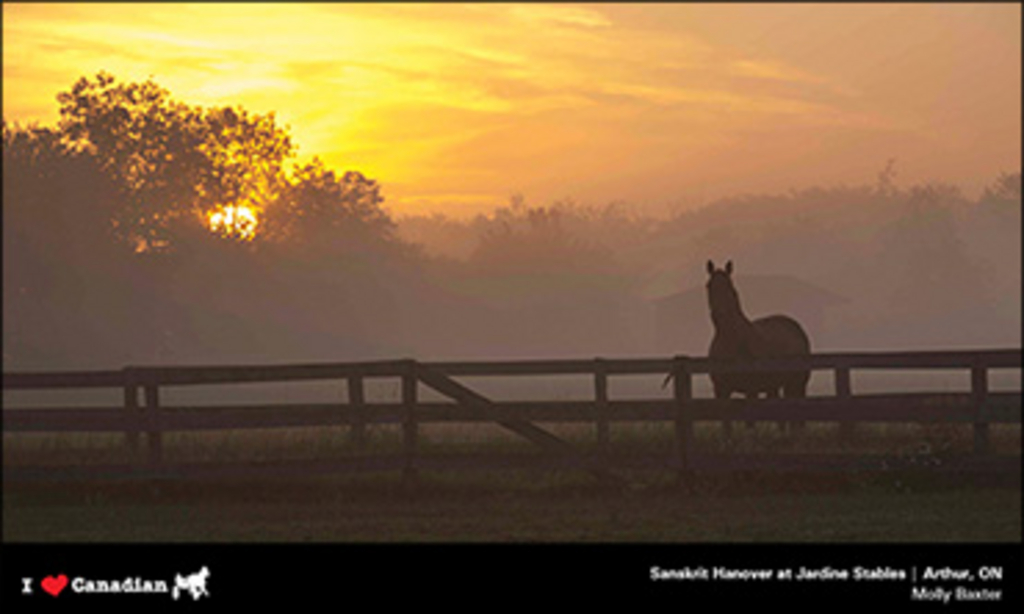 Molly Baxter of Arthur, Ontario captured this stunning photo of Sanskrit Hanover at Jardine Stables in Arthur, owned by her partner Ralph Jardine. Molly manages to find time to help with the horses at the farm and in the paddock on race nights.
A graduate of the Hallmark Institute of Photography, Molly now has a photography business (you can check her work out at mollybaxter.com). She photographs large volume sport and school events as her primary focus, family and senior portraits, dog and horse portraits (her favourite!). "I have also shot a lot of baseball as my son, Anthony played through college, and I traveled with the team for four years photographing them at every venue."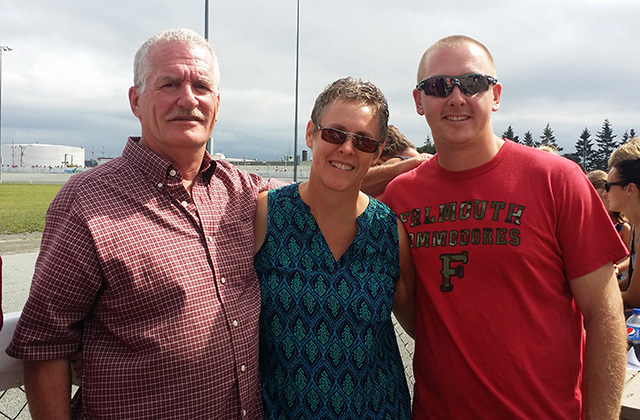 Ralph Jardine, Molly and her son, Anthony Deleo, at the 2015 Gold Cup & Saucer Race in Charlottetown, PE
"My favourite racetrack and place to race is Hanover Raceway because of the friendly fair-type atmosphere. The paddock barn is full of friends sharing good times, sharing equipment if needed, swapping stories and congratulations on wins! The atmosphere in PEI, at Old Home Week is pretty awesome too! The Gold Cup & Saucer is pretty amazing! I think it will now become our annual vacation...Both of us have our family there besides, so that helps justify it!"
Molly's favourite horse is her three-year-old A Magical Moment, AKA "Maggie," and her favourite horse person is Callie Rankin.
"Truthfully, you could write a book and not say enough about the knowledge that he has about horses. He is a true gentleman and a character as well. He loves a joke but is always there to help. I have known him now for five years and am constantly amazed by the knowledge and the things that he can figure out. He is our trainer and ownership partner in some horses. When walking in a barn or at any horse venue, he is like the Mayor...he knows everyone!"
Molly captured this image of Sanskrit Hanover as the sun was rising one morning. "There was a light fog lifting off of the ground. It was just luck that I was up to see it, as I am definitely not a morning person, so this picture was just meant to happen! I always have my cameras on hand, so I was ready to go. I just went to the fence and Sandy was coming to the rail. It was just a beautiful moment in time. I have actually sold quite a few of this print as a card... It is a great stock print."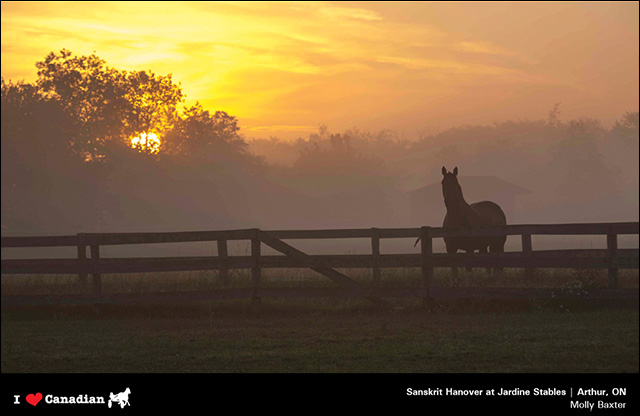 Spending time with the horses is near the top of Molly's list of things to do. "Going to the barn at any time of day can make all the 'other' things in the world go away... it is just you and these wonderful creatures that the general population just don't understand. My favourite thing to do is to help a scared or abused horse and make them trust again, make them know that it is okay... I love watching the babies grow into magnificent powerful racehorses from the little tykes they were. I have been around horses and riding since I was five years old. I was infatuated with them and my dream was always to have a horse farm. So I guess I am finally 'Living the Dream' and photographing too!"