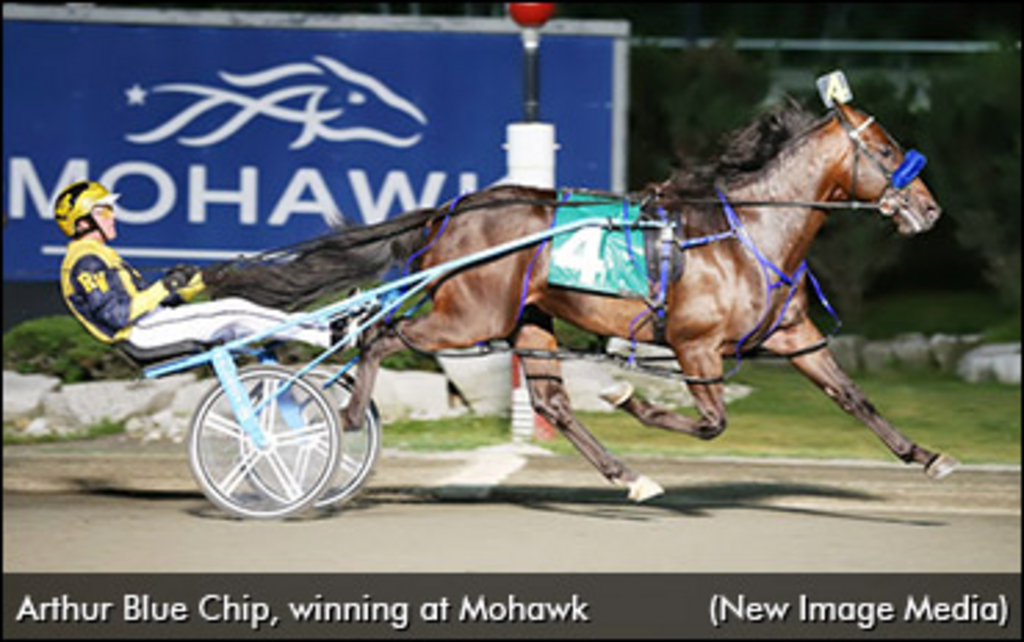 The O'Brien Award winning Two-Year-Old Pacer of the Year in 2013, "around-the-horn" horse Arthur Blue Chip makes his first start in 21 months on Saturday night for trainer and co-owner Dr. Ian Moore.
Trot Insider learned in April 2014 that the son of Shadow Play incurred a stall injury that forced him to miss the early part of his sophomore season, including the 2014 Pepsi North America Cup. Moore noted that while Arthur Blue Chip has fully recovered from that injury, the trainer has been forced to handle subsequent and unrelated issues while trying to bring the racehorse back.
"It's been a long road, and it's been a variety of issues," said Moore. "He's a very powerful horse, same as he was when he was a two-year-old. It's a hell of a shame, all these things that have happened but that's the way it goes sometimes. He's just been a one-thing-after-another horse, and a lot of it attributed to himself."
Arthur Blue Chip's name reappeared on the qualifier sheet last Friday, and the stallion responded with an under wraps 1:52 mile with a statuesque Moore at the controls.
"I've been going with him since the start of December [2014] and he's been probably three times in :55...and then something else pops up. A week before a qualified him, he was really good, and he qualified really good so I thought we might as well throw him into race."
On Saturday night, Arthur Blue Chip makes his four-year-old debut at Mohawk Racetrack in an overnight event on a card dominated by stakes. The date coincides with the race in which he took his lifetime mark, an elimination of the 2013 Metro Pace. The hard-luck horse was scratched sick from the final.
"We're all cautiously optimistic moving forward and we'll see what happens," Moore told Trot Insider. "It doesn't matter how cautious I was before or how much time I gave him or whatever. Some of the original [issues] are long gone and off the plate now...you'd get one thing good and something else goes somewhere else.
"Lately he's been pretty good; he's a lot calmer because I've been working him a lot harder so he's very fit."
Driver Randy Waples will be reacquainted with Arthur Blue Chip on Saturday night, with Moore not concerned over his horse's manners once he sets foot on the racetrack.
"It's just off the track. On the track, he's absolutely perfect. I jogged him on Monday, and Rheal Bourgeois, he's with us and he jogged him [Tuesday] and he's just right on the bit and really happy about being out there. So we'll see what happens."
As a two-year-old, Arthur Blue Chip amassed a summary of 6-2-1 from 11 starts and banked just north of $400,000 en route to divisional honours. Owned by the Shadow One Stable of Guelph, Ont., Arthur Blue Chip's name appeared on a variety of four-year-old and open class stakes in 2015. Moore is not necessarily pointing his pupil for any particular race at this point, but is simply letting the chips fall where they may.
"We staked him to a lot; I haven't looked at the list for a while but he was staked to most everything," continued Moore. "When I started him in December everything was looking really good and that's why we did that."
Arthur Blue Chip leaves from Post 10 in Saturday night's ninth race at Mohawk. To view the entries for Saturdays card, click the following link: Saturday Entries - Mohawk Racetrack.