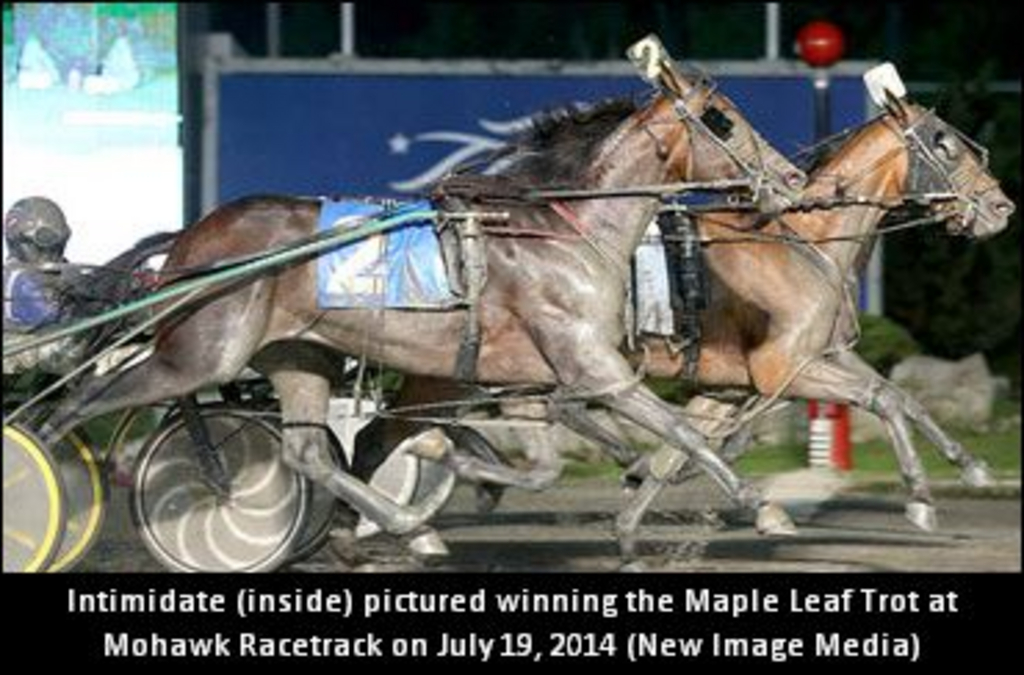 Intimidate followed his most lackluster performance of the year with a stunning victory in the Maple Leaf Trot last weekend, and trainer Luc Blais is hopeful the five-year-old trotter can keep the momentum going in Saturday's first of two eliminations for the John Cashman Jr. Memorial at the Meadowlands Racetrack.
The Cashman, formerly known as the Nat Ray, attracted 15 horses, including world champion Sebastian K. The top five from two $50,000 eliminations will advance to the $300,650 final on August 2, Hambletonian Day, at the 'Big M.' It is an accomplished group, with Sebastian K being history's fastest trotter and 10 of the remaining horses having won at least one Breeders Crown, Maple Leaf Trot, or Trotting Triple Crown race.
Intimidate, who won the 2012 Breeders Crown for three-year-old male trotters and the 2013 Credit Winner, edged previously unbeaten Sebastian K by a nose to win the Maple Leaf Trot in 1:54.2 over a 'sloppy' track. Intimidate was 47-1.
"It was an amazing feeling again," said Blais, who trains Intimidate for Serge Godin's Determination stable and Judith Farrow. Blais and Farrow bred the son of Justice Hall and mare Fabulous Tag. "That (Maple Leaf) was an amazing win.
"He was just so-so in the elimination, but came back good. I think Sylvain Filion gave him a perfect drive. I think everything was perfect that night. At that level, you need everything perfect."
Intimidate finished fifth in his Maple Leaf Trot elimination and lost three and a half lengths in the stretch, but Blais says the horse was still feeling the effects of a quarter-crack on a front foot.
"I think the foot wasn't right-right," said Blais, a native of Quebec. "We worked very much on his foot and the quarter-crack looked better (in the Maple Leaf Trot final). That's time. You need time to repair that. Now he looks sound. I don't know if he's a hundred percent, but he looks better than before, that's for sure."
Intimidate has won three of seven races this season and earned $326,070. For his career, he has won 24 of 36 starts and banked $923,628.
His only off-the-board finishes this year came in his Maple Leaf Trot elim and in the final of the Cutler Memorial, where he had a three-wide trip.
"I think in the Cutler we had no luck," Blais said. "After that he came back and won the Preferred at Mohawk. He hasn't raced a bad race, except maybe the elimination of the Maple Leaf. That was the only race that I think wasn't right."
Ron Pierce will drive Intimidate on Saturday night and will start from Post 5 as the 2-1 second choice on the morning line. Market Share, from Post 1, is the 8-5 morning line favourite. The remainder of the field, from the inside, is Your So Vain, Spider Blue Chip, Sevruga, Archangel, and Royalty For Life. The second division, from the rail, is Mister Herbie, Wishing Stone, Sweet Justice, Uncle Peter, Sebastian K, Appomattox, Arch Madness, and Creatine.
The group has five Breeders Crown trophies (Uncle Peter, Arch Madness, Intimidate, Spider Blue Chip, and Market Share), four Maple Leaf Trot titles (Arch Madness, Mister Herbie, Market Share, and Intimidate), two Hambletonian triumphs (Market Share and Royalty For Life), two Kentucky Futurity wins (Wishing Stone and Creatine) and one Yonkers Trot (Archangel).
"That's a nice bunch of horses this year," Blais said. "The competition is very high level. I think that's good for the game; it's good for the show. People want to see that."
Saturday's card at the Meadowlands also includes a $35,000 Hambletonian Oaks prep for three-year-old female trotters and $40,000 single elimination for the Lady Liberty for older female pacers. Nine of the 11 fillies entered in the $500,000 Hambletonian Oaks, which is August 2, will compete in Saturday's prep. Ten mares are in the Lady Liberty elimination, with Rocklamation receiving a bye to next week's final.
---
This story courtesy of Harness Racing Communications, a division of the U.S. Trotting Association. For more information, visit www.ustrotting.com.