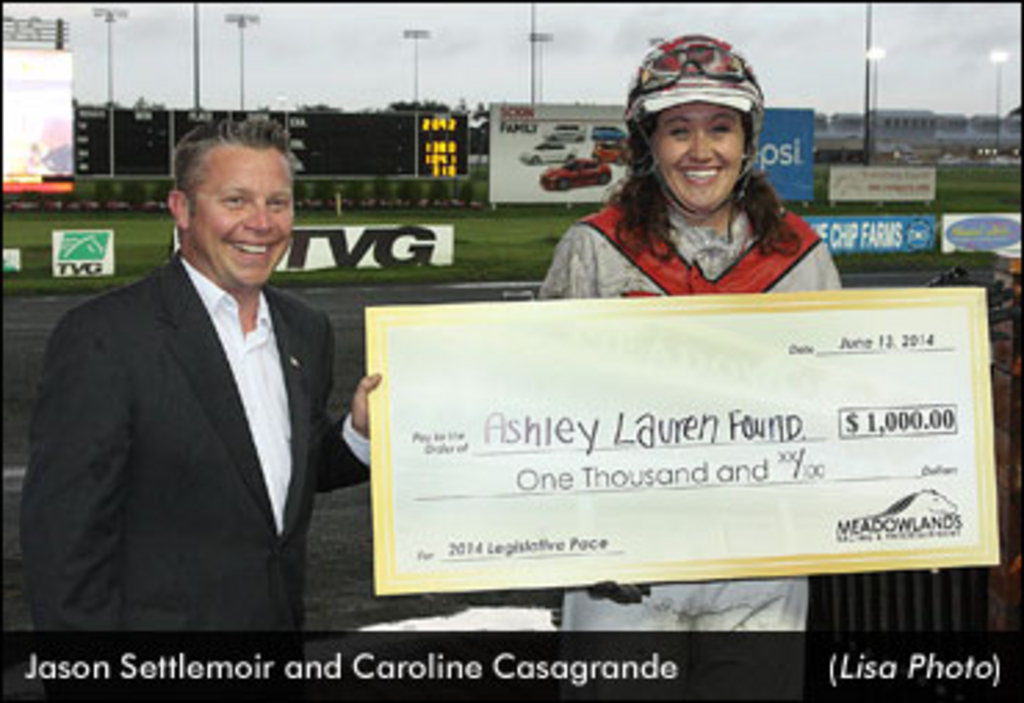 Assemblywoman Caroline Casagrande (R-11th District) from Colts Neck, New Jersey defeated three other New Jersey lawmakers in the 2014 Legislators Race, an exhibition event between the first and second races on Friday night, June 13, 2014 at the Meadowlands Racetrack.
While Casagrande was the first across the wire, Senator Dick Codey (D-27th District) was the first to make the appeal for the future of the Meadowlands.
"You need to do everything you can to get slots here at the Meadowlands," Codey said from the winner's circle at the Meadowlands. "Call your legislators and demand it, demand it!"
The quartet of legislators overcame sloppy conditions and showers as they toured the one-mile oval in double-seat jog carts, paired with top drivers at the Meadowlands.
Casagrande, who was teamed with Corey Callahan, stopped the clock in 2:09.2.
Finishing second, about five lengths back, was Codey, partnered with Yannick Gingras, who edged out Assemblyman Ralph Caputo (D-28th District), sharing the two-seater with David Miller. Assemblyman Ron Dancer (R-12th District), a former professional driver/trainer and son of Hall of Famer Stanley Dancer, was coupled with John Campbell and finished fourth.
"As the only female in the race, my main goal was not to finish last," said Casagrande. "I was pretty pumped to win it."
She attributed her success to the talent of her partner, Corey Callahan, and the coincidence of them both sharing the same initials – CC.
(SBOANJ)