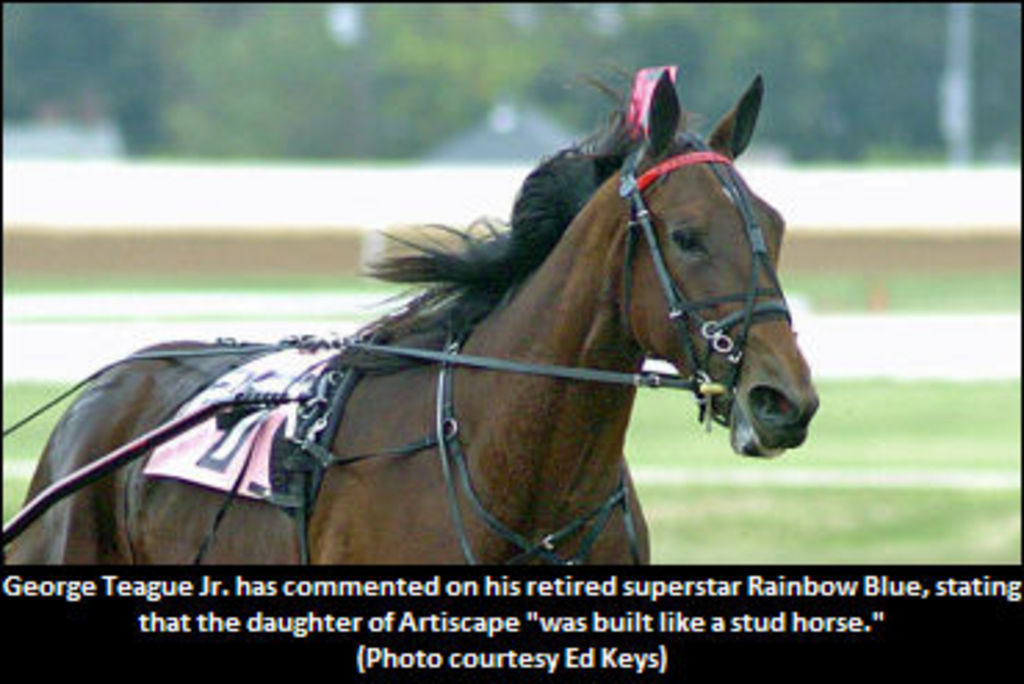 When Rainbow Blue went to the races, trainer and co-owner George Teague Jr. was confident he was going to the winner's circle. It was an assumption that proved correct 30 of 32 times
.
"Most times when you go to the races you hope you have a little luck and you win," Teague said. "With her, what post you had or the trip didn't really matter because she was going to be the one to beat. You don't usually go to the races knowing that someone has to have a really great day and she has to have an off day for them to beat you.
"It was a big difference racing her than any horse I've ever raced."
Rainbow Blue will be inducted into the Living Horse Hall of Fame at the Harness Racing Museum and Hall of Fame in Goshen, New York on July 1, at which time Rocknroll Hanover and broodmare Arterra also will be honoured. Rainbow Blue was the United States' Horse of the Year in 2004 after a season in which she won 20 of 21 races and earned a single-season record $1,355,888 million for a three-year-old pacing filly. She is one of only three filly pacers ever to be named Horse of the Year.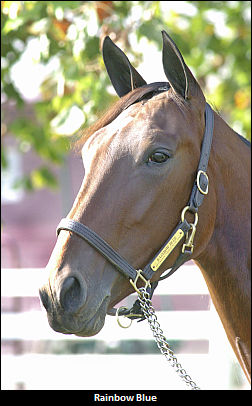 In 2004, Rainbow Blue twice won races in a World-Record-equalling 1:49.2 and became the first three-year-old pacing filly to win two miles in less than 1:50. Her average margin of victory that season was two and three-quarter lengths. Never was a horse nearer than a half-length at the finish and only twice was a horse closer than one length.
"I can remember every race she raced like it was yesterday," Teague said. "From beginning to end, one race to another, it was memorable. She was something different than anyone had seen, or I'd ever trained, before. She was way different from a lot of horses I've seen race; her build, her way of racing and her out-and-out ability to dominate.
"She was built like a stud horse. She was so unusual in so many different ways. She was just a special horse. She not only dominated, she looked dominating. She had a really intimidating way about her because she was way more mature looking than the horses she raced against."
Rainbow Blue's only loss in 2004 came when she went off stride in the Mistletoe Shalee on Hambletonian Day at the Meadowlands. Otherwise, she was a winning machine. Among the highlights were Rainbow Blue winning the Rose Red at Hazel Park while equalling the fastest mile (1:51.1) in the track's history, her World-Record-equalling triumphs at Woodbine and the Red Mile, plus her stakes-record 1:51 victory in the Breeders Crown.
"You don't get much more exciting than that. It was a huge effort," Teague said, referring to Rainbow Blue's Breeders Crown, which included a backstretch move into the wind to get the lead from runner-up Invitro. "A lot of her races she was cutting it up and as soon as she came off the last turn she'd step on the gas pedal and it was like two different horse races. She could open up lengths as easy as any horse."
Rainbow Blue won all four of her races as a four-year-old, including two triumphs in the Classic Series, but saw a tendon injury bring her career to an end.
Teague, who owned Rainbow Blue with his sister, Brenda, and Kevin and Ron Fry, was happy to hear Rainbow Blue was inducted into the Living Hall of Fame.
"It's really exciting," Teague said. "There were a lot of top quality horses up for election, so for her to go in is definitely an achievement. She was on the ballot last year and didn't get in. When it came around this year, I thought she had a shot because she's done a few things that horses have never done.
"Even though I've had a little success since then, she was the first one that put me on the map. I hope I get another one as great as her someday. She was definitely great."
---
This story courtesy of Harness Racing Communications, a division of the U.S. Trotting Association. For more information, visit www.ustrotting.com.