Officials at Truro Raceway have informed Trot Insider that the track will be honouring late great Atlantic Post Calls editor Doug Harkness
.
The track has designated Sunday, November 27, 2011 for the inaugural installment of the Doug Harkness Memorial.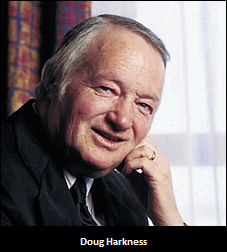 "Having left a legacy that will be felt and remembered for years to come in Atlantic Canada, the management and staff of Truro Raceway are pleased to host what is anticipated to become an annual event, and invite horseman, fans and friends of Doug to be a part of this commemorative day," the track announced via release.
Harkness, referred to by many as the 'Dean of Maritime Harness Racing,' passed away on May 28, 2010 at the age of 71.
The track has also announced that it will be hosting a leg of the Mildred Williams Series on Sunday, November 20, but with a twist.
Officials at Truro have informed Trot Insider that four female drivers --- Mary Clare MacDonald, Tammy MacKay, Ambyr Campbell and Katie Miller --- will be piloting charges against male counterparts during designated dashes on the program.
The male reinsmen that will be taking on the women are Darren Crowe, Ryan Ellis, Carl Isenor and Roy Burton.
Truro is calling all racing fans out to support the Survivors on Shortt's Lake Breast Cancer Dragon Boat Team and the Maritime Standardbred Pleasure Horse Association, which promotes retired racehorses as saddle horses and pets.