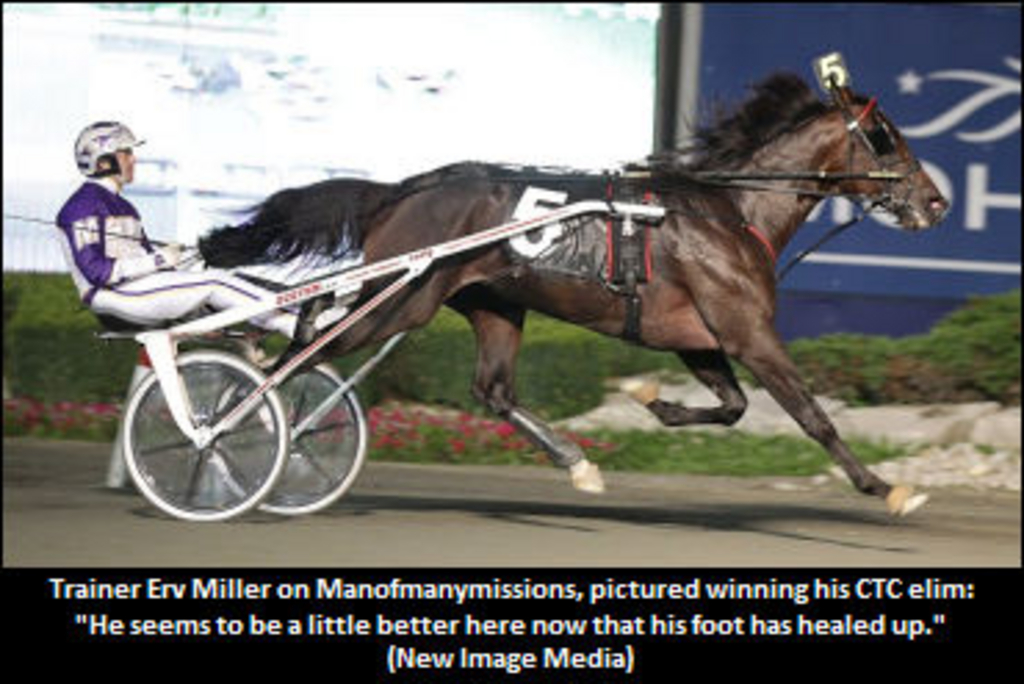 The clock is ticking down to Canada's most lucrative event for three-year-old trotting colts, and trainers Erv Miller, Trond Smedshammer and Noel Daley have taken the time to discuss Manofmanymissions, Dejarmbro and Broad Bahn heading into Mohawk Racetrack's $1-million Canadian Trotting Classic
.
The CTC, which will head to post for Race 7 (9:38 p.m.) on Saturday, will be televised live on The Score during a special one-hour program which will kick off at 9:00 p.m. (ET).
Besides the CTC, Mohawk's 12-dash program is still loaded with stakes tilts. The $447,000 final of the Peaceful Way Stakes for two-year-old trotting fillies has been carded as Race 4 (8:19 p.m.) and the $469,000 William Wellwood Memorial for two-year-old trotters has been programmed as Race 9 (10:23 p.m.). A pair of eliminations for the Milton Stakes has also been carded, as has an Open and Preferred 2 Pace.
To view the harness racing entries for Saturday at Mohawk Racetrack, click the following link: Saturday - Mohawk Racetrack.
Last weekend's eliminations for the CTC saw the Jack Moiseyev-driven and David Lemon-trained Daylon Magician trot to a neck victory in 1:53.3, while the David Miller-driven and Erv Miller-trained Manofmanymissions earned a one and three-quarter-length victory in 1:54.
Manofmanymissions has won three races in a row, including the $500,000 Colonial and $175,000 New Jersey Sire Stakes championship, since going off stride in the stretch while racing as the post-time favourite in the $1.5-million Hambletonian. Broad Bahn went on to win the Hambo in gate-to-wire fashion.
"He had a good week last week, raced real nice and seemed to come out of it real good," trainer Erv Miller said about Manofmanymissions, who battled foot and ankle problems earlier this season.
David Miller has driven Manofmanymissions in his last two races because Andy Miller, Erv's brother and the colt's previous driver, was committed to Whatever It Takes. David Miller and Manofmanymissions will start from Post 3 in the CTC.
"Dave's done a good job with him," Erv said. "Most of the owners wanted to get a driver that could stay with the horse. I agree with it, especially with a horse like him. The horse is not the easiest to drive. Andy always drove him good, but it's hard to move around from one driver to the next.
"The main thing our horse needs to do is not get too far back early in the race. I think that gives him a little trouble. As long as he doesn't get away too far back, he should be just fine. He seems to be a little better here now that his foot has healed up. He's been a lot better."
Canadian Trotting Classic (Elimination) - Manofmanymissions - 1:54
Dejarmbro, who is trained by Smedshammer, fired off second-over cover in his CTC elim and finished less than two lengths behind Manofmanymissions. Previously, Dejarmbro had equalled the World Record of 1:52.2 on a five-eighths-mile track when he won the Earl Beal Memorial at Pocono Downs.
"He shows up every start and he's been good," Smedshammer said of Dejarmbro, who will start from Post 5 in the CTC with pilot Brian Sears. "He's a sound horse and he doesn't make mistakes usually. He's been good all year."
Smedshammer went on to say, "I couldn't have picked a better spot (to start from). If you want to leave out of there a little bit you don't have to really start him up because you have a little more momentum behind the gate there. He's a little bit of a funny horse; if you get him started up he can be hard to hold in the hole if they get backed up a little bit. Coming out of the first turn, a lot of times the speed slows down and he can get a little bit grabby. From the middle of the pack I think he's going to be better off.
"You've got to have racing luck and your horse has to be the best he can be," he added. "It certainly wouldn't surprise me if he [wins] but he's going to need a little bit of racing luck. He can't have a bad cover trip, like in the eliminations. He could do it on the front end, too. But I'm going to leave that to Brian."
Dejarmbro's hard-closing performance in his CTC elim came five days after he won a New York Sire Stakes event in 1:57.2 at Batavia Downs in upstate New York.
"I was a little on the fence about the start at Batavia, but he was going to be off three weeks," Smedshammer said. "If he didn't race [well] in Canada and I didn't want to supplement him to the (Kentucky) Futurity, it gave me another option to be eligible for the (NYSS) final in New York.
"I figured I might as well race him rather than training him up hard. I don't think it hurt him. It was on his way to Canada, anyway. He had an easy few days between those races and he's going to have an easy few days this week. I think it should set him up good for the final."
The Noel Daley-trained and George Brennan-driven Broad Bahn, who finished just a neck back to Daylon Magician in his CTC elim, has been a consistent on-the-board finisher this season. The only time he has finished off the board in 2011 was in the Colonial, when he was fourth. He bounced back to win a division of the Zweig Memorial at Tioga Downs before his CTC elim.
Canadian Trotting Classic (Elimination) - Daylon Magician - 1:53.3
"I thought he was better [in his elim] than he was at Tioga when he won," Daley said. "We'll see what happens. There are a bunch of nice horses there."
Daley went on the record as saying that Broad Bahn is the most consistent and handiest of all of his peers at this stage. "We've been lucky enough to have no major issues, touch wood," he said. "Everything has gone our way, which is what you need to have a good run at it."
Daley concluded by saying, "I think it's a very exciting race there Saturday night. There are a bunch of horses with chances. We'll see who has a good week and who gets a decent enough trip."
---
This story contains files from Harness Racing Communications, a division of the U.S. Trotting Association. For more information, visit ustrotting.com.
Related Stories
• Lemon On Daylon Magician: "He Just Wants To Be First"
• Jamieson On CTC: "I Think I Have The Best Horse"
• CTC Eliminations In The Books