Trainer Jim Campbell has gone on the record as to why top Bettors Delight colt Fashion Delight was not entered to contest Saturday's highly-anticipated eliminations for the Pepsi North America Cup at Mohawk Racetrack
.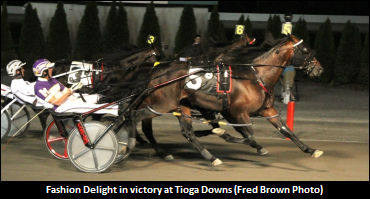 "He suffered an abscess in his front-right foot after his victory in the Empire Breeders at Tioga Downs," the veteran trainer told the Woodbine Entertainment Group. "It's an unfortunate situation, but we had to do what's best for the horse and leave him home."
Campbell was also quoted as saying, "My goal is to have him ready for the 'Pace' (Meadowlands Pace)" and that "it was a tough pill to swallow not coming to Canada, but it's a long season and there are still lots of money to be made."
Fashion Delight was the 7-1 fourth choice in Trot Magazine's 2011 Pepsi North America Cup Spring Book after a solid freshman campaign.
The 2010 season of racing saw Fashion Delight compile a resume which read 5-3-3 from 11 starts, good for $510,680 in purses. He took a mark of 1:51 over the Meadowlands Racetrack in the $473,000 Woodrow Wilson. He also scored a stakes victory in the Niatross and won his Breeders Crown elimination.
Fashion Delight is owned by Fashion Farms LLC of New Hope, Pennsylvania.
To view the draw results for the NA Cup elims, click here.