There is no question that many youngsters with enough exposure to the standardbred racing industry have given a mock race-call or two in his or her day. Now, 13-year-old caller Kyle Gillis isn't just talking to himself
.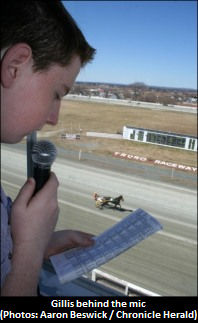 An article by The Chronicle Herald has shined the spotlight on the 2011 season of live racing at Nova Scotia's Truro Raceway, which hosted its first card of the season yesterday.
The report quoted Gillis, who is currently cutting his teeth in the race-calling game, as saying, "I've got to come up with some catchphrases."
As trying times have hit many North American racetracks, the people who put on the show at Truro Raceway know what they have is special. The task at hand is making the business sustainable.
"I believe in it with my whole heart and soul, and so does everyone down in the stables. We have a beautiful thing here," said Truro Raceway Race Office Supervisor Diane Daniels.
(With files from The Chronicle Herald)
Related Stories