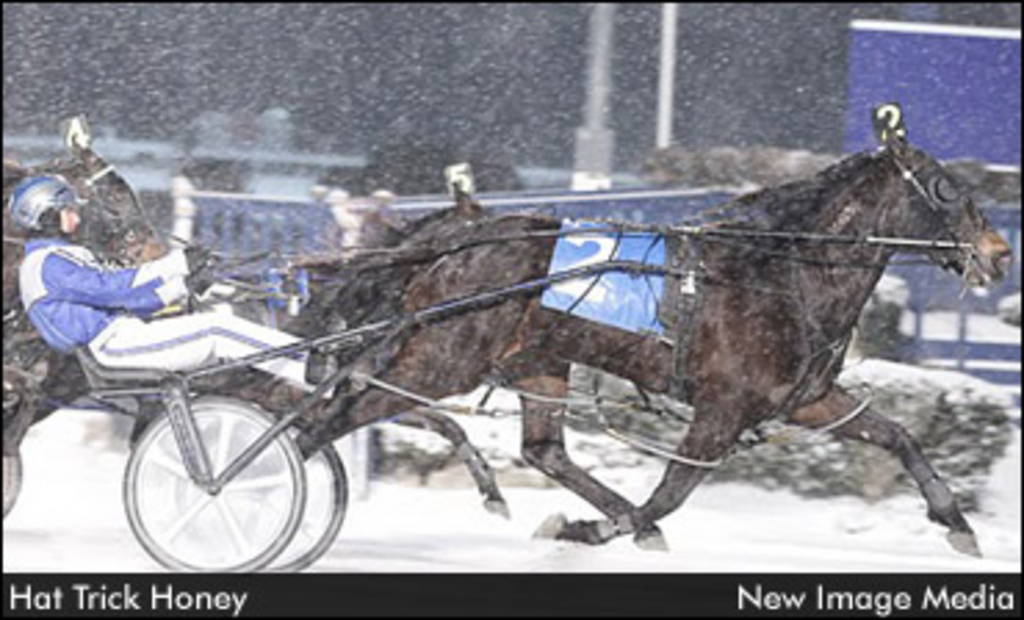 After watching a pair of their horses win their $25,000 Blizzard Stakes eliminations from a laptop on a cruise ship last Thursday, Stuart and Patty Bolender were looking forward to this Thursday night's rich final at
Woodbine Racetrack.
However, when they returned home early Monday morning, they received news that one of their retired broodmares had broken through a wooden lid, slipped through a two-foot square opening into an underground water storage tank and was trapped.
Their beloved Ronniejo Hanover was contending with shock and hypothermia as well as suffering abrasions and swelling during the three-hour ordeal. After being rescued by over a dozen firefighters, she was unable to walk; therefore, it required a tractor and a front-end loader to pick her up and transport her to her barn where she was treated by a local veterinarian.
Now, two days later, owner Stuart Bolender is still amazed by the incident.
"I still don't understand how a horse could fall into such a little hole. She must have backed into it and fell," Stuart said during a recent interview with the Woodbine Entertainment Group. "I was very surprised (that she survived) because of the fact she's 25 years old. She always did have a lot of heart and that's what made her hang on."
Bolender also confirmed that Ronniejo Hanover is recovering nicely.
"Her ears are up and she's slowly starting to eat more and more," the Centre Wellington resident said. "She's always been a gentle mare and very harmless, but yesterday she was playing with the girl (Mary Jane Skarda) who looks after her, which is a positive sign."
Speaking of broodmares, Bolender has a pair of entries in Thursday's $60,000 Blizzard Stakes final, both of which are homebreds.
Hat Trick Honey (out of Naughty Nettie G) and Hustleonhome (out of Double Tease) will leave from Post 2 and 3, respectively, for trainer Tan Micallef in Race 5.
Both are daughters of Million Dollar Cam and very well could provide Bolender with his largest payday as an owner/breeder.
"This will be one of the biggest highlights of my life with horses," Bolender commented. "I have had horses for over 40 years and this is one of the greatest opportunities of racing that we have had and it's quite a thrill to have two horses competing in the same race."
Luck seems to be on Bolender's side this past week and he's hoping the good fortune continues.
To view the entries for Woodbine's Thursday card of racing, click here.
(WEG)