One year ago, Perfect Sting made history with a Breeders Crown dead-heat victory. On Saturday (Oct. 30) at The Meadowlands, the sophomore pacer made it back-to-back Breeders Crowns but he and his connections don't have to share the spotlight on this one.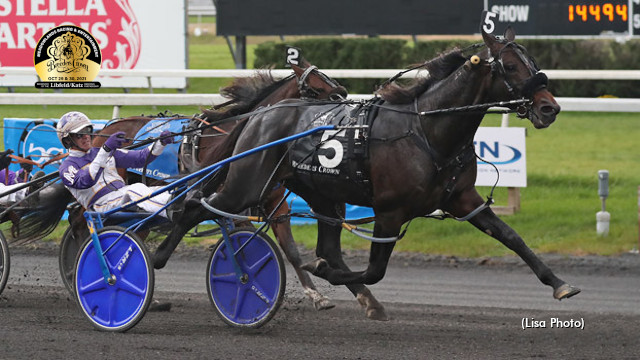 With regular pilot David Miller at the controls, Perfect Sting was sent off as the 8/5 second choice in the $600,000 event behind fellow elim winner Charlie May. That Ohio invader was the 7/5 choice for driver Brett Miller.
Perfect Sting allowed a fleet-footed Chase H Hanover (Tim Tetrick) to fly to the front and lead the field into the opening quarter. Perfect Sting had an opportunity to settle along the rail, but Miller aimed his horse for the lead and landed there just after the opening stanza.
Brett Miller didn't like sitting third with Charlie May, and made his move to the front with a quick backside brush. Charlie May was on point through a :55.4 half and 1:23.4 third quarter while the backfield was bogged down by a stalled first-over bid from Southwind Gendry (Yannick Gingras).
As Charlie May and Perfect Sting turned for home, the pace picked up and the front pair of last week's elimination winners gained separation on their rivals. Perfect Sting took aim at his divisional rival in mid-stretch and paced by with conviction to win by more than a length in 1:49.4. Chase H Hanover was best of the rest in third.
"It worked out perfect," said winning driver David Miller after his 29th Breeders Crown win. "I wasn't sure what was going to happen outside of me (at the start). I was hoping to get away somewhere close. When Timmy was the only one that left, nobody else was really firing out of there, I thought it was going to set up good for us. When (we got to the quarter in :27.3), I was like, oh, this is going to be nice. When Brett came, I was more than happy to follow him. I just followed him all the way into the stretch. I was thinking, this is do-or-die here, boy. And he got by. I was real happy."
Perfect Sting pushed his sophomore record to 6-8-1 in 15 starts for owners and breeders Brittany Farms LLC of Versailles, Ky. and Val D'Or Farms of Spring Lake, N.J. Trainer Joe Holloway breathed a sigh of relief upon winning his ninth Breeders Crown trophy while also feeling a sense of accomplishment in finally winning a major stakes event with his star sophomore.
"We've been consistent all year, but hadn't gotten the job done. We needed to get a signature win; this is a pretty good way to do it," said Holloway. "He's been the most consistent. He's made the most money, but I realized we lost a few races we should have won. But I just think he's a great horse and he deserved it today."
A son of Always B Miki - Shebestingin, Perfect Sting now sports career totals of 17-8-1 from 26 starts and earnings in excess of $1.86 million.
"The horse always performs; he just put it all together today," said George Segal, whose Brittany Farms leads all owners in Crown history with 21 trophies.
All the recaps from Saturday's Breeders Crown finals can be found in the 2021 Breeders Crown News Centre.
(with quotes from The Meadowlands)