Test Of Faith confirmed her superstar status, capturing the $600,000 Breeders Crown Final for three-year-old pacing fillies on Saturday (Oct. 30) at The Meadowlands Racetrack while never seeing the rail.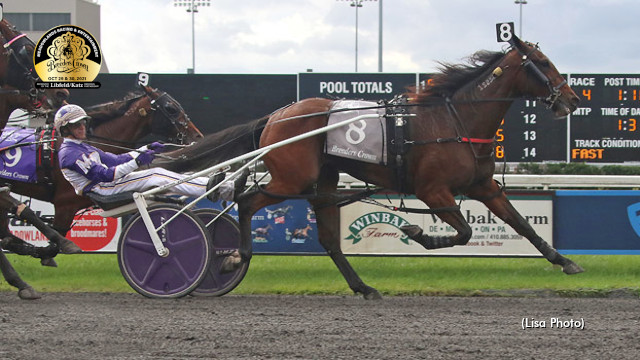 Driver David Miller floated 3/5 choice Test Of Faith away from post eight and followed the helmet of second choice Blue Diamond Eyes (Yannick Gingras). On the front end, stablemates Fire Start Hanover (Dexter Dunn) and Grace Hill (Todd McCarthy) comprised the first and second horses to hit the opening quarter in :27.
Miller forced the hand of Gingras, who begrudingly provided the favourite cover or fear being locked in helplessly along the rail with Blue Diamond Eyes. That filly pressured pacesetter Fire Start Hanover through midway panels of :55.4 and 1:23.2 while towing Test Of Faith into striking position.
As the field hit the head of the lane, Miller right-lined Test Of Faith off the helmet of Blue Diamond Eyes and the NYSS star obliged willingly with strong strides to collar the early leaders and hold off the late bid of Scarlett Hanover (Tim Tetrick) to win by a length in 1:49.4, pacing home in the low :26 range after an overland journey. Fire Start Hanover held third over Grace Hill.
"It didn't go like I thought," Miller said of how the race unfolded for Test Of Faith. "I was planning on leaving and probably getting away around fourth, then probably having to come first-over. But when Dexter and a couple other ones left aggressively, I changed my plan. But I knew I was following a good horse, Blue Diamond Eyes. I just waited on her, and she just took me right into the race. She is pretty awesome. If I can just give her a little bit of cover like that, she comes off her cover really well. She felt strong at the top of the stretch, just waiting for me to call on her."
Trained by Brett Pelling for Melvin Segal of Charlotte, N.C., Kentuckiana Racing Stable and Eddie Gran of Lexington, Ky., Test Of Faith (Art Major - Cannae Cammie) now sports a record of 13-2-0 from 15 seasonal starts with a career summary of 21-3-0 from 24 starts. Bred by Fred Hertrich of Seaford, De., Test Of Faith bumped her bankroll to $1,505,239 lifetime. She paid $2.60 to win.
"We have faith in her, so she's pretty well named," said Pelling. "She's as honest as any horse you'll ever be around and she recovers well. She's a little bit stoic, she doesn't really tell us if she's like super sharp but she's always sharp. She's got a beautiful nature about her and just a real sweetheart."
Pelling indicated that the Matron would be the next assignment for Test Of Faith, and didn't rule out racing her against the mares in the TVG Final next month.
All the recaps from Saturday's Breeders Crown finals can be found in the 2021 Breeders Crown News Centre.