The 2021 Hambletonian champ Captain Corey made his first start since that vaunted victory and showed it was no fluke with another powerful performance to win the 2021 Earl Beal Jr. Memorial Trot on Saturday (August 21) at The Downs at Mohegan Sun Pocono.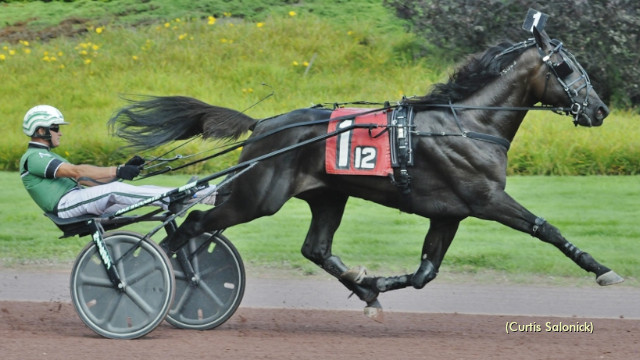 Captain Corey was nestled into third early by trainer-driver Ake Svanstedt as Take All Comers did just that to establish early command. Driver David Miller took hold as Johan Palema (Yannick Gingras) made a move to the front through a :26.4 opener. That lead was short-lived as Captain Corey came to call and dropped on top by the three-eighths mark. Svanstedt maintained that race control through panels of :55.3 and 1:23.4 while watching Delayed Hanover advance first-over and then roll offstride at the head of the lane. Captain Corey was more than up to the task, sprinting home in :26.4 to score by two lengths over Johan Palema in 1:51 with Take All Comers rounding out the best company.
"It's easy to be the driver and drive a horse like him," said Svanstedt after winning his second straight Beal. "I know Johan Palema races better off a helmet so I knew he wanted someone to come.
"He's a really smart horse, but I think that's the reason good horses are good — they are smart, and they like to race."
Captain Corey (Googoo Gaagaa - Luv U All) is owned by Svanstedt along with SRF Stable, Knutsson Trotting Inc. and Midnight Sun Partners Inc. of Florida. The winner's share of the purse makes Captain Corey harness racing's newest millionaire, getting to that plateau in just his 13th lifetime start. He sports a career summary of 9-2-0 in those outings with $1,065,333 to his credit.
The Svanstedt-trained entry of Fly Light and Capstone was sent off as the 4/5 choice in the $200,000 Beal I Consolation and those two horses finished 1-2, with Fly Light and Dexter Dunn getting up in the final strides over his Svanstedt-handled stablemate. The son of Father Patrick - Hustle Heart notched just his second lifetime win and earned a nifty 1:52 speed badge in the process for owners Ake Svanstedt Inc. and Stable Why Not.
The Beal was one of the highlights of Sun Stakes Saturday at Pocono. Check out the recaps of the other events in the Sun Stakes Saturday News Centre.