The inaugural Delmonica Hanover Trot for three-year-old trotting fillies will go down in the record books as an emotional one.
Eight days after the passing of co-owner Charlie Keller, Darlene Hanover was never better coming first up and pulling away from her rivals to win the $250,000 event.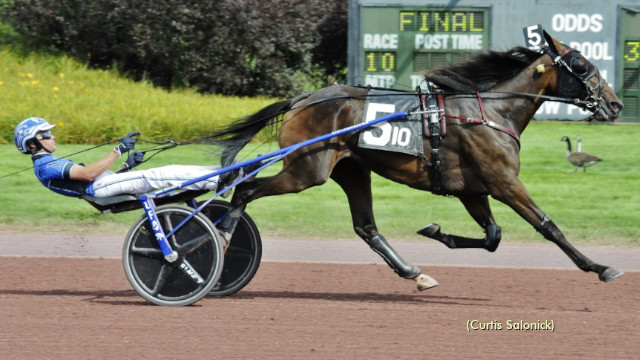 Driver Todd McCarthy made the decision to advance first up from fifth approaching the half after favoured You Ato Dream (Jeff Gregory) cleared to the top just before that :55 midway point. McCarthy stalked the leader through a 1:23.4 third station, with Darlene Hanover getting up to even terms with You Ato Dream around the final turn. As the leaders straightened for home, Darlene Hanover propelled away from her rival and sprinted under the wire to earn a new lifetime mark of 1:51.4. Flawless Country (Ake Svanstedt) was flying late to finish second while You Ato Dream stayed for show.
"That win obviously meant a lot today," said McCarthy post-race. "I'm sure we might have had a little help from above.
"Brett's super casual to drive for. Full credit to him; he had the horse spot on today and he made my job really easy."
Brett Bittle trains Darlene Hanover (Chapter Seven - Danielle Hanover) for Yankeeland Partners LLP of Frederick, Md. The win was second as a sophomore for Darlene Hanover, whose career bankroll now sits just shy of the half-million dollar mark at $494,355.
Dazzling Reign unleashed a dazzling stretch rally from the back of the pack to pick off her rivals in the $125,000 Delmonica Hanover Consolation I. Todd McCarthy guided the filly to victory in 1:55.1 over Aunt Irene and Above The Clouds for trainer Claude Huckabone and owner James Crawford of Erieville, N.Y.
The Delmonica Hanover was one of the highlights of Sun Stakes Saturday at Pocono. Check out the recaps of the other events in the Sun Stakes Saturday News Centre.