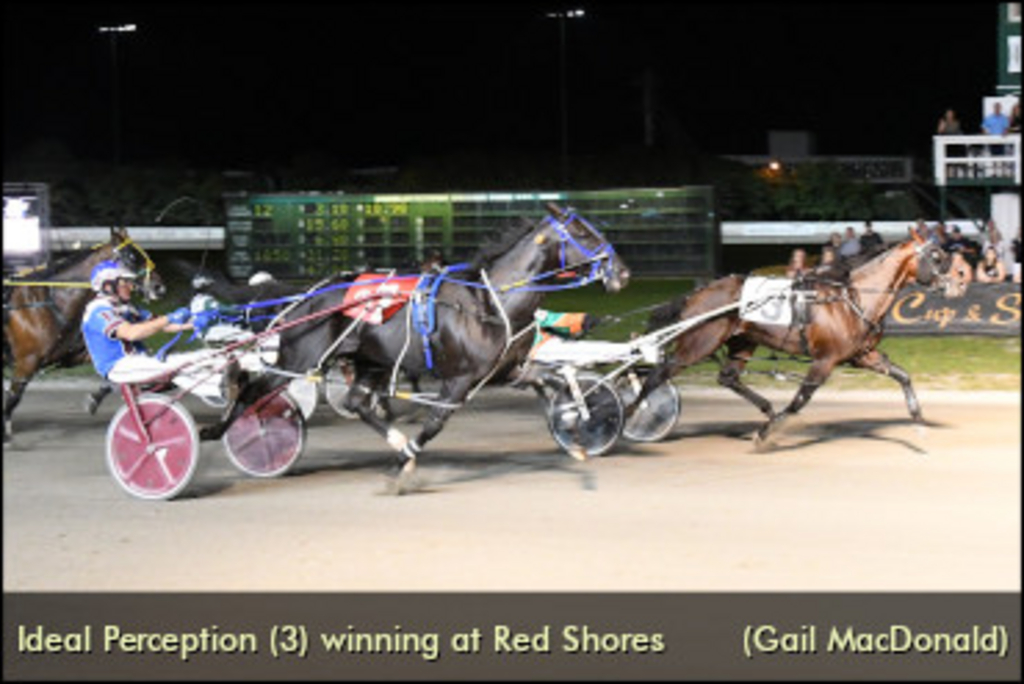 Ideal Perception was not a horse that many would have considered a 2021 Gold Cup and Saucer contender a few months ago, but it only took one race for trainer Anthony Beaton to quickly realize he might have something special.
After returning to racing in mid-June Ideal Perception had logged five miles at Woodbine Mohawk Park, finishing between fourth and seventh in those conditioned events. Beaton sent him to Grand River Raceway on July 30, and the horse made headlines with his stellar performance.
"We drew very well in Grand River, and I felt he was the best in that race. I was expecting a 1:53 or 1:54 in that group, not 1:51. I needed to change the horse's attitude a bit and I felt he was getting beat up on the big track."
A punching bag no more, Ideal Perception won at Grand River in a lifetime best 1:51.1 trouncing the competition by more than 14 lengths. "I was joking about the Gold Cup and Saucer back in March. After that night in Grand River, it was for sure something I was pushing for. I had to get approval from the owner, and he let me as trainer do what we needed to do."
Ideal Perception arrived at Beaton's barn in the late summer of 2020, and he did not know what to fully expect from the horse at the time but he was able to receive some insight from former trainers of the horse. "I remember Casie Coleman had this horse earlier in the summer of 2020 and they had some high hopes for him. I also spoke to Andrew Harris and he said I was really going to like this horse."
Beaton is convinced that all this horse needed was to get out of his funk on the large seven-eighths mile at Mohawk and take his skills to the half-mile where he's now posted four of his nine lifetime wins. "He's shown some flashes he was going to be a nice horse, but he got into a lull. A change of scenery and attitude was needed."
That attitude was a winning one this past Saturday (Aug. 14) when Ideal Perception made his first start in Prince Edward Island for the second trial of the 2021 Guardian Gold Cup and Saucer. Keeping his half-mile track form, Ideal Perception won again in 1:51.1 with Gilles Barrieau guiding the four-year-old to a wire-to-wire win.
"It's always nice on the half-mile track to get up close. The front is the place to be and after his trip in Grand River a few weeks before, we thought the front would be the best opportunity to get the job done." When Ideal Perception hit the stretch, he felt the breath of his competition on his neck, but he and the Maritime Magic Man were still able to pull out the victory. "I thought he would have enough in the tank to get to the wire. The stretch is not that long, and you get to the wire before you know it. Gilles had enough to get him there."
Beaton is from Cape Breton, Nova Scotia, and has spent his fair share of time at Old Home Week. A win in the Gold Cup and Saucer would mean the same to him as it would any Maritime horsemen. "It would be very special. Some buddies and I used to have some horses together and we'd go over every year. That would be our road trip and we never had any luck, but we met a lot of good people. I always look forward to going to Old Home Week. The Gold Cup and Saucer is very special but if we get a good trip, we have a legitimate chance at getting it."
Ideal Perception, Beaton and owner Ed James' S S G Stables have drawn post position seven, and they will rely on the experience of their driver to get them into the winner's circle. "It's obviously going to be way tougher in the final and the best horses are going to be there. It's up to Gilles on what he thinks he can do. That's what we got Gilles for and the horse is in very capable hands."
Not only would a win be special for Beaton, but the win would be historic for Barrieau. If the tandem can find the winner's circle, Barrieau would be tied for the most Gold Cup and Saucer wins by a driver. Barrieau currently sits at four wins, most recently in the 2017 Gold Cup and Saucer with Shadow Place. He first won in 1997 with Comedy Hour before winning again in 2000 (Canaco Simon) and 2002 (London Mews N). The current record of five wins is held by Mike MacDonald who won in 1975, 1977, 1984, 1985 and 1995.
The Guardian Gold Cup and Saucer Final will be the final race of Saturday's card at Red Shores Charlottetown, with an approximate post time of 10:58 p.m. (ET).
2021 Gold Cup & Saucer Final
Post - Horse - Driver - Trainer
1 - Somewhere Fancy - David Dowling - Chris MacKay
2 - Legion Seelster - Richard Simard - Victor Puddy
3 - Racemup - Brodie MacPhee - Victor Puddy
4 - Rock Lights - Jason Hughes - Chris MacKay
5 - Smooth Lou - Robert Shepherd - Patrick Shepherd
6 - National Debt - Austin Sorrie - Colin Johnson
7 - Ideal Perception - Gilles Barrieau - Anthony Beaton
8 - Time To Dance - Marc Campbell - Marc Campbell
9 - Day Delight - Walter Cheverie - Victor Puddy
(A Trot Insider Exclusive by Trey Colbeck)