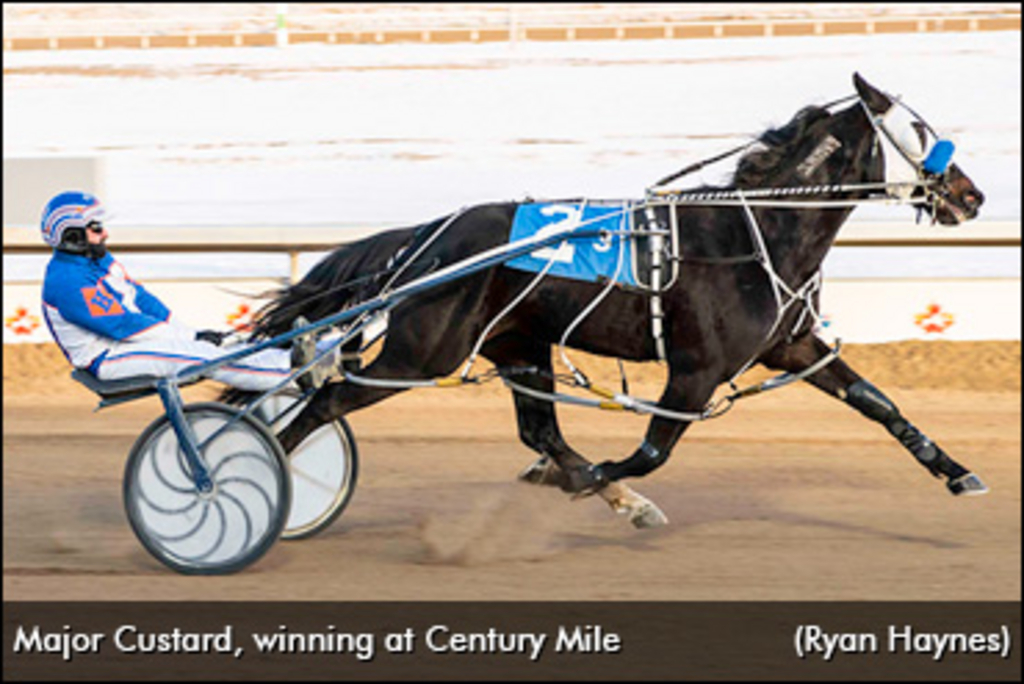 There certainly hasn't been a shortage of win photos for the connections of Major Custard over the past two seasons, but the one from the Saturday (Dec. 12) card at Century Mile could be bittersweet.
Major Custard might have made his final start in Alberta after his co-owner Jim Marino announced that he would be selling a number of his racehorses to concentrate on younger stock. This announcement comes as the province's 2020 harness racing season comes to an end, necessitating a double-header card on Saturday.
Competing in the second of two $22,500 Brad Gunn Breeders Stakes divisions, Major Custard and driver Mike Hennessy sat patiently in fourth during the first half of his contest while Chazmichaelmichael (Kelly Hoerdt) paced through splits of :28.3 and :59.2. Outlaw C My Shadow (Connie Kolthammer) made a move from third just before the half and looped to the lead, leaving Major Custard first up after Hennessy followed that move into the outer flow.
Outlaw C My Shadow hit the third station in 1:27.1 and looked strong turning for home. Pocket-sitting Chazmichaelmichael ducked to the inside to provide a three-way stretch battle heading for the wire. Major Custard eventually found another gear for Hennessy and pulled away to win by two lengths in 1:54.3, with Outlaw C My Shadow and Chazmichaelmichael completing the triactor.
In 23 lifetime starts, Major Custard (Custard The Dragon - Chemistry Major) sports a sensational 20-2-1 record for Marino and J J J Stables, with 15 of those 16 wins coming in 2020. Michael Campbell handles the Alberta training duties of Major Custard, whose career earnings swelled to $326,945 with the win.
Criminal Record converted a pocket trip to a new lifetime best in his Brad Gunn Breeders Stake division. Trainer-driver Kelly Hoerdt forwardly positioned the second choice, making the lead early before yielding to favoured Horse (Nathan Sobey) ahead of a :26.3 opening quarter. Heading down the backstretch into a stiff headwind, Sobey rationed that speed for a more relaxed middle half, hitting those stations in :56.2 and 1:25.3. Turning for home, Hoerdt angled Criminal Record out from the pocket and his pacer willingly powered past the pacesetter to win by four lengths in 1:52.3 -- just one-fifth off the Century Mile track record. Horse held off a strong rally from Fully Covered (Tyler Redwood) for second.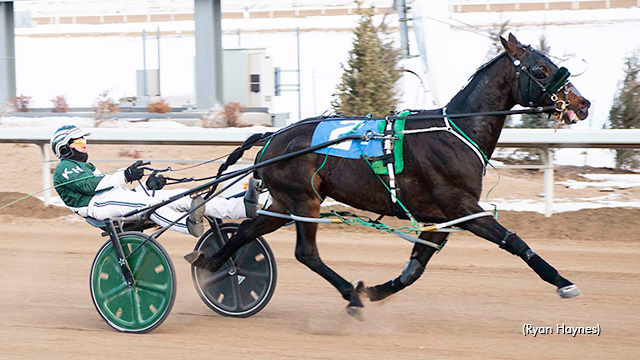 The runner-up in the 2020 Western Canada Pacing Derby, Criminal Record (Mystery Chase - Shoplifter Hanover) picked up the fourth win of his sophomore campaign and seventh lifetime for Hoerdt and his co-owners Ralph Morrow of Cartwright and Jacques Lambert of St Malo, Man. Criminal Record now sports a solid bankroll exceeding $121,000.
Past Affair was a wire-to-wire winner in the first $22,500 Shirley McClellan Breeders Stake division for three-year-old pacing fillies. Driver Dave kelly used his rail control to position Past Affair on top, hitting the opening quarter in a moderate :28 before feeling the pressure down the backside. Second choice Custards Crown (Phil Giesbrecht) challenged the leader through a :59 half and 1:28.2 third quarter but was unable to head the pacesetter.
Favoured Snow Shark (Hoerdt) attempted to find room up the inside as Past Affair was not willing to give up the lead without a fight, and Kelly shut that door to prevent a pylon move. A :28 closer sealed the deal for the 1:56.2 decision. Snow Shark finished second but was placed sixth for a pylon violation in the stretch, bumping Blue Star Dreaming (M. Hennessy) up into second and Miss Itunes (Sobey) into the show spot.
Trained and owned by Kelly along with Mike Dicks of Parkland County, Alta., Past Affair notched her fifth win of the season for earnings of $65,551. Since entering the Kelly barn in September, the daughter of Vertical Horizon - Jennas Pass sports a 5-2-0 record in 10 starts and hasn't missed a cheque.
Favourites were dethroned in both of the McClellans as Deja Vroom posted the 6-1 upset in her $22,500 division. Nathan Sobey positioned Deja Vroom in third as Century Gianna (Hoerdt) fronted the field through tepid fractions of :29.2 and 1:00.2. Sobey advanced overland to make onto even terms with thr leader through a 1:30.1 third quarter before poking a nose in front at the head of the lane. Treasure Horizon (Hennessy) found open road to attempt a rally with favoured Rockin With Lou (Giesbrecht) launched from sixth and last to gain ground with every stride. However, that rally would fall just short as Deja Vroom found the wire first, with the mile timed in 1:57.1. Treasure Horizon completed the top three.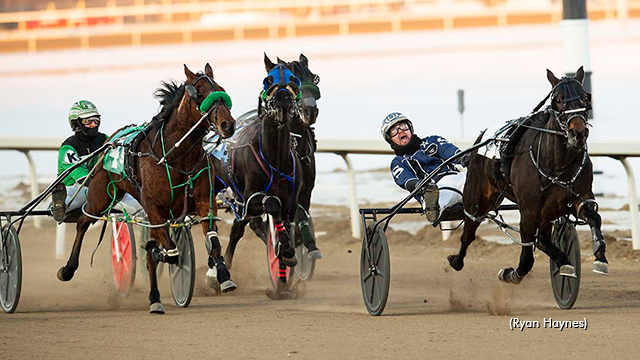 Owned by breeders Kurt & Kathy Schmidt of Leduc with Robert James of Camrose, Alta., Deja Vroom (Blue Burner - Tik Tik Vroom) picked up her fourth sophomore score and fifth lifetime tally. The $11,250 represents the filly's biggest career paycheque, and lifts her purse total to $41,430.
Night Stick vaulted off cover in the stretch to capture the $9,000 Open Pace. Driver Mike Hennessy was situated fourth in the field of five for the majority of the mile as stablemate Kneedeep N Custard (Kelly Hoerdt) paced through panels of :27.1, :58.1 and 1:28.1. Crackle N Burn (Phil Giesbrecht) started a first-over attack heading into the final turn, and Hennessy accepted that tow into the stretch. Kneedeep N Custard tried to hold off the rallying backfield but Night Stick was too fresh and powered past for the 1:55.1 decision.
Canadian Pharoh (David Kelly) made his way out of the pocket to finish second, but not without causing interference to Crackle N Burn in the stretch. After a review by the judges, Canadian Pharoh was disqualified and placed fifth, bumping Kneedeep N Custard to second and Outlaw Gunsablazin (Jamie Gray) up to third from fourth.
Co-owned by trainer Hoerdt with Fred Gilbert of Brandon and David Mooney of Wawanesa, Man., Night Stick (Western Ideal - Lauren Order) picked up his fourth win of the season and 16th lifetime. The winner's share of the purse lifts his earnings over the $105,000 plateau.
On the afternoon, Hoerdt collected four training wins. He also sent Night Stick ($14.20), Whiplash Smile ($5.20) and Armycaptain Hanover ($9.70) to victories. Michael Campbell scored three training wins on the afternoon, with his other two coming from Dominate Dragon ($7.50) and Charlies Dragon ($4.50).
The stakes races kicked off the first half of the double-header, with 11 races card for the first half and another dozen to conclude the 23-dash day of harness racing.
For the results from Saturday afternoon card, click the following link: Saturday Results - Century Mile (afternoon).
To view the results for the second card, click the following link: Saturday Results - Century Mile (night).