On Sunday (Aug. 25), horsepeople and loyal patrons of Leamington Raceway took the time to honour Standardbred Canada field representative Faye Duford, who has retired from her position after having helped horsepeople with their racing affairs for 35 years.
The day's race card featured the Faye Duford Pace ($6,000 Preferred 4 Pace), which went postward for Race 8 and was won by the Gord McDonnell-trained and Tyler Borth-driven Tobins Terror in 1:57.3.
A write-up in the afternoon program did its best to try to explain the impact that Faye has had on horsepeople over the years. Her service went well beyond her job. She made baby blankets, halloween bags and shoulder straps for cancer patients. She treated everyone with kindness and was always there to give a helping hand and support. Faye is also closing in on her 50th wedding anniversary with her husband, Rod, a lifelong horseman

Marty Adler took the opportunity to give a special shout-out to Faye, saying that she "was one of the pillars of the Standardbred Canada family" and characterized her as solid as the Rock of Gibraltar.
"Faye has spent more then five decades dealing with the intricacies of horsemen paperwork, in the trenches of the backstretch from Windsor to Leamington, making sure all the glue stuck," explained Adler, who went on to state that, "through her tenure, in sickness, and in health, there was never a more dedicated employee."
"I would like to personally thank Faye for her years of dedicated service and to congratulate her on her retirement," said Standardbred Canada Field Services Manager Val Boom. "Faye has seen many changes over the years while working for Standardbred Canada: from our old LA120 computers that were loud and about the size of a small car; to the printing of hard-copy eligibility cards and their labels and the many anxious horsemen waiting in line for them each night; to our new 'Gaitway' computer system now.
"Faye always had a smile and could laugh at almost anything," Boom reflected. "Not only will she be missed by all of us at Standardbred Canada, but by all of those who she licensed for the first time or renewed for the last."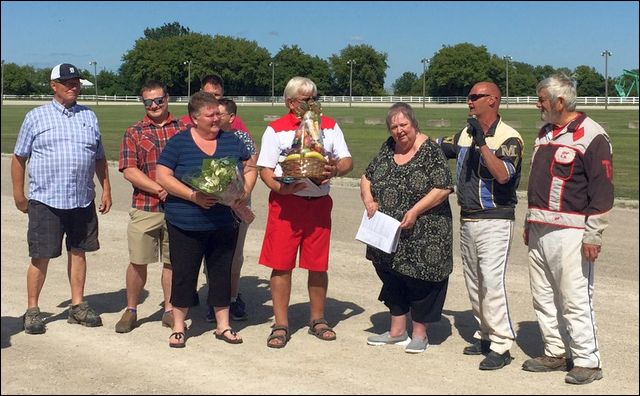 In July, Standarbred Canada informed the local industry that Duford would be retiring and that there will not be a Standardbred Canada field representative present at the track this year.
Membership renewals and eligibility fees are two of many services that can be purchased online. To pay online, register with the SC website and sign into eShop by clicking the 'eShop' button at the top of the homepage.
For those who prefer, you can fax your renewal or pay for your horse eligibility fee by using our fax forms available on the SC website to 905-858-8047, or members can call Standardbred Canada directly at 905-858-3060 or visit another racetrack location on live race days for assistance.
Standardbred Canada would like to thank Faye for her valued contribution to the association, and also Jan Adams for her support and assistance.
All Leamington race results will be input on Sunday, following the races.
To view the harness racing results for Sunday at Leamington, click the following link: Sunday Results – Leamington Raceway.