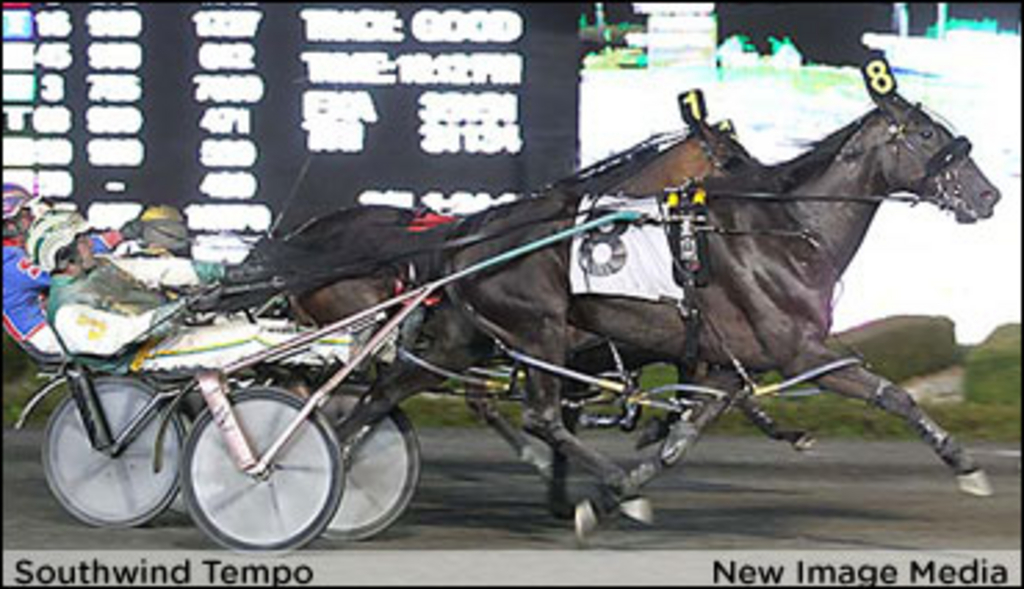 World champion Southwind Tempo turned in an amazing stretch rally to capture the $375,100 Milton Stakes final for older pacing mares on Saturday night at Mohawk Racetrack, over a track that was rated as "good"
.
With Jody Jamieson at the controls, the five-year-old daughter of Bettors Delight-Tsunami Hanover left moderately from Post 8 but was unable to find a spot along the pylons in the early going and watched as Hana Hanover (Randy Waples) blasted to the early lead.
The opening quarter rang up in :27.2 with Hana Hanover showing the way over Four Starzz Meliss (Jason Brewer) and last week's elimination winner To Helen Back (Mike Saftic). At that point, Southwind Tempo's stablemate Tug River Princess (Steve Condren), was parked out in fifth and not advancing, putting the backfield at a distinct disadvantage.
Hana Hanover continued to control the fractions through a first half in just :56.1. The first activity came as the field neared the third station when Four Starzz Meliss pulled the pocket and To Helen Back moved out on her back. Meanwhile, Southwind Tempo was still mired back in 10th and last position behind stalled cover.
Hana Hanover was clinging to the lead at the three-quarters in 1:24.1 and as the field turned for home, Four Starzz Meliss drifted extremely wide, leaving To Helen Back a clear shot at the pacesetter. It looked as though it would come down to these two at the end but Southwind Tempo exploded with a wide move from the back and was able to haul down the tempo setters right at the finish in 1:52.
To Helen Back got up in the last strides to nip Hana Hanover for the place spot. Despite the parked out trip, Tug River Princess held gamely for fourth. The winner returned $5.30.
"I can't believe it," said a happy winning trainer, Darren McCall afterwards. "At the quarter, I said to myself I'll be happy if Princess [Tug River Princess] just gets a cheque and I didn't think Tempo had a chance. This mare [Southwind Tempo] is just a freak of nature. She is as fast for a part of the mile as any horse I've ever seen. What a huge effort."
The victory was the seventh this season and 33rd lifetime for Southwind Tempo, who improved her career earnings to just over $2.2 million for owners Jerry Silva of New York and the Let It Ride Stable of Florida.
Southwind Tempo now adds the Milton title to her resume in addition to the Betsy Ross, Classic Distaff Final, Lady Liberty and The Golden Girls Final, just this season alone. In total she has banked more than $900,000 on the campaign.
Switching over to the male pacers, Ramegade Bruiser beat out the tempo setting Bigtime Ball and Hyperion Hanover by the slimmest of margins, but nevertheless the son of Rambaran-Love You Dear took home the bragging rights in this week's edition of the $50,000 Open Pace.
Fan favourite Bigtime Ball (Paul MacDonell) crossed over from the outside Post 7 and sprinted to the opening quarter in :26.4 with Ramegade Bruiser and Jody Jamieson settling in for a two-hole trip from a Post 4 start. Bigtime Ball led the way past the half-mile marker in :55 and three-quarters in 1:23.3 with Ramegade Bruiser hot on his helmet and Hyperion Hanover (Rick Zeron) travelling first-over from sixth.
In the stretch, Bigtime Ball was swarmed by his rivals as Ramegade Bruiser shot up the rail to prevail in 1:50.4 by a neck. Hyperion Hanover charged down the lane making it a dead-heat for second with the pacesetter.
David Brown owns and trains Ramegade Bruiser, who has won half of his 22 races this year earning $323,900. The winner of 42 races lifetime is quickly approaching the million dollar mark in earnings with $955,639 already in the bank.
For recaps of tonight's Ontario Sires Stakes Gold eliminations for two and three-year-old pacing colts and geldings, click here.
To view Saturday's harness racing results, click here.
(With files from WEG)