Trainer Marcus Melander was loaded for bear in the $600,000 Breeders Crown Two-Year-Old Colt Trot, and his star students delivered a strong 1-2 punch in the rich affair.
Gimpanzee bested stablemate Green Manalishi S in a time of 1:54.4, and in doing so gave Melander his first Breeders Crown trophy.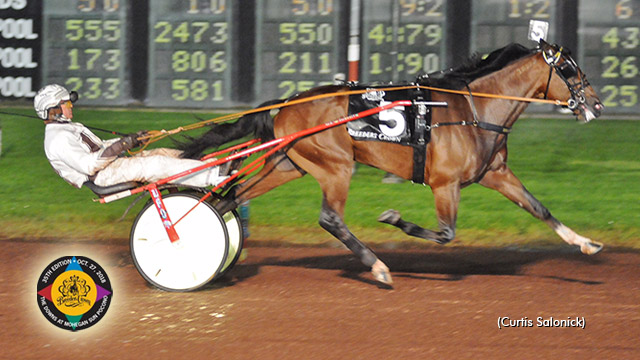 Green Manalishi S shot to the early lead and had his foes chasing him past the opening quarter in :27.3, but heavily favoured Gimpanzee made his move to the lead as the field passed in front of the grandstand. Brian Sears dictated the speed in the middle stages of the mile as Gimpanzee coasted through intervals of :57.3 and 1:26.3. Sears lit the afterburners turning for home, however, and Gimpanzee responded with a final quarter clocked in :28.1 over the off going. Green Manalishi S was a soundly-beaten second, with Hudson River taking home third prize.
Melander was very pleased with Gimpanzee, saying, "It feels great, of course. He's like an aged horse, you can do whatever you want with him in a race. He's got a lot of stamina and a lot of speed and everything went well. I thought he raced great. I couldn't be more happy with the year."
"It's not over until it's over but the horse has showed up all year," added Sears. "He just knows how to do his job and got it done again tonight, figured I'd take my shot on the front."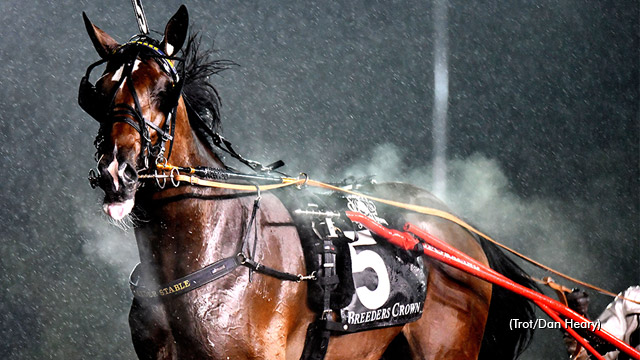 Courant Inc and S R F Stable of Delray Beach, FL share ownership on the undefeated son of Chapter Seven-Steamy Windows, who now owns a 9-for-9 rookie record. The $300,000 payday lifted the colt's earnings to $591,358.
The Two-Year-Old Colt Trot was one of 12 lucrative finals on a star-studded 2018 Breeders Crown night at Pocono featuring most of harness racing's top participants. Read about the rest of the stakes action in the 2018 Breeders Crown News Centre.