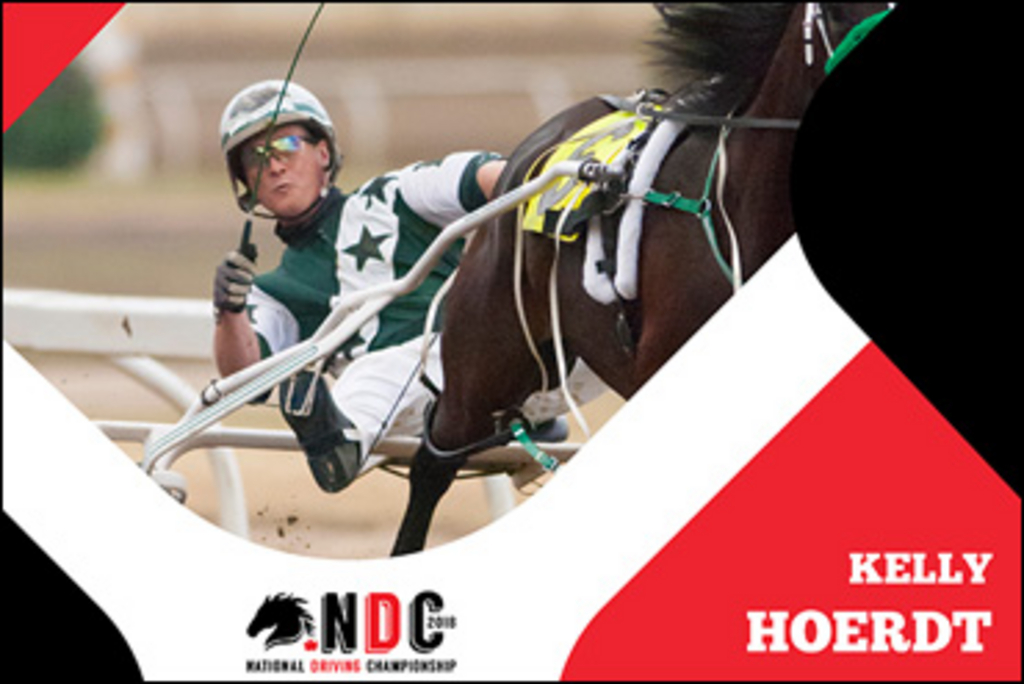 It was almost nine years ago when Kelly Hoerdt last competed in a National Driving Championship. It was a Saturday afternoon in March at Fraser Downs in Surrey, BC. Going into the final leg, representatives from each region, including Gilles Barrieau, Brad Forward, Guy Gagnon and Hoerdt, had earned enough points to remain in the hunt for the NDC title.
Unfortunately Hoerdt's drive in the last race didn't hit the board, and he ended up finishing in fourth place overall, while the event was won by Brad Forward.
"The 2009 NDC group of drivers was comparable to this year in terms of the diversity...younger and veteran drivers, some driving 2-3000 races a year, some 500 or less. It was very competitive with a lot of talent as I'm sure this year will be as well."
This year Hoerdt takes his second shot at an NDC title and the opportunity to wear the red and white colours in the 2019 World Driving Championship as he landed at the top of the driver standings to secure the Western Regional at Century Downs on June 23.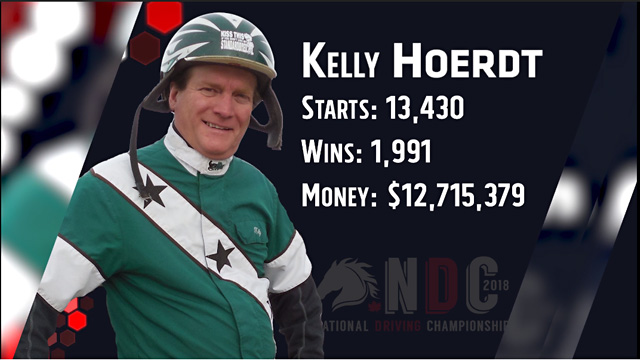 Kelly was born into a racing family, and before horses, he was hopeful that hockey might be in the cards as a career. Then at age 14, his Dad gave him a share of a Standardbred and that was the kick starter to a 30+ year career in racing. His first winning drive was in Winnipeg, Manitoba with a horse called Another World in the extreme dead of winter with temperatures hovering below -20.
Hoerdt has had great success both as a trainer and driver and his career stats in both areas are equally consistent and impressive. As a trainer, he's racked up 1,700 wins and conditioned horses to in excess of $12 million. On the driving side, he has 1,991 victories and driven horses to earnings of over $12.7 million. A testament to his strength in both training and driving was recognized nationally when he was awarded the O'Brien Award of Horsemanship in 2013.
Hoerdt is part-owner of Bedrock Training Centre in Beaumont, Alberta, an 80-acre state-of-the-art equine facility that has paddocks, a five-eighths mile track, indoor equisizer, aquatic training facility and more.
Since 2015, Hoerdt and his partner, Peter Giannakopoulos host a Family Fun Day at Bedrock to raise money for the Stollery Children's Hospital. Last year over 1,400 people attended and $30,000 was raised. This year's event took place this past Saturday (Sept. 8). Kelly's son, Spencer, and Peter's niece, Nitza, were both treated at this hospital so they came up with the idea to have an event at the farm to raise much needed funds. To date they have raised over $80,000 for Stollery.
Here's a look at our Western Regional Driving Champion and National Driving Championship finalist, Kelly Hoerdt.
"Winning the NDC and representing my country in Sweden would be an honour, a privilege, and a gracious responsibility that I would look forward to." And if he is the one that takes the title on Sept. 26, he looks forward to being able to experience the culture and food in Sweden, along with wearing the Canadian colours in the 2019 World Driving Championship.
The 2018 National Driving Championship takes place at Grand River Raceway on Wednesday, September 26.
---
SC would like to extend our thanks to Horse Racing Alberta, Century Downs and Northlands for providing video footage. Video Produced by Cujo Entertainment. Voiceover provided by Chris Roberts.