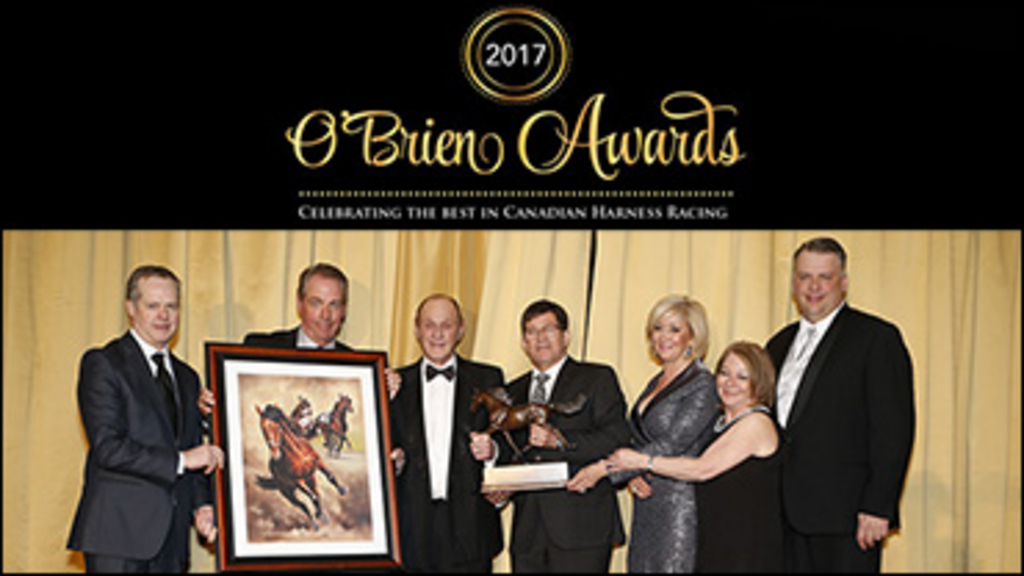 "We were sitting at a table with Ariana G's people. We really thought it came down to us two...but she did so much special stuff up here, beating the boys. But we were hopeful."
Trot Insider caught up with Mickey Burke after Hannelore Hanover was named Canada's Older Trotting Mare of the Year and Somebeachsomewhere Horse of the Year at the 2017 O'Brien Awards Black Tie Gala on Saturday, February 3 in Mississauga, Ont.
Hannelore Hanover was named Canada's Horse of the Year, and also won her second consecutive O'Brien Trophy as Older Trotting Mare. Her connections received the inaugural Somebeachsomewhere Horse of the Year Award. Hannelore Hanover won 10 of 17 races last season, over $1.1 million in purse money and scored victories against male rivals in an elimination and final of the Breeders Crown Open Trot, the Allerage, and the Maple Leaf Trot. She also swept the Armbro Flight.
Burke also provided a glimpse into Hannelore Hanover's return date and plans for 2018.
This is the first of several post-event video interviews with O'Brien Award finalists, sponsored by Horse Racing Alberta.
To view the full list of 2017 O'Brien Awards winners, click here.