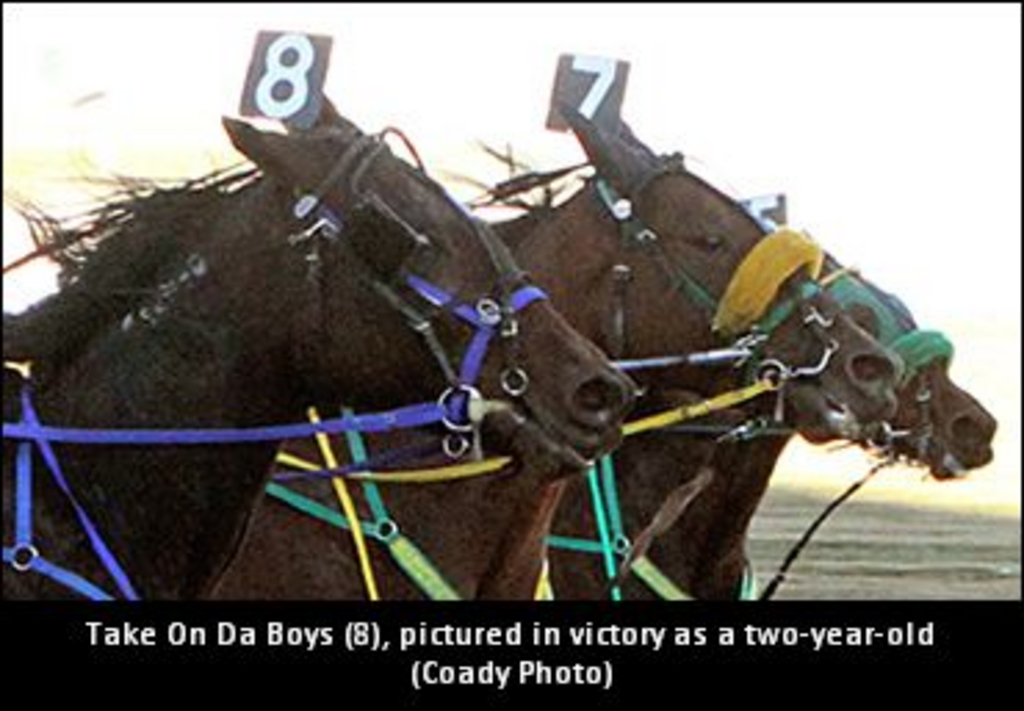 Nobody, and I mean nobody, is hotter than Northlands Park trainer Justin Currie. Going to the winner's circle at Northlands is now a ritual. It's as constant as waking up in the morning. He goes there so often he may as well just set up his stable there – put up a cot and just wait until they bring his horses there.
Just check out Currie's numbers. So far in 2018 he has sent out 13 horses; seven have come back winners, three were second, and two were third. The only horse that Currie has sent out this year that didn't finish in the top three was Senseless Beauty on January 6, and she had an ample excuse being parked the entire mile.
Do the math and that gives Currie a Universal Trainer Rating of .717, which is simply staggering (the UTR is arrived at by giving nine points for a win, five for a second, and three for a third, and then dividing the total points by nine times the number of starts). Any UTR above .400 is spectacular. Over .700 is almost unheard of. Unless you're Justin Currie.
Last week HRA wrote about Rod Starkewski, who sent out three winners on January 13. Well, this past Saturday, Currie went one better. He sent out four horses and they all met him in the winner's circle – in a row, too. In sweeping the Pick 4, Currie started the day with the aforementioned Senseless Beauty ($4.50) and then followed up with Starface, who somehow paid $12.80; Gray Zee ($2.40) and then Take On Da Boys ($4.10). A $1 all-Currie Pick 4 paid $18.70.
"The horses were all in good spots, they all had good posts and all got good trips," said Currie. With the rail, Senseless Beauty went wire-to-wire and won by three lengths, atoning not only for her parked-out start on January 6, but also a second-place finish on January 13 when she broke stride before the start of the race, yet still almost won. "There was an equipment error – her [hopples] were too long – and the track surface wasn't really good. So we went back to the drawing board and, racing against the same company, she didn't disappoint."
Currie said Starface "toughed it out" for her wire-to-wire score. "She fought horses off repeatedly then held off a late charge (from Perapps Knot Yett.) She just hung on."
Gray Zee simply did what he has been doing a lot of – win. He got away third, but was not content to stay there long. Gray Zee took over from a tiring longshot pacesetter in Somewhereinmexico and then, like Starface, also just hung on to win. "He's been racing really good lately," Currie said of Gray Zee's third straight win and fifth in his last six starts. "He's really come around and found a good class for himself. He hasn't disappointed at all."
Finally, there was Take On Da Boys, who, like Currie's first two wins on the card, also went wire-to-wire. Unlike Starface and Gray Zee, there was no just hanging on, as he won by five and a half lengths. "She's got some problems, but she's just tough as nails," Currie said of Take On Da Boys, who, Currie pointed out, won 16 races last year and has now won four of her last six outings.
Currie used driver Mike Hennessy for the wins with Senseless Beauty and Gray Zee, while Tyler Redwood was at the controls for Starface and Take On Da Boys.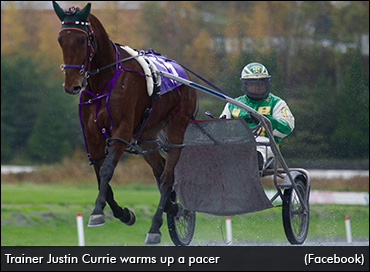 Currie's hot start to 2018 is hardly a fluke. Last year he won with 47 of the 143 horses he sent to post, and also had 27 seconds and 14 thirds for a UTR of .466. Furthermore, Currie has moved into second place in the local trainer's standings, behind only Kelly Hoerdt – "a good guy to be second to," said Currie – for the current Northlands meet, which began last fall. In 71 starts at this oval, Currie has won 25 times and added 13 seconds and nine thirds. His UTR over that period is .496.
Asked why he has been so successful, Currie, only 26, said one word: "Bedrock."
Just southeast of Beaumont, the expansive Bedrock Training Centre, owned and operated by Hoerdt and Blair Corbeil, has a five-eighths mile track built to the same specifications at Northlands and which is easy on the horses, stalls for 100 horses, an eight-horse equisizer, and an equine swimming pool, to name just a few of its amenities.
"There's no doubt that Bedrock has given us an advantage," said Currie. "You don't miss any time no matter how the conditions are. You can train them traditionally or you can be more creative using the equisizer which you can change the speeds on and/or the swimming pool. All winter long horses that are stabled out here have had the upper hand."
Last year, Currie campaigned two of the top horses in the province: Mateo and Yoga Pants. Mateo, blind in his left eye, won seven of 16 starts – and added six seconds and two thirds – to earn $232,767, of which $69,215 came from winning the Western Canada Pacing Derby despite getting the outside eighth spot on the starting gate. Pushed to an opening quarter in :27.3, Mateo still held off Senga Nitro to win the 'Derby' by three parts of a length and stop the timer in 1:53.4. Mateo is a finalist for Canada's three-year-old pacer of the year (the winners of the O'Brien Awards will be announced on February 3 in Mississauga, Ontario).
Yoga Pants, hard as it to fathom, was even better last year, as she won 11 of her 12 starts. Her only defeat came in the Northlands Filly Pace, when, like Mateo, she also drew the outside post. Otherwise, it was perfection. After the Filly Pace, Currie took Yoga Pants to B.C. where she won five straight – all four legs and then the $100,000 final of the Mary Murphy stake. Yoga Pants ended up with $226,159 in earnings last season.
But Currie won't have either of those horses this year – both were recently sold to U.S. interests. Yoga Pants went to Pennsylvania's Wish Me Luck Stables; Mateo was sold to New Jersey's Richard Banca. "I hated to part with them, but it was a business move we had to make. The racing here wasn't viable enough to keep them around after their three-year-old seasons. There just wasn't a place to really race either of them."
But it hasn't always been a smooth ride for Currie. Originally from Langley, B.C., Currie had a couple of good years at Fraser Downs and then ventured east to Ontario. He took nine horses with him, but they all got sick. "It drained all of the funds from the farm," Currie told Horse Racing Alberta last fall. "We were spending money and not getting anything back. At one point I had just one horse. I was sleeping in my mother's spare room and I had to take a job with an insulation company to try and get by. Another time I was down to no owners at all. Just five of the cheapest horses on the grounds. Combined they were probably only worth $2,500. But we toughed it out and I never quit."
When Northlands ends its winter meeting next month, Currie will take a few horses to B.C.'s Fraser Downs until Calgary's Century Downs opens on April 1. Currie expects to have 20 horses at Century. Included in the stable he will take west are a couple of potential three-year-old stakes horses: Blue Star Trooper and Annies Delight. Annies Delight was just purchased out of a mixed sale in Pennsylvania for $14,000 last week. "Blue Star Trooper showed some signs as a two-year-old, but then he got sick and we quit with him," Currie said of the colt, who was brought back slowly and finished a good third in the final of the Snowshoe Series a few weeks ago.
As for his four winners from last weekend, they are all set to compete again this weekend at Northlands. "We've had a lot of success and a lot of luck. You need the latter as much as anything. Hopefully it continues until the middle of next month when we wrap things up here."
(Courtesy thehorses.com/Curtis Stock)