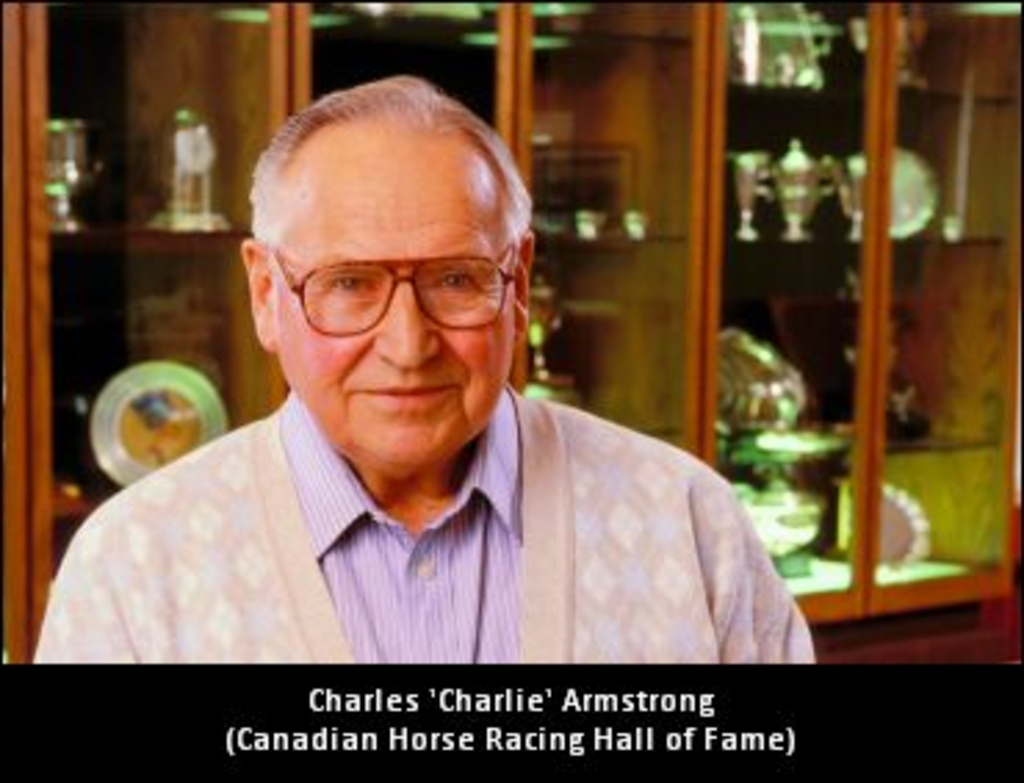 The Canadian Horse Racing Hall of Fame and Standardbred Canada are saddened to learn of the passing of H. Charles Armstrong, at age 96.
'Charlie' was inducted to the Hall in 2015 as a builder, joining his father, Elgin, who was inducted in the inaugural class of the CHRHF in 1976.
Armstrong was a true icon in the Ontario and North American Horse Industry for over 60 years. Throughout this time, he has represented and participated in multiple disciplines and has been integral in the shaping of Ontario's horse racing industry and horse industry. Armstrong Bros. Farm, the family-owned operation, was founded in the 1940s by Charlie's father, Elgin, and uncle, Ted, who were construction magnates. After Elgin's death, Charlie kept the Armstrong horse business strong.
Charlie's love affair with horses began when he received his first pony, Playboy, from his uncle Ted in 1930 at the age of 11. The pony had been obtained as payment for a debt and was loaded into the back seat of the family car and taken to Brampton, Ontario.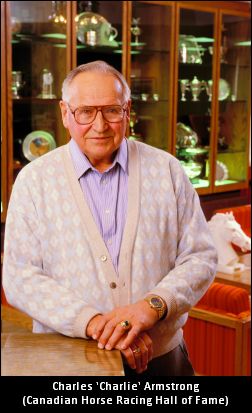 Charlie continued building on the success of his father Elgin, who raced a young filly named Helicopter in the prestigious Hambletonian in the United States. Helicopter was victorious, becoming the first Canadian-owned horse to win the coveted title. Helicopter's daughter, Armbro Flight, became one of North America's greatest trotting mares and the foundation mare for the Armstrong Farms breeding and racing dynasty. In 1999, Canada Post issued a commemorative stamp with her likeness to celebrate her contributions.
As Chairman of Armstrong Holdings Brampton Limited, Charlie oversaw the growth of Armstrong Farms into the second largest Standardbred breeding operation in North America. Over 90 per cent of the most prestigious races in North America have had 'Armbro' horses in the winner's circle. Armbro performers have won nearly every classic event in the sport since Helicopter won the 1953 Hambletonian, and has also bred the winners of nearly every classic event, including the Hambletonian (Armbro Goal), the Little Brown Jug (Armbro Omaha, Armbro Operative) and the Adios (Armbro Omaha, Armbro Ranger, Armbro Animate) to name a few. They produced scores of trotting and pacing champions, including Armbro Omaha, Armbro Operative, Armbro Fling, Armbro Feather, Armbro Flight, Armbro Blush, and Armbro Fern. Armstrong Bros. also enjoyed considerable success in the Breeders Crown series, ranking second in the breeding standings and second in the owner standings (through to end of 2003)
The farm was one of the most progressive and profitable Standardbred operations and bred, raced and stood at stud a seemingly endless list of champions. Stallions that stood at the Inglewood Farm most recently included Island Fantasy, King Conch, Camotion, and Dexter Nukes. Other stallions over the years included Jade Prince, Dream Of Glory, Carlsbad Cam, Armbro Emerson, Village Jiffy and Adios Pick, who was sold and went on to become the foundation sire of western Canada.
The family company was dispersed in 2005, but Charlie continued to enjoy international success, as he raised and raced Standardbreds with his daughters under Village Acres Farms in Brampton, Ontario through 2010. They sent out a steady stream of top performers over the years, including Village Jig, Village Connection, Village Jove, Village Blues, Village Jiffy and Village Jericho.
The Canadian Horse Racing Hall of Fame and Standardbred Canada would like to extend their condolences to Charlie's wife, Lenore; daughters, Jennifer, Caroline and Nancy; and Charlie's extended family.
While the funeral service will be private, visitors will be received at the Ward Funeral Home on Main Street in Brampton, Ontario on Thursday, September 14 from 5:00 p.m. to 9:00 p.m., and on Friday, September 15 from 2:00 p.m. to 4:00 p.m. and again from 7:00 p.m. to 9:00 p.m.
In lieu of flowers, donations may be made to the Standardbred Racetrack Chaplaincy of Canada, P. O. Box 331, Campbellville, ON L0B 1P0, or the Alzheimer Society of Ontario.
(Canadian Horse Racing Hall of Fame)