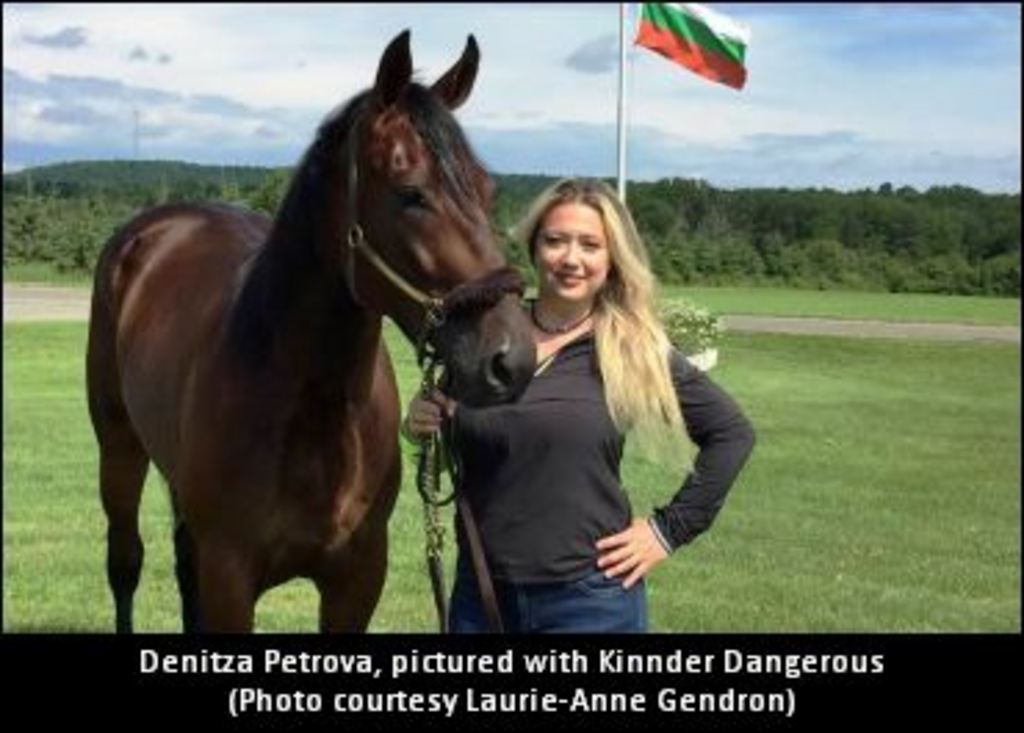 As a child growing up in Communist Rousse, Bulgaria, Denitza Petrova loved horses. Their town had what could best be described as a milkman, who delivered milk to everyone in town with his wagon drawn by draft horses. Denitza fell in love with those draft horses.
Petrova said her parents were always worried she could get hurt, as all she wanted to do when she was six years old was be around those horses, to pet them, brush them, she just wanted to be with them. And at age eight, when Denitza came home from school, she would always draw in her book what she called her 'dream farm' with lots of horses, and she would tell her parents she would have that farm one day.
Well, dreams do come true, and Denitza Petrova is living her dream.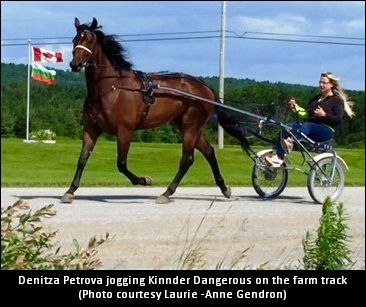 The family left Bulgaria in 1989 and moved to Belgium for three years, where Denitza was able to take a few riding lessons. Her love for horses and farm life never left her dreams.
Then the family moved to Quebec in 1992 and her dreams became reality. Denitza still loved horses and continued with equestrian riding and learning.
"When I was around 22, while still taking riding lessons," Petrova recalled, "I started to learn about harness racing from Andre Dagenais in Mirabel. I had no experience with racehorses, but I had such passion for anything to do with horses. I wanted to do something special with horses and I started to work for him part time.
"Soon enough I was able to do some paddocks at the Hippodrome de Montreal," Petrova said. "I really, really loved it and after a few months, he gave me a little trotting mare when he could not pay me anymore as his stable was reduced.
"I got that little mare to the races all by myself," Petrova said with pride. "I did not know anything about training and racing, but the people I was around would help me with advice and I learned pretty fast."
As time went by, Denitza learned the harness racing sport and got her trainers license. And along the way she met a young horseman by the name of Justin Filion, and they have been together now for five years.
And how did Denitza get involved with Justin Filion?
"The truth is," Petrova said, "All these years in racing and I never knew him. Saw him here and there in the race paddocks, but we never spoke until I congratulated him on Facebook about a mare he had. We met after that interaction."
The two of them then made a big leap and that was when Denitza's childhood dream came true.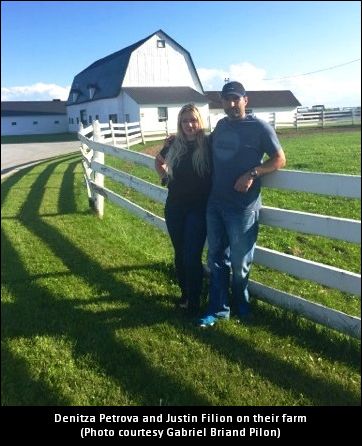 "Together," Denitza explained, "we purchased Dustin Jones' farm in Melbourne, Quebec a few months ago and my dream when I was a child, drawing all those pictures of my beautiful farm with horses became true.
"It is a 52-acre farm with a beautiful half-mile track on it," Denitza said. "Dustin Jones kept the place very clean, like brand new. It's just amazing that we have this place."
And along the away, Petrova learned more and more about the Standardbred industry, reading and studying pedigrees, getting broodmares and matching them to the right stallion.
"I owe a lot to Jean Guy Pepin, Yves Filion, Gary Lemaister and Guy Corbeil," Petrova explained. "These people let me ask them questions all the time about learning to train and breed horses. I was so 'green' as they say, that I did not know early on which way on the track you would jog or train a horse."
During the early years learning to train horses, Denitza explained that she held a number of different part-time jobs until she was able to train full time.
"I should have listened to my mom," Denitza said. "She wanted me to go to college and learn to be a veterinarian. But I didn't and I had other jobs to help pay for the horses. I worked as a barmaid, worked on planes and other different jobs along the way.
"I was then able to purchase Majestic Joy," Petrova explained, "who had crazy speed but hurt herself after just a few starts and was finished racing. I had owned her with Jean Guy Pepin but he did not want to get into breeding so I got the mare for myself for free.
"It was late June," Petrova said, "I did not want to get rid of her, I wanted a baby from her. It was so late that I knew we had just one shot to get her in foal. I wanted to breed her to Justice Hall, we did and then she was not in foal and I was very disappointed.
"I had such confidence in this mare," Petrova added, "I had to have a foal from her, so Justin told me that his father, Yves Filion, had Northern Escort on the farm and that he has bred a couple of mares between his racing career. He was not a champion but a very classy racehorse.
"So, I looked at the horse and then called Yves and he said OK," Petrova said. "We bred her naturally and sure enough he got her in foal. And one year later on June 15, Kinnder Dangerous was born.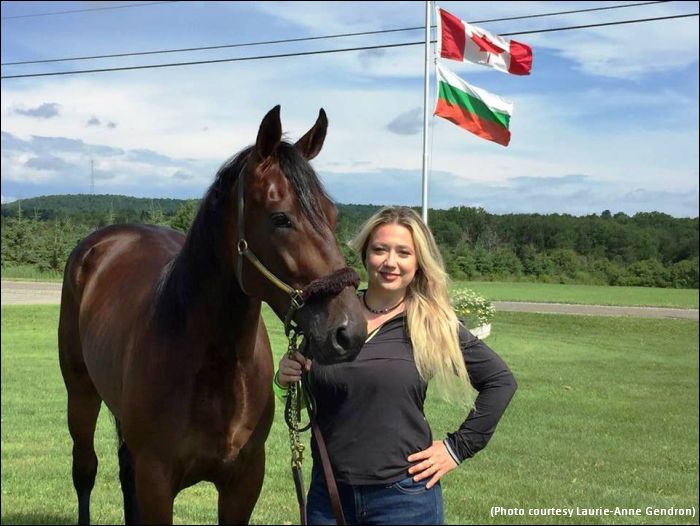 Denitza Petrova with Kinnder Dangerous (Photo courtesy Laurie-Anne Gendron)
"It's a real coincidence that this foal came about," Petrova added. "It was not supposed to happen this way. He (Northern Escort) is by Kadabra, nobody really ever thought of him as a stallion for breeding. But that's how it happened.
"I actually was able to buy Northern Escort from his recent owners in Buffalo Raceway," Petrova explained. "I got him in November and bred my mares, but then I got a good offer for him and sold him. He actually now breeds draft horse mares in Indiana and Michigan."
All of the horses bred by Denitza Petrova have the first name of 'Kinnder.' It is not taken from the German word Kinder, meaning child, it actually came from the chocolate candy Kinder Surprise.
"This kind of candy never existed in Bulgaria or Belgium," Denitza said. "It is a chocolate egg with a toy surprise inside. I loved them, every time I saw them in the store after we moved to Quebec, I begged my mother and had to have one. I think I had the biggest collection ever of Kinder Surprise toys.
"So, when I started to breed my own horses," Denitza explained, "I wanted them to have a name that was something from me. So, every horse has the first name of Kinnder."
After a decent start at age two where he won a division of the Future Stars Series and was also second and third, Petrova's Kinnder Dangerous has returned for the 2017 season with an impressive first outing that saw him lead from start to finish in 1:59.3, just a second off the track record.
"He was a very nice, big strong colt when he was born," Petrova said of Kinnder Dangerous. "And I was amazed that he actually made it to the races last year. I was not expecting that at all. When he was just nine months old he had a very bad case of phenomena and it lasted nearly six months. We thought we might lose him and at the time we knew he would not race at age two.
"We did not put any pressure on him to race at age two," Petrova said. "He was just getting over it when we started training him. But he came around and raced very well last year for a horse we thought would never come back from being so sick."
Petrova and Filion then gave Kinnder Dangerous a full four months in the field this past winter. Looking big and strong and healthy, they brought him back slowly. Then, because they were doing construction on the farm, Kinnder Dangerous stepped on a three-inch nail and that put him back another month in training.
"We just got him back racing in time for last week's opening of the Breeders Cup Series," Petrova said. "It was tremendous mile he went last week. He is feeling good, always playing with the other horses in the paddock and he is eating good."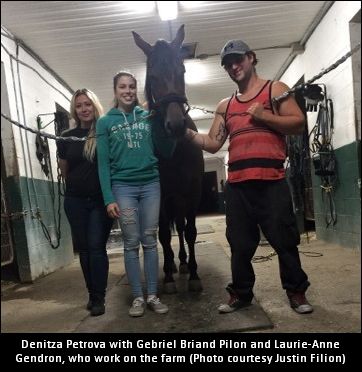 Denitza is also looking forward to racing her two two-year-olds this season in the upcoming $220,000 Future Stars Series at H3R.
"I have a filly that just qualified," Petrova said. "Her name is Kinnder Prediction and she is also by Northern Escort and she was second in her first race. I also have an Allamerican Native colt, Kinnder Jackson, and he was third in his first baby race at Trois-Riveres."
In the past two years, Denitza has trained five young horses and four of them have now made the races, which is a superb percentage.
"I am hopeful that now with my horses racing well," Denitza explained. "That people will start to send me their mares to breed. We have a beautiful farm, a super training track, good help and now are able to take outside horses on the farm. I do all the breeding myself, handle all the foaling. I do everything myself except for doing ultra sound testing and now we have the perfect farm to do it all."
Starting out with cheap racehorses, Denitza had no background with horses and learned everything herself to become a professional trainer and breeder. She read a lot and learned the trade very well and loves what she does.
And, she will always remember her drawings as a child of her beautiful farm with horses and look back with pride that her dreams have come true.
On Tuesday evening at the Hippodrome 3R, Kinnder Dangerous is the 5-2 morning line favourite in second race, one of three Breeders Cup divisions for colt and filly trotters.
His main rivals will again be Sometimes When (Post 7) and Capteur De Reve (Post 6) who were second and third, respectively, against Kinnder Dangerous last week.
The fifth and sixth races are both filly divisions and headlining the field is the early sensation HP Run Like Mom, who is on a three-race winning streak, having won those three races by a total of nearly 30 lengths. She will start from Post 5 in the fifth race for driver Stephane Brosseau.
Post time Tuesday is 7:00 p.m.
For more information, visit quebecjockeyclub.com.
To view the harness racing entries for Tuesday at H3R, click the following link: Tuesday Entries – Hippodrome 3R.
(Quebec Jockey Club)