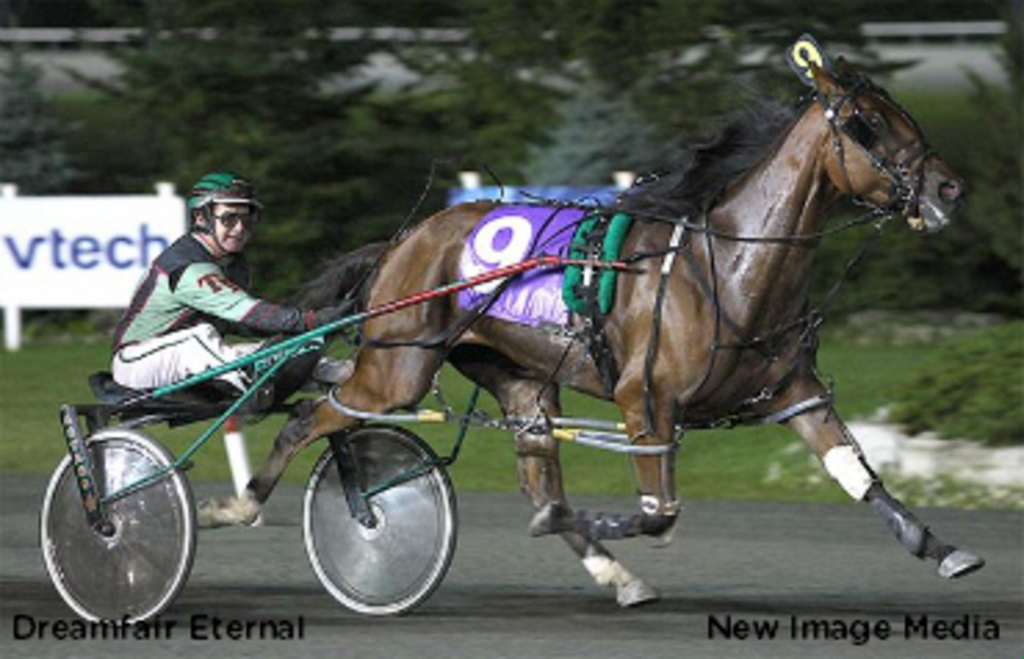 While Saturday's card at Mohawk Racetrack featured the rich Maple Leaf Trot and a quartet of Canadian Breeders' Championships
, a solid undercard allowed the ladies to strut their stuff in the $360,700 Armbro Stakes for trotters and the $373,600 Roses Are Red Stakes for pacers.
Lavec Dream Upsets In Armbro Flight
Lavec Dream pulled off a 45-1 upset tonight in the $360,700 Armbro Flight Stakes for mature trotting mares, coming four-wide to win in 1:53.1 at Mohawk.
Favoured Buck I St Pat, with Tim Tetrick driving, led the field from the half-mile marker, but when fatigue set in in deep stretch, she was overtaken by a platoon of late-charging mares, including Autumn Escapade (Trevor Ritchie) and Lantern Kronos (Andy Miller). But it was Lavec Dream, coming from the backfield on the far outside with Luc Ouellette, who got her nose in front at the wire.
Autumn Escapade hung on for second, Lantern Kronos was third, and Spice Queen (Paul MacDonell) fourth.
While not exactly a senior citizen, Lavec Dream was certainly the matriarch of this group at the age of eight. A daughter of Enjoy Lavec, she is owned and trained by Peter Kleinhans of Flemington, New Jersey, and can now boast earnings of over $800,000 from 118 career starts.
"She still has the speed," commented Ouellette. "There are plenty of problems that she has to deal with, but it seems when she comes to Canada, she gets sounder for whatever reason!
"Tonight she was a pleasure to drive. I think we got lucky (that) a few horses made breaks so we were able to work out a second-over trip. She remembered who she is and dug deep in the stretch."
Dreamfair Eternal Shatters Track Record In Roses Are Red
Tony Kerwood was responsible for one final upset on Maple Leaf Trot night at Mohawk, steering 25-1 shot, Dreamfair Eternal, to victory in a stunning track record time of 1:49.2, in the $373,600 Roses Are Red Stakes for mature distaff pacers.
Through blistering fractions of :26.1, :53.3 and 1:21, Dreamfair Eternal rode comfortably along in mid-field while a changing cast of characters, including Tidewaterdragonfly (Jack Moiseyev), Hana Hanover (Randy Waples) and Btwnyurheartnmine (Tim Tetrick) did the heavy lifting up front. Kerwood angled Dreamfair Eternal out three-wide as the field entered the stretch, and accelerated to a two-length lead.
Favourites Darlins Delight (Yannick Gingras) and Southwind Tempo (Jody Jamieson) gave chase, but couldn't catch Dreamfair Eternal as she swept under the wire a length in front.
The 1:49.2 clocking was not only a personal best for the five-year-old daughter of Camluck, but also a new Mohawk track record for older pacing mares, shaving one-fifth of a second off the old mark originally set by Rons Girl in 2000 and since equaled by the likes of Moving Pictures and Ideal Weather.
Patrick Fletcher trains the homebred Dreamfair Eternal for John and Mary Lamers of Ingersoll, Ontario. The $186,800 cheque for the win was by far the mare's biggest score of her career, pushing her career earnings past the $700,000 mark. She paid $61.00, $19.60, and $9.50 for the win.
"We got away real well for her," Kerwood said. "Her strength is the way she can kick home. She's got such a turn of foot to her, it's just incredible. This is definitely the best mare I've ever driven. It just feels great."
Bigtime Ball Blazes In Mohawk Open
Bigtime Ball is known for putting up some big miles and tonight the five-year-old son of Presidential Ball-Keystone Trinidad flashed some of his speed in the $50,000 Open Pace at Mohawk Racetrack.
Under the guidance of Paul MacDonell, Bigtime Ball swooped up to take the lead at the :25.2 opening quarter ahead of Bolero Charles (Paul MacKenzie). The odds-on favourite powered past panels of :53 and 1:20.3 turning back a challenge from Silent Swing (Sylvain Filion). In the stretch, MacDonell popped the plugs and the 4-5 favourite extended his lead to nearly four lengths before tripping the teletimer in a career-best 1:48.2.
Mr Saratoga (Jody Jamieson) and Lucky Man (Mark MacDonald) came on for second and third.
The time of the mile was one-fifth of a second off the track record set by Buckeye One in 2006. Bigtime Ball did tie Somebeachsomewhere's fastest three-quarters ever for a pacer over the Campbellville oval in 1:20.3.
Gord Irwin trains and owns the 20-time winner, who has banked $845,173. In 2009, Bigtime Ball has put together a record reading 7-3-0 in 11 starts with earnings totaling $240,692.
Gutsy Volo Inherits Preferred Victory
Gutsy Volo was deemed the winner in the $40,000 Preferred Trot on Saturday night at Mohawk Racetrack after Swedish import Amour Ami was placed back for causing interference in the stretch.
Gutsy Volo and driver Keith Oliver set up shop on the front end from Post 6, but the 2-1 second choice was forced to settle for a pocket trip as the 3-5 favourite, Armbro Chronicle (Mike Saftic) swept up to command after a :27.3 opening quarter. He rolled past fractions of :56.2 and 1:25, but Amour Ami (Jack Moiseyev) rallied off the cover of Slave Dream (Sylvain Filion) in the stretch and reached the wire first with Gutsy Volo splitting horses to finish three-quarters of a length back in second over Armbro Chronicle.
Amour Ami, however, was placed back to second for causing interference with Gusty Volo and then back to sixth-place for interfering with Slave Dream down the lane. As a result, Armbro Chronicle was bumped up to second and Save My Ashes (Steve Condren) was placed third from fourth.
Gutsy Volo's winning time of 1:52.4 lowered his lifetime mark.
The five-year-old Yankee Glide gelding is conditioned by Matt Dupuis for owners Brian Cassell of Ottawa, Jacqueline Dinelle of Metcalfe and Sean Hibbert of Corbyville, Ont. In 11 starts this year, the bay has won three times good for $96,615 in earnings. His 22nd career win bumped his bankroll to $208,123.
Click here for a recap of the $720,500 Maple Leaf Trot.
For recaps of the Canadian Breeders' Championship finals, click here.
To view Saturday's harness racing results, click here.
(With files from WEG)