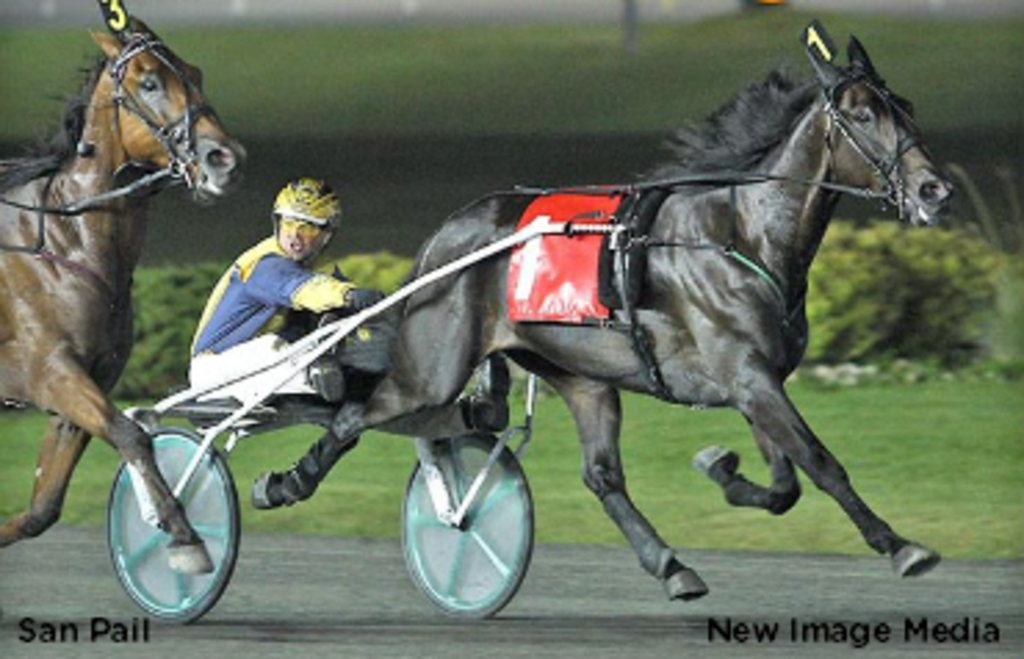 San Pail pulled a mild 9-1 upset in the 58th edition of the $720,500 Maple Leaf Trot Saturday at Mohawk
Racetrack.
Randy Waples guided the five-year-old gelding, buoyed by a large and vocal cheering section trackside, to the neck win over reigning Maple Leaf Trot champion Arch Madness (Tim Tetrick) and 1-4 favourite Lucky Jim (Andy Miller) in 1:52.1.
It was San Pail's 19th career win for trainer Rodney Hughes, who owns a piece of the horse with the Ontario-bred's breeder Glenn Van Camp.
San Pail, who finished second to Lucky Jim last time out, also halted his rival's impressive 15-race win streak.
"I couldn't be any happier," Waples said. "I'm an emotional guy. This is sweet; really sweet."
San Pail did it on the basis of a brilliant Waples drive, who admitted he might have over-raced him in the elimination, a race he was beaten 1 1/4 lengths by Lucky Jim last Saturday night.
"I was so down on myself last week when I over-raced him," Waples said. "It worked out, and I can't say enough about Rod Hughes, the job that he's done with him. He's such a nice horse."
Waples and San Pail sat just off an early quarter-mile split of :27.3, set by Sakic Seelster. That one began to fade and San Pail established command soon after, cutting internal splits of :55.4 and 1:24.1. On the turn, Arch Madness loomed a threat and the two duelled to the wire, but San Pail gutted out the win.
San Pail - Maple Leaf Trot
It was Waples' first win in the Maple Leaf Trot, a race he envisioned winning as boy, an event his Hall of Fame father, Ron, won five times.
"When I was a little kid I used to walk into Greenwood and see the big plaques on the wall, all the winners of the Canadian Pacing Derby and the Maple Leaf Trot, they were the two races to win when I was young. Now my name's on both of them."
San Pail had a huge cheering section, chanting and screaming for him just metres from the finish line on the Mohawk apron. Much of the throng joined the horse, Hughes and Waples in the winner's circle.
"They're all family and friends," Hughes said, of the obvious crowd. "They're from two hours east of here to two hours west, and they're all here to support the horse."
San Pail paid $20.40, $6.20 to win and place in a race with no show wagering. He combined with Arch Madness ($5.50 to place) for a $71.20 exactor. Lucky Jim wrapped up the $126.80 triactor. In Focus (Trevor Ritchie) was fourth to finish up a $337.15 Superfecta.
For recaps of the Canadian Breeders' Championship finals, click here.
For recaps of the $360,700 Armbro Stakes and $373,600 Roses Are Red Stakes finals, click here.
To view Saturday's harness racing results, click here.
(With files from WEG)