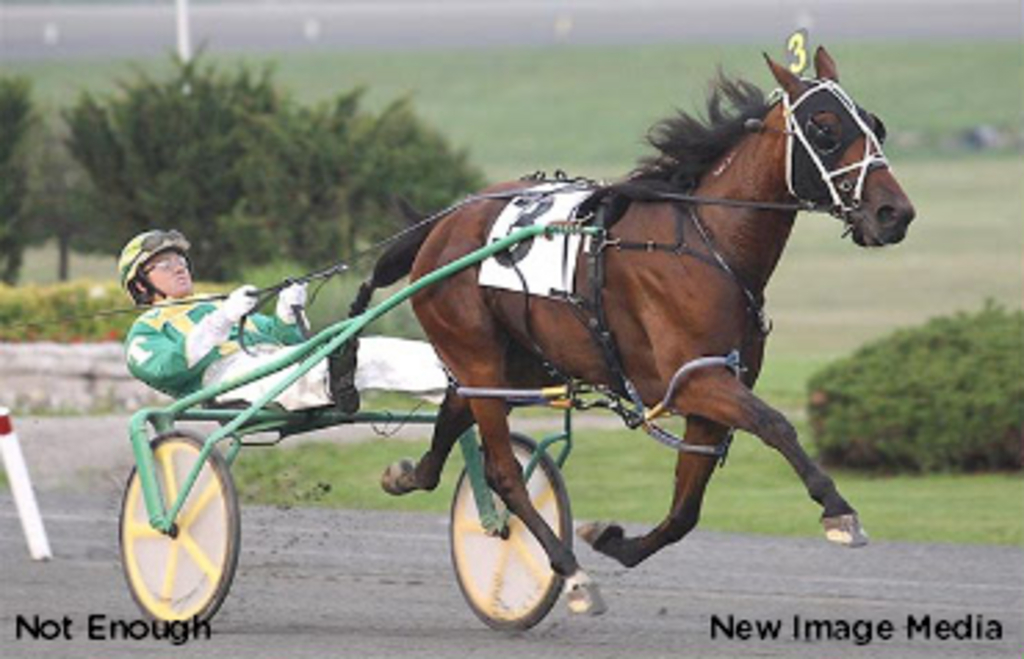 Undefeated Not Enough made it nine in a row tonight as she captured the $181,877 Canadian Breeders' Championship for three-year-old pacing fillies
tonight at Mohawk Racetrack in a new stakes record time of 1:50.
Tim Tetrick steered the 1-5 favourite, Not Enough, one of four entries from conditioner Tracy Brainard and the Bulletproof Enterprises, to take over from early pace-setter, Arts Star (Mark MacDonald), who set a scorching :26.1 first quarter, and from the 3/8 pole the daughter of Grinfromeartoear continued to widen her lead. She crossed the wire three and a quarter lengths ahead of her stablemate, Shacked Up (Luc Ouellette), and it was another three lengths back to Coming Late (Jody Jamieson).
Not Enough - CBC Filly Pace
Tim Tetrick, who rallied to drive at Mohawk tonight despite having been involved in a spill earlier today at The Meadowlands, remarked, "She's a very nice filly. She's very smart, she gets the front and relaxes, but when she sees 'em coming, she gets right back in the rig. It was a pretty good mile in my opinion."
Not Enough paid $2.70 and $2.10 for the win.
In the $155,417 Canadian Breeders' Championship filly trot final, Elusive Desire scored her fifth win of the season, also in stakes time record, for Paul MacDonell, trainer Mike Keeling and the ownership group of P C Wellwood Enterprises Inc., Charlie Armstrong and Robert Fasken.
The Angus Hall filly was a 3 1/2-length winner over Friendly Amigo (Tim Tetrick) and Mets Win (Randy Waples), covering the mile in 1:54, a full second and a fifth off the previous mark set by Mccall Magic in 2004.
Elusive Desire - CBC Filly Trot
"She trotted home pretty strong," said MacDonell, said of Elusive Desire, who now has $632,600 in career earnings.
She paid $2.50 to win.
Equity performed as befits a 3-5 favourite tonight as he roared to victory in the $166,880 Canadian Breeders' Championships for three-year-old trotting colts and geldings tonight at Mohawk.
I Wont Dance, with Trevor Ritchie in the bike, set the early fractions, but Jack Moiseyev activated Equity by the 3/8 pole, and the Kadabra gelding led the field from that point onward. He repelled a challenge from Angeldrive (Rick Zeron) through the far turn and went on to win in 1:54.2, with a late-charging Hour Lavec (Steve Condren) some two and a half lengths in arrears for second, and Illusionsndreams (Tom Durand) grabbing the show spot. Angeldrive settled for fourth.
Equity - CBC Colt Trot
A homebred trained by Chris Christoforou, Sr., who co-owns with Banjo Farms of Toronto, Ont., Equity has now scored eight wins in 10 tries as a sophomore. His bankroll swells to $236,320 with the victory.
"Trevor (Ritchie) backed his horse up a little past the quarter, so I came and made the front pretty easy. He got some easy fractions and was pretty strong at the end," said Moiseyev. "He's very good-gaited; you can do anything with him."
Randy Waples followed up his Maple Leaf Trot victory with San Pail with another visit to the winner's circle, as he guided 7-1 shot, Lyons Horace, to a surprise victory in the $176,120 Canadian Breeders' Championship for three-year-old pacing colts and geldings, the last of four CBC events at Mohawk Racetrack tonight.
Lyons Horace shot to the early lead off the gate and led the field through a brisk :26.1 first quarter, but was overtaken by Stonebridge Terror and Mike Saftic by the half in :54.3. Luc Ouellette sent OK Boromir after the leader and settled into third while Strand Hanover (Yannick Gingras) applied pressure on the outside. Stonebridge Terror fought off Strand Hanover, but then faced a late rush from Fast Pay (Paul MacDonell), while Waples found a spot on the inside to wiggle through and snatch the victory by a neck in 1:51.1, a new lifetime mark.
Stonebridge Terror settled for second, with Fast Pay grabbing third.
Lyons Horace - CBC Colt Pace
Lyons Horace, a son of Astreos, is owned by Joseph Lyons Mound of Burford, Ont. and is conditioned by Shawn Robinson. Unraced at two, this was his sixth win in nine starts as a three-year-old.
"At the head of the lane, Mike's horse was pacing really strong, so I was just trying to hang on for second. But towards the end, my horse still had a little left and Mike's horse started to drift a little bit and get tired," related Waples. "It just worked out my way. It's been a good night!"
In Standardbred Canada's CBC Pick 4 contest five contestants selected all four winners. The contest winner will be selected by blind draw on Monday.
For recaps of the $360,700 Armbro Stakes and $373,600 Roses Are Red Stakes finals, click here.
To view Saturday's harness racing results, click here
(With files from WEG)