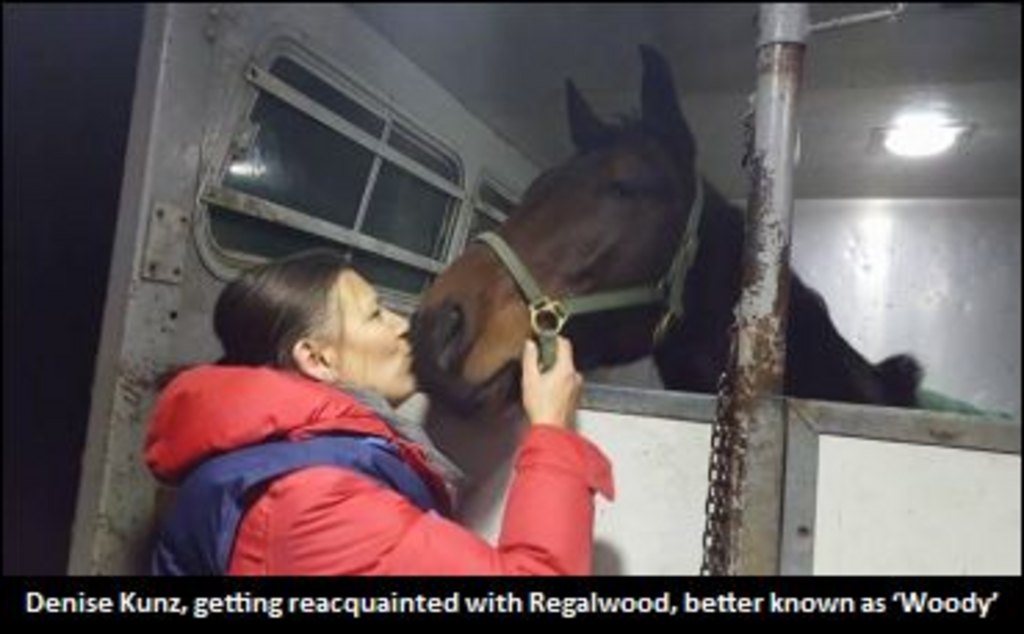 A heartwarming story about a Standardbred racehorse that was recently reunited with his first owner made waves in harness racing social media circles this week. It is a tale of love, perseverance, and doing right by the animal. It's the story of Regalwood ('Woody') and Standardbred Canada's Denise Kunz.
Kunz would be the first to tell you that, after five years, the situation sure did wrap itself up rather quickly – ten days, to be precise. The story of Woody's reacquaintance with Kunz actually began seven years ago, as a particular mare with that special something led Kunz to become the proud owner of an unborn colt.
"I purchased Woody's mother, Winterwood Beauty, from Standardbred Canada's 2009 Fall Extravaganza Mixed Sale for $600," Kunz told Trot Insider.
When she bought Winterwood Beauty, the 1996 Damsel Series winner was in foal to Stonebridge Regal. "I wasn't looking for a broodmare or a baby," Kunz explained, "but I just couldn't accept letting such a nice mare go so cheaply."
She never regretted the decision, as Kunz has said that Winterwood Beauty "turned out to be the sweetest, kindest mare I've ever met."
Kunz rents a farm in Milton, Ont., which is located just a short drive down the highway from Standardbred Canada's head office in Mississauga. She used to live in a house on the farm until eight years ago, when a fire broke out and caused the dwelling to burn down. Even though Kunz no longer lives on the premises, she still keeps her horses at the farm. Her stock ranges from old retired racehorses to foster horses for the Ontario Standardbred Adoption Society. She even has a rescue pig, 'Porky,' who can only be described as a bossy, 150-pound character that helps keep the masses in order.
Woody was foaled at the farm on March 6, 2010. Kunz and her sons –- James, who was 13 at the time, and David, then 11 -– had been waiting anxiously, even sleeping at the barn. That was a big deal, seeing as though they lived elsewhere by that time.

"On the Saturday evening, I thought it was safe to take the kids out for a bite to eat," she explained. "We returned two hours later and there was Woody! He was super friendly right from the start. He was always wanting attention, and his mother was very tolerant of all the people."
The friendly youngster remained at the farm until October of his yearling year (2011). At that point, Woody was on the move to Windsor, Ont., as he was sold to Jim Boucher. Kunz was able to keep up to date on Woody's progress, as Boucher would send her pictures to see how the budding freshman was coming along. Kunz was even able to make it out to the track on a couple of occasions to watch some of Woody's two-year-old races.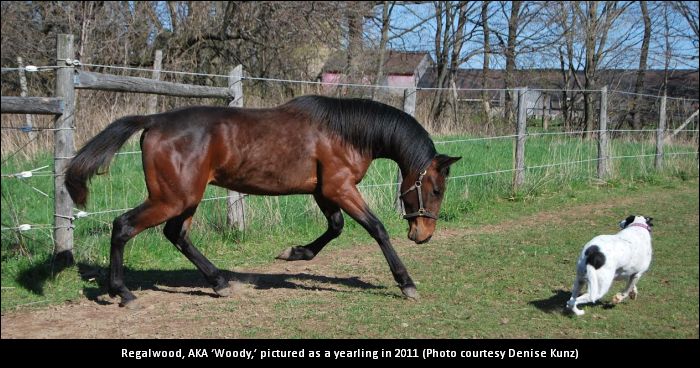 It almost seemed like Woody wasn't all that far away, but, slowly but surely, the situation began to change. Woody had to pack his bags. He was relocated to the barn of Gabriella Sasso in his three-year-old season. After just a few starts for Sasso, Woody changed hands again, and moved south of the border.
"I had contacted Gabriella on Facebook, and, several months later, Woody was then sold to Scheigert Racing Stbl LLC in Saratoga Springs, New York," Kunz explained. "I wrote a letter to the new owners, who were gracious enough to call me."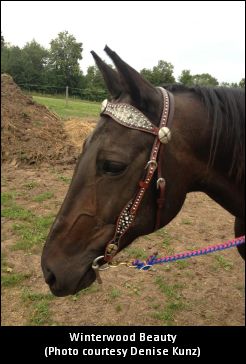 Scheigert Racing Stbl LLC proudly owned Woody for two years. He raced 36 times for Scheigert Racing, but they ended up losing him in a claiming series at Saratoga Raceway. Woody went on to win the final of the claiming series with a gritty, front-end mile. He was experiencing a bit of success on the track, but, unfortunately, Kunz had never felt further from the pacer and his delightful dam. Sadly, Kunz had been forced to euthanize Winterwood Beauty, 23, just a month earlier.
"When Woody changed hands in the claiming series, I sent a letter to the new owners, but never heard back," said Kunz. Winterwood Beauty had passed. Woody was out of reach. Contact between Kunz and the small Standardbred family was, for all intents and purposes, lost.
"Winterwood Beauty was one of my all-time favourite horses," said Kunz. "Even though I only had her for five years, she left a mark on my heart, as she did to everyone that had ever known her. When she died, I promised her I would bring her baby home."
Kunz had been keeping track of Woody's race lines, persistently. Roughly two months later, Woody was sold to James Doherty Jr., the son of Jim Doherty, the Hall of Famer.
"Seeing as though he had new connections yet again, I wrote yet another letter, and I didn't hear anything for a few months," Kunz explained. Jodie Ann Doherty then messaged Kunz on Facebook. "She sent me pictures and told me how Woody was doing. I'd message her periodically if I didn't see that he was racing and she'd inform me as to whether Woody was turned out, etc."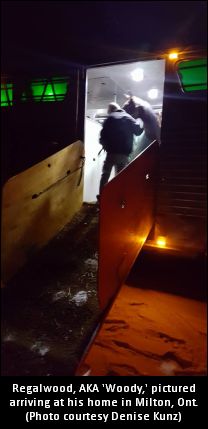 December 1, 2016 proved to be the real game changer in the whole situation. Kunz had received a Facebook friend request and a message. They were from James Doherty Jr., and he wanted to know if Kunz was interested in having Regalwood as a pet. "Of course, there was only one answer to that question," she told Trot Insider.
Kunz immediately contacted Doyle Bloodstock Transportation to find out about moving Woody home. Pat Crickmore helped Kunz through the shipping process and looked after all the details. Doherty looked after all the health papers.
The process moved quickly. Woody was expected back at his home in Milton just ten days after Doherty made his offer. After having been away for years, Woody would be back in mere days. Needless to say, the time flew by.
"I was so excited," Kunz explained. "I planned a coming home party for him, I called everyone I knew. My son, David, now goes to school in Sudbury. When I told him that Woody was coming home I thought he was going to jump through the phone."
The night Woody was arriving, the weather forecast was not great. "They had cancelled the qualifiers at The Raceway at Western Fair District the night before in anticipation of this huge storm, so I was very anxious about the long drive, but the forecasters were wrong, the weather was fine," she said.
Kunz waited on the road, in the dark for the truck to arrive. Finally, after what felt like hours, the truck was parked, and the doors opened, and Woody was home, ears up and looking happy.
"I ran up the ramp and gave him a big kiss. I let Tony, the driver, walk him down the ramp because I was so shaky. When we got in the barn I was surprised at how big he was. I hadn't seen him since the summer he was three and he had grown a lot. He looked great and just took everything in stride."

In speaking with Trot Insider, Kunz could not stress enough that the real credit in bringing Woody home goes to James Doherty Jr. "He knew that Woody's racing days were coming to an end and he wanted to do right by the animal," she said.
"I don't know if Woody remembered me or not," said Kunz. "I think sometimes he does – he will just stop and then start sniffing me. I'm positive he remembers his babysitters ('Smokey,' a 28-year-old Quarter Horse, and 'Fury,' a 31-year-old OSAS Standardbred). He's still tormenting them!"
Kunz has said that Woody seems to be settling in quite well. She boasts that he loves his treats, is a perfect gentleman, and loves nothing more than getting outside and running around.
"He's so happy to see me all the time," said Kunz. "I can barely get a picture of him because as soon as I try to go take it, he wants to come right up to me."
Woody will have the next five or six months to just hang out and get acclimated to his old digs. Kunz is planning to begin breaking him to ride in the spring, seeing as though his dam was also very adept at it. If all goes to plan, Kunz is hoping that Woody will be able to participate in the OSAS horse show in 2017.